Stephen Colbert wore a Black Lives Matter bracelet on the 'Late Show'
Colbert also promised to address the social movement on-air.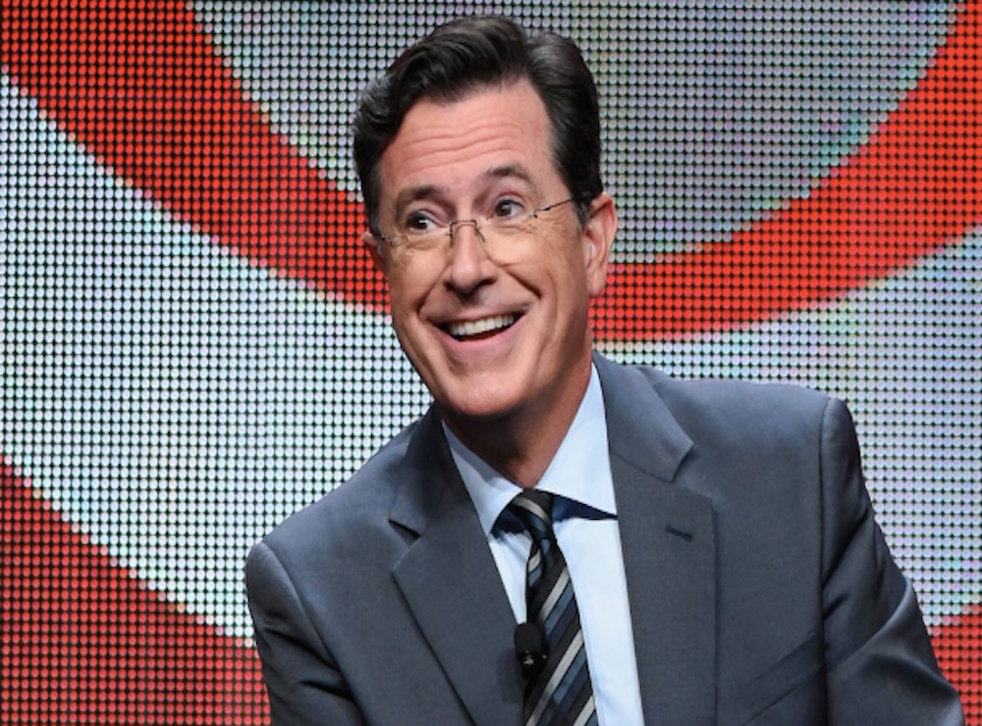 During Friday's Late Show audience Q&A session, host Stephen Colbert was asked to wear a bracelet that reads: "Black Lives Matter."
When called upon by Colbert, BLM organizer Patrick Waldo was already standing up. Waldo asked the host to promise to wear the bracelet and address the movement on-air.
"I'm not promising anything, but I will give it some thought," Colbert said hesitantly, as he met Waldo to try on the bracelet.
"I really want to give this one some thought and then I'll get back to you. This bracelet was made for someone much bigger than myself," he said with a smile, immediately putting it on his wrist, resuming the Q&A session. "If I don't say it on tonight's show I'll work it into one of the next few episodes."
It seemed as though Colbert would ditch his newly gifted swag, as he adjusted and readjusted his bracelet while walking offstage to prepare for the September 11 taping. Upon his return, it was clear that Colbert was comfortable endorsing the message considered the "civil rights movement of our time."

Waldo told The Independent that he has "complete confidence" that if Colbert does mention Black Lives Matter, his writers will deliver something "intelligent and funny and true" but stressed the importance of "knocking out" both of his requests.
"I may never have that chance again, and now more than ever, especially for straight white men like Stephen and me who have benefited from white privilege our entire lives, it is so necessary to assert that Black Lives Matter."
The social movement, which aims to prevent the senseless police killings of unarmed black women and men throughout the United States, has recently become the target of Fox News pundits, right-wing supporters and police unions. Colbert's gesture wouldn't be considered radical if the movement was given the proper debate by mainstream news personalities in the US.
"He didn't decide to run it by a network executive first or ask me more about Black Lives Matter. He knows the issues, he clearly agrees there is a problem, and he put that wrist band on without a moment's hesitation," Waldo said.
Sharron Paul sat alongside Waldo during Friday's pre-show taping. She told The Independent that she and Waldo kept nudging each other and giggling every time the bracelet was displayed prominently.
"I joked around after the taping, saying that CBS might digitally erase the wristband before air," she said. "Judging by his statements, I feel like Stephen will find a way to mention BLM within the next few episodes. I'll be watching. And waiting."
After all, CBS CEO Leslie Moonves did joke about replacing Colbert's Late Show if it becomes too controversial — a blessing and a curse considering the comedy hour employs an all-white writing staff of 17 men and two women, Splitsider first reported.
Both Paul and Waldo are active in the New York's comedy circuit. As for the lack of diversity in Colbert's writer's room, Paul said she was hardly surprised when she first caught word.
"It's a sadly familiar story. Writers' rooms are full of white men. It's not as surprising or shocking as I think it was intended to be," she said. "Colbert is so highly respected, we expect so much more from him. Maybe the makeup of his writers' room will evolve. Maybe it won't."
Actress Amy Schumer, author Stephen King and Paul Simon tribute band Troubled Waters made guests appearances on Friday's show.
The Independent has reached out to CBS Entertainment for comment.