Sub-Lieutenant Anthony Eldridge: Naval officer and a 'human torpedo' who helped sink two vessels controlled by the Japanese
Last December Eldridge was one of the subjects of The Independent's Christmas appeal and was in the paper again when delays in Britain's visa system prevented his South-African-born grandson from visiting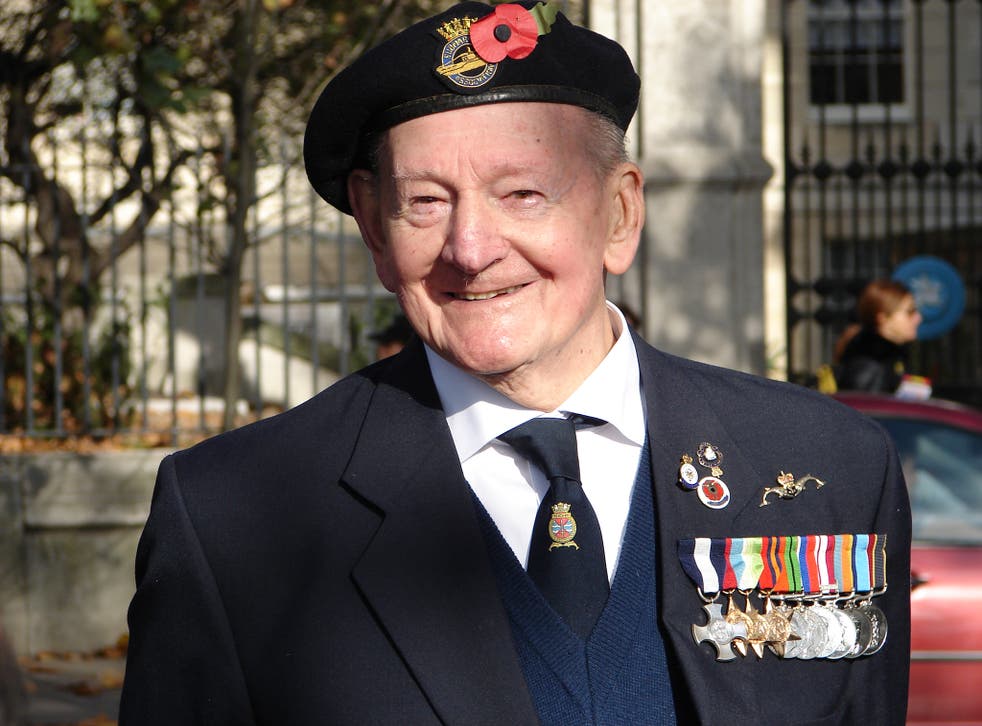 The four "human torpedoes", dressing for action, left off only the foul-smelling shark-scare grease. Unsmeared, and trusting to luck, they donned thick rubber suits and the oxygen supply that with a slight knock could open at full pressure and burst their lungs.
By the light of a brilliant moon they concealed cyanide pills in case of capture inside their helmets and waited ready to mount, two by two, the pair of two-seater "chariots", 30ft long, two and a half feet wide, each nosed with a 1,100lb Torpex explosive-filled warhead. This, too, by a knock or a bump in the shallow coral-reefed waters of the Andaman Sea off Thailand, might go off and kill them.
Sub-Lieutenant Tony "Lofty" Eldridge, skipper of the chariot they had named "Tiny", shook the hand of his crewman, Petty Officer Sydney "Butch" Woollcott, and at 10pm on 27 October 1944 they slipped away from the sweltering control room of the submarine HMS Trenchant and climbed on to the craft. It bobbed in the phosphorescent, balmy sea, six and a half miles from the Thai island of Salanga, where they were to make for the harbour of Phuket.
It took two and a half hours to reach their target, the 4,859-ton former Italian merchant ship Sumatra now controlled by the occupying Japanese. She lay, recently refloated, near the harbour entrance. Beyond her, still half-submerged, was the ex-merchantman Volpi, 5,272 tons, prey for Eldridge's and Woollcott's colleagues, Petty Officer WS Smith and Steward A Brown on the other craft. Targets like these were beyond the reach of ordinary submarines, and torpedoes fired had run into the sand.
Eldridge's underwater steed, developed at the behest of Winston Churchill from a mish-mash of pre-war ideas and observation of Italian successes at the beginning of the Second World War with just such primitive craft, was an extreme stop-gap measure to do the near-impossible.
He was the son of a businessman who owned hairdressing ventures in Tunbridge Wells in Kent, and joined the Royal Naval Volunteer Reserve in 1943, where, having quickly demonstrated that he was officer material, he put himself forward for special service – soon revised as "special and hazardous service".
By the night of the Far Eastern mission, Ceylon Secret Operation 51, he had endured the bone-chilling cold of months of underwater training deep in Scottish lochs and the sweat-pouring heat of exercises, for land-survival if caught, in the Ceylonese jungle.
He had become used to the irritations of nose-clips pinching his nostrils shut for hours on end, of having sore lips and gums from constantly gripping a mouthpiece, and of enduring scrapes and tears to his hands, as well as mishaps such as water getting inside the unwieldy suit. The only softness was the underwear beneath it, silk combinations smooth against his skin.
"When you're piloting a chariot you can't see far ahead," he recalled. They stayed above the water for some of the run-in, arriving at half past midnight. Work to attach the warhead to the ship's bottom proved troublesome: large barnacles prevented the magnets sticking, so Woollcott attached a clamp to the bilge keel and tied the warhead to it with rope, then set it to explode six hours later.
The two men had resolved from the start that capture was not an option. Inside their heavy suits they had each been issued with the poison pill, a .38 revolver, local currency, a bag of 25 gold sovereigns, a silk map, a commando dagger, needle and thread, compasses, hacksaw blades, a watch, and a "Siamese Blood Chit", offering the British government's reward to anyone who helped its officer.
The details of training and missions had been devised since Britain's darkest hour in 1942 by men including the submariner Admiral Sir Max Horton, and the Lieutenant-Commander who now commanded Eldridge's chariot's parent boat, HMS Trenchant, AR "Baldy" Hezlit, who now anxiously scanned the flat, calm sea through his binoculars.
Both chariots returned before 3am. Hezlit ordered Smith and Eldridge to scuttle them in case Trenchant should be caught. The four charioteers snatched some sleep, then at 6.30, through the submarine's periscope, saw Sumatra and Volpi blow up.
The mission was the only completely successful British chariot action. It was also to be the last. In all, 39 charioteers had been killed in two years. Brown, Smith and Woollcott were awarded the Distinguished Service Medal, and Eldridge received the Distinguished Service Cross. An American decoration, the Meritorious Service Medal, also came his way.
Eldridge had been posted to all three of the training depot ships of the Experimental, later the Twelfth, Submarine Flotilla, HMS Titania, HMS Varbel, and HMS Bonaventure, and had sailed east on HMS Wolfe. He stayed in the Navy until November 1945. In Bonaventure, in 1944, six months before his raid on Phuket, he was introduced to King George VI.
Back in civvies, he worked as a stockman with his father's businesses in Tunbridge Wells, then with his wife Dorothy, whom he married in 1950, he moved to South Africa, then to Rhodesia (now Zimbabwe), where he set up in business, specialising in early versions of what is now information technology and computing.
Eldridge is thought to have been the last living British charioteer. By September 2009, he wrote to a newspaper saying that there were only two, Lt Roland Hindmarch and himself. He wrote a memoir, Just Out of Sight (1998).
Last December Eldridge was one of the subjects of The Independent's Christmas appeal, highlighting the plight of homeless war veterans. In his last years, back in Britain, he suffered from failing eyesight and had found a suitable house, at Leavesden, near Watford, through the ex-servicemen's charity Haig Homes. He was again the focus of The Independent's attention when delays in Britain's visa system prevented his South-African-born grandson, resident in Norway, from visiting. When at last the vital papers came, it was too late. "Lofty" Eldridge, who had been diagnosed with terminal cancer a week before, died less than three hours before his grandson arrived.
Anthony William Charles Eldridge, naval officer and businessman: born Tunbridge Wells, Kent 16 July 1923; DSC RNVR, MSM; married 1950 Dorothy (two daughters, one son, and one daughter deceased); died Leavesden, Hertfordshire 14 April 2015.
Join our new commenting forum
Join thought-provoking conversations, follow other Independent readers and see their replies