Tamir Rice: City of Cleveland to pay $6m to family of slain 12-year-old
Prosecutors decided against charging the officer who fatally shot the boy in 2014.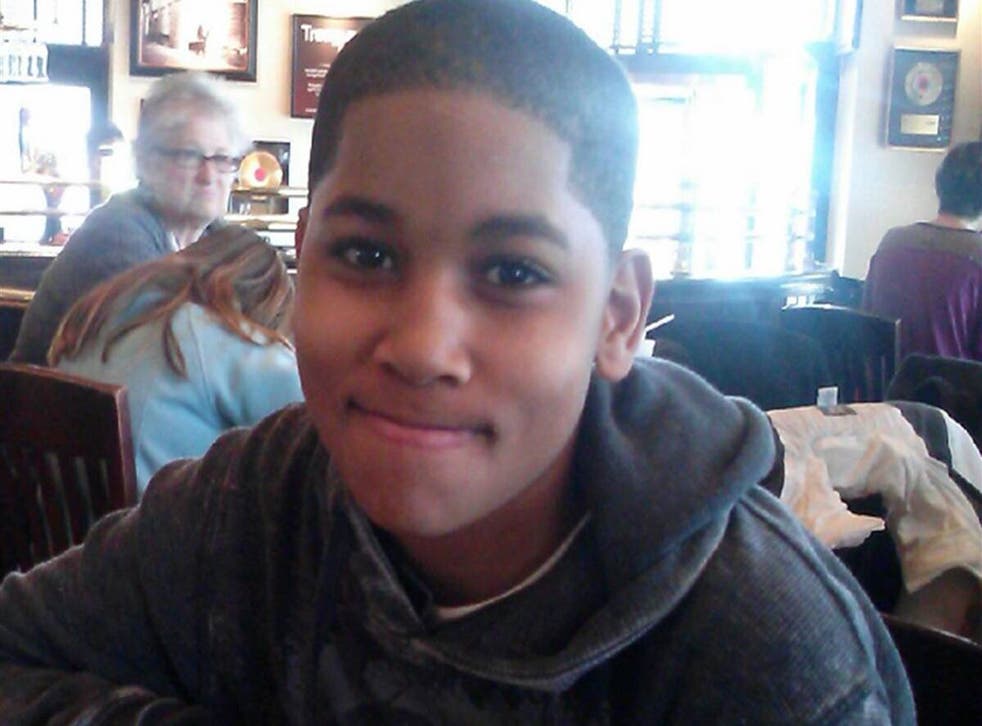 The family of Tamir Rice, the 12-year-old boy who was shot and killed by a Cleveland police officer, is set to receive a $6 million settlement from the city.
Officials on Monday announced that the city will pay the settlement in two installments, with $3 million this year and $3 million the next. Tamir Rice's estate will receive $5.5 million. Samaria Rice, the boy's mother, and his sister Tajai Rice will each receive $250,000. However, neither the city or the officers will admit to any wrongdoing.
Rice was shot and killed in November 2014 when two white police officers responded to reports of someone spotted with a possible gun. The person who made the call told the dispatcher that they may have seen a toy gun rather than a real one, but this information was not relayed to Officers Timothy Loehmann and Frank Garmback.
The officers arrived to scene and within a matter of seconds, Mr Loehmann had drawn his weapon and lethally wounded the child, who was indeed playing with a toy pistol. Tamir, who lived across the street from the recreation centre where he was shot, died the following day.
Last year, prosecutors declined to bring charges against the two officers, concluding the fatal shooting a "perfect storm of human error."
The boy's family had filed a wrongful death lawsuit against the city and its police force, claiming that the officers had acted recklessly. A federal civil rights investigation is pending.
The settlement, first reported by Cleveland.com, does not resolve all of the lingering legal issues surrounding the 12-year-old's killing. However, it was a sign that both the city and the boy's family did not want to endure what could be tension-filled litigation process that could last years.
"Although historic in financial terms, no amount of money can adequately compensate for the loss of a life," attorneys for the Rice family said in a statement, according to the Washington Post. "Tamir was 12 years old when he was shot and killed by police — a young boy with his entire life ahead of him, full of potential and promise. In a situation such as this, there is no such thing as closure or justice. Nothing will bring Tamir back."
Tamir's mother, Samaria Rice, alleged that in addition to failing to provide first aid to her son, police caused intentional infliction of emotional distress in how they treated her and her daughter after the shooting.
In 2014, Cleveland also settled a lawsuit in the 2012 killings of Timothy Russell and Malissa Williams for a total of $3 million. The unarmed couple was killed during a 137-shot barrage of police gunfire at the end of a 2012 car chase. No charges were brought against the officers involved in the shooting.
The payment is similar to recent killings of African-Americans by police officers across country. After Eric Garner, who died after being placed in an illegal chokehold by officers in the summer of 2014, the city of New York agreed to pay his family $5.9 million just a year later. No charges were brought against the officers involved.
Last September, the family of Freddie Gray received $6.4 million from the city of Baltimore after he died after being seized by officers in the spring of 2015. Six police officers have been charged over his death, one of them with manslaughter.
Register for free to continue reading
Registration is a free and easy way to support our truly independent journalism
By registering, you will also enjoy limited access to Premium articles, exclusive newsletters, commenting, and virtual events with our leading journalists
Already have an account? sign in
Register for free to continue reading
Registration is a free and easy way to support our truly independent journalism
By registering, you will also enjoy limited access to Premium articles, exclusive newsletters, commenting, and virtual events with our leading journalists
Already have an account? sign in