Taylor Swift, Kanye West, Kim Kardashian and the impact of having spats play out in public
Social media is becoming a new way of challenging perceptions of a celebrity and the personal brands they have worked so hard to construct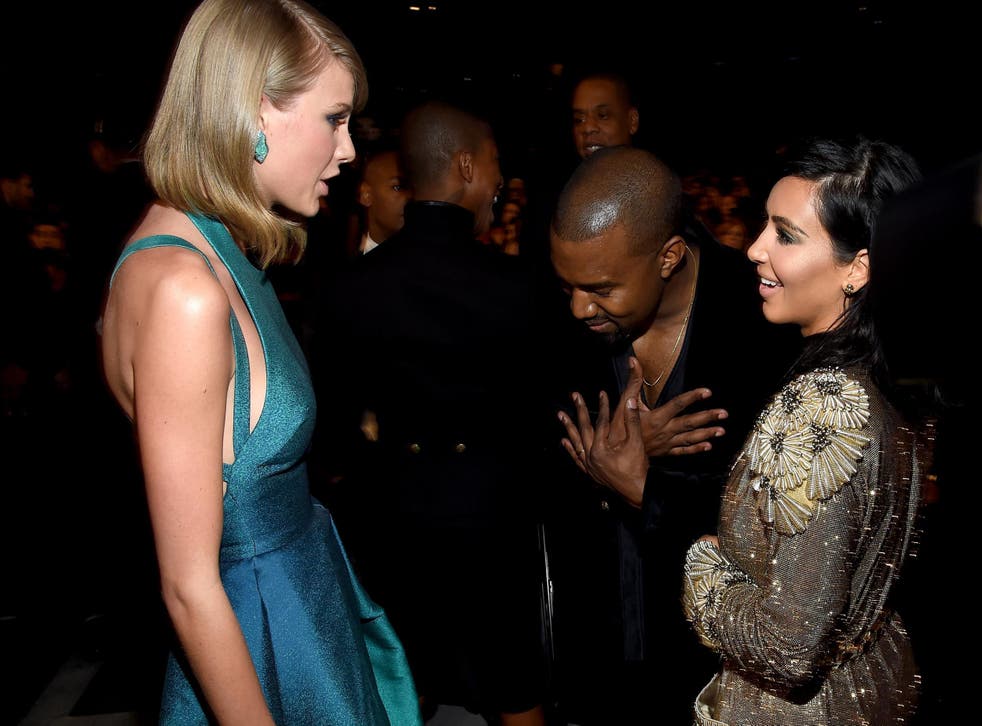 There are very few corners left for the rich and famous to hide in now should they ever become embroiled in a spat that then spirals out of their control.
At best, assertive teams may be able to reduce coverage to vague suggestions in gossip magazines. At worst, their sparring partner could choose social media, the weapon of choice increasingly utilised by the high profile and influential to launch accusations and attempt to cause great embarrassment, as Taylor Swift has learned this week.
After months of strenuously denying approving contentious lyrics about herself in Kanye West's song "Famous", Kim Kardashian has released a video appearing to show the rapper and singer discussing the lyrics, except a line where he refers to her as "that b****". Kardashian's teasing of the video in a cover story with GQ and on her social media page have only served to build up the attention around it and Swift has been forced to respond with another strenuous denial.
From beef to BFFs to beef again: Kanye West and Taylor Swift

Show all 6
Jeetendr Sehdev, a celebrity branding authority and USC marketing professor, told The Independent this latest development could potentially prove damaging to Swift's personal brand. According to data he collected a day after its release, eighty-three per cent agree Swift is left "over-exposed", and three in five agree that Kardashian's decision to release the video was the right one. Mr Sehdev's data is collected from online studies and one on one interviews with a random sample of 1,500 adults, aged 18 and older, living in the United Kingdom.
Mr Sehdev's results also showed:
Seventy-two per cent of people agree this shows a less than appealing side to Swift. 
Seventy-five per cent of people agree that Swift seemed more interested in the publicity she could gain from the song. 
Over fifty-five per cent of people say that they respect Kim for posting the video while only 12 per cent believe it was the wrong thing to do.
Mr Sehdev added: "Typically, feuds help celebrities get more attention but this video is bona fide bad news for Swift who is struggling to maintain an authentic persona. Today, savvy audiences have strong authenticity detectors. Celebrities who are looking to be brave and reveal the truth to fans will get ahead."
Responding to the data, a source close to Swift told The Independent: "This marketing professor has not accounted for the tens of millions of fans that stand by Taylor and know she told the truth about Kanye West not telling her he was going to call her 'that b****.'"
Here is a full transcript of Kardashian-West's "secretly" recorded Snapchat phone recording:
Kanye West: Okay, dope – you still got the Nashville number?
Taylor Swift: I still have the Nashville area code, but I had to change it.
[cuts to Kanye rapping] KW: "For all my southside n****s that know me best, I feel like me and Taylor might still have sex."
TS: I'm like, this close to over exposure.
KW: Oh well, I think this is a really cool thing to have.
TS: I know. It's like a compliment, kind of.
KW: What I give a f*** about is just you as a person, and as a friend, I want things that make you feel good. I don't wanna do rap that makes people feel bad.
TS: Umm I mean, yeah. Go with whatever line you think is better. It's obviously very tongue in cheek either way. And I really appreciate you telling me about it. That's really nice.
KW: Oh, yeah. I just had a responsibility to you as a friend, and thanks for being so cool about it.
TS: Aw, thanks, um, yeah. I really appreciate it, like, the heads up is so nice. [muffled] without like even asking or seeing if I would be okay with it and I just really appreciate it. Like, I never would have expected you to like, tell me about a line in one of your songs.
KW: It's pretty crazy.
TS: And then the flowers that you sent me, I like Instagrammed a picture of them and it's like the most Instagram likes I've ever gotten. It was like 2.7 [Snapchat ends]
KW: Relationships are more important than punch lines, you know?
TS: Yeah! I don't think anyone would listen to that and be like "That's a real diss, she must be crying." It's just, you've got to tell the story that way it happened to you and the way that you experienced it. You honestly didn't know who I was before that. It doesn't matter that I sold 7 million of that album before you did that which is what happened, you didn't know who I was before that. It's fine.
TS: I might be in debt, but I can make these things happen. I have the ideas to do it and I create these things and concepts. I'm always going to respect you. I'm really glad that you have the respect to call me and tell me that as a friend about the song. It's a really cool thing to do and a really good show of friendship so thank you.
KW: Thank you too.
TS: And you know, if people ask me about it I think it would be great for me to be like 'Look, he called me and told me the line before it came out. Joke's on you guys, we're fine.' You guys want to call this a feud; you want to call this throwing shade but right after the song comes out I'm going to be on a Grammys red carpet and they're going to ask me about it and I'll be like 'he called me.' It's awesome that you're so outspoken about this and be like 'Yeah, she does. It made her famous.' It's more provocative to say 'might still have sex.' It doesn't matter to me. There's not one that hurts my feelings and one that doesn't.
Join our new commenting forum
Join thought-provoking conversations, follow other Independent readers and see their replies