Angelina Jolie and Bollywood stars targeted: 'Hot babes with ugly legs' Times of India article sparks 'body shaming' outrage
Louise Court, Editor-in-Chief of Cosmopolitan, joins eating disorder charities in condemning the publication's 'damaging' piece
Jenn Selby
Thursday 25 September 2014 16:49 Comments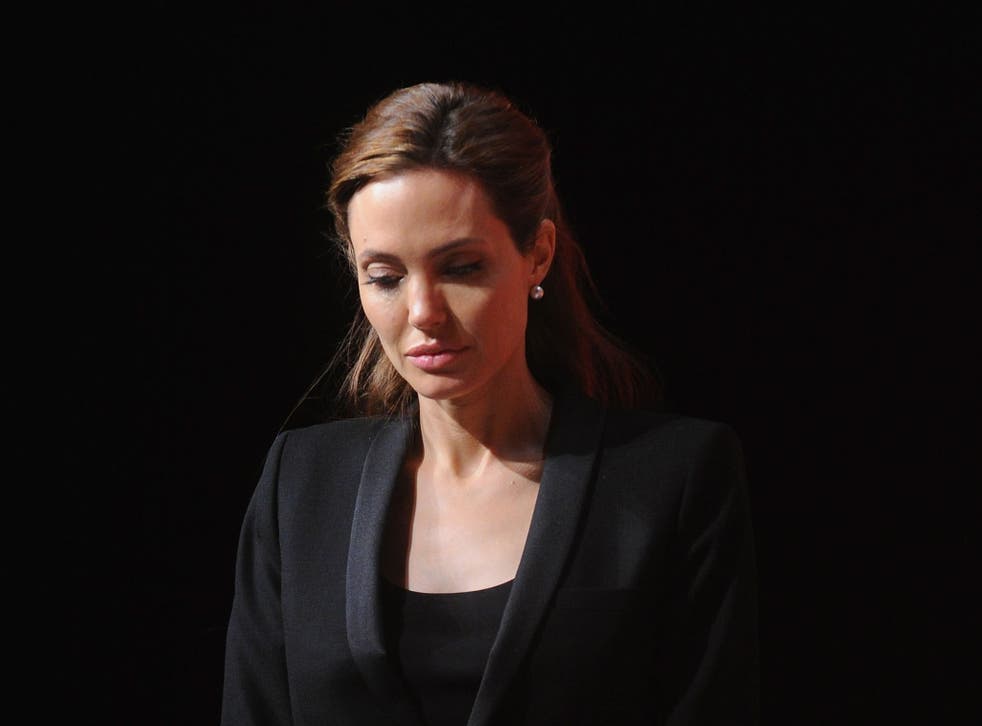 One is among the biggest selling female pop stars of the last 25 years. Another is a UN ambassador and an Oscar-winning actress.
The others range from singers to TV regulars and Bollywood stars. All of whom are used to their physical appearances being routinely scrutinised by the tabloid press. But none of whom were probably expecting to be the focus of this particularly critical piece by the Times of India – a leading Asian publication – entitled 'Hot babes with ugly legs'.
"Those muscular legs would look more at home at the wrestling ring!" it reads on the subject of Britney Spears' limbs.
"This Oscar winner is seen as the epitome of style and grace," it exclaims in regards to Angelina Jolie. "But her skinny arms and legs with bulging elbows and knees defy her style diva image. Her knees, in particular, could surely use some meat."
She goes onto describe Katie Holmes as the "Cute and pretty" ex-wife of Tom Cruise, who "may be skinny on top, but has rather thick legs with muscular calves."
Louise Court, Editor-in-Chief of British women's magazine Cosmopolitan, was horrified by the piece.
"This Times of India article actually made my jaw drop – which I should probably add, in the spirit of things, could do with more definition and was cushioned as it hit the desk by a bit of a double chin," she tells The Independent.
"It is like an article from Viz. Women's bodies are not fair game. Creating the ideal of a 'perfect' image that women should look like is vile to the celebrities criticised but also heaps inferred pressure and criticism on the rest of womankind.
"I was infuriated by it – but women struggling with their body image are made even more vulnerable.
"This article is just mean and pointless. We should be focusing on the talent of the women on that list - not what they look like. Angelina Jolie is an Oscar winner and global humanitarian. Sarah Jessica Parker is an Emmy award winning actress and producer and fashion designer. Do you want me to go on? The conversation should be about their achievements."
Susan Ringwood, Chief Executive of leading eating disorder charity Beat, similarly condemned the irresponsibility shown by the Times of India in the publication of the article.
"When the seemingly 'perfect' celebrities get slammed for looking less than ideal, it doesn't make the rest of us mere mortals feel better- we feel worse, because we know we are even further away from what counts as beauty in an image obsessed world," she said.
"Bodies come in a delightful variety, and the beauty of that diversity is what we should be celebrating. We call for an end to body shape shaming- no matter who it is directed at."
Natasha Devon, founder of positive body image campaign Body Gossip, which teaches self-esteem, agreed.
"Heavy scrutiny of women's bodies of this kind is exactly the kind of damaging rhetoric that leads to a process psychologists call 'compartmentalisation'.
"This is when we look in the mirror and can no longer see our bodies as one entity, but instead zone in on perceived 'flaws'.
"Ultimately, compartmentalisation can lead to body dysmorphia and eating disorders. All the women mentioned are talented and have careers which should not be defined by how much 'meat' they are deemed to have on their arms and legs.
"What of Angelina Jolie's latest film performance or Britney's most recent single?"
The Times of India is yet to respond to The Independent's request for comment.
However, its latest piece comes just days after the publication attempted to defend a controversial article about Deepika Padukone's "cleavage show".
It did so by branding the Bollywood actress a hypocrite for appearing in magazine photoshoots "far more revealing than the above video which she tweeted against".
The response read: "Deepika, we accept your reel vs real argument, but what about all the times, and there have been many, when you have flaunted your body off screen - while dancing on stage, posing for magazine covers, or doing photo ops at movie promotional functions? What 'role' do you play there? So why the hypocrisy?"
Padukone – one of Bollywood's highest-paid stars – has appeared in films such as the Chennai Express, Om Shanti Om and Yeh Jawaani Hai Deewani.
Register for free to continue reading
Registration is a free and easy way to support our truly independent journalism
By registering, you will also enjoy limited access to Premium articles, exclusive newsletters, commenting, and virtual events with our leading journalists
Already have an account? sign in
Join our new commenting forum
Join thought-provoking conversations, follow other Independent readers and see their replies