Tippi Hedren: Star of The Birds claims she was sexually assaulted by Alfred Hitchcock
Actress claims she did not report on Hitchcock's alleged behaviour because 'sexual harassment and stalking were terms that didn't exist'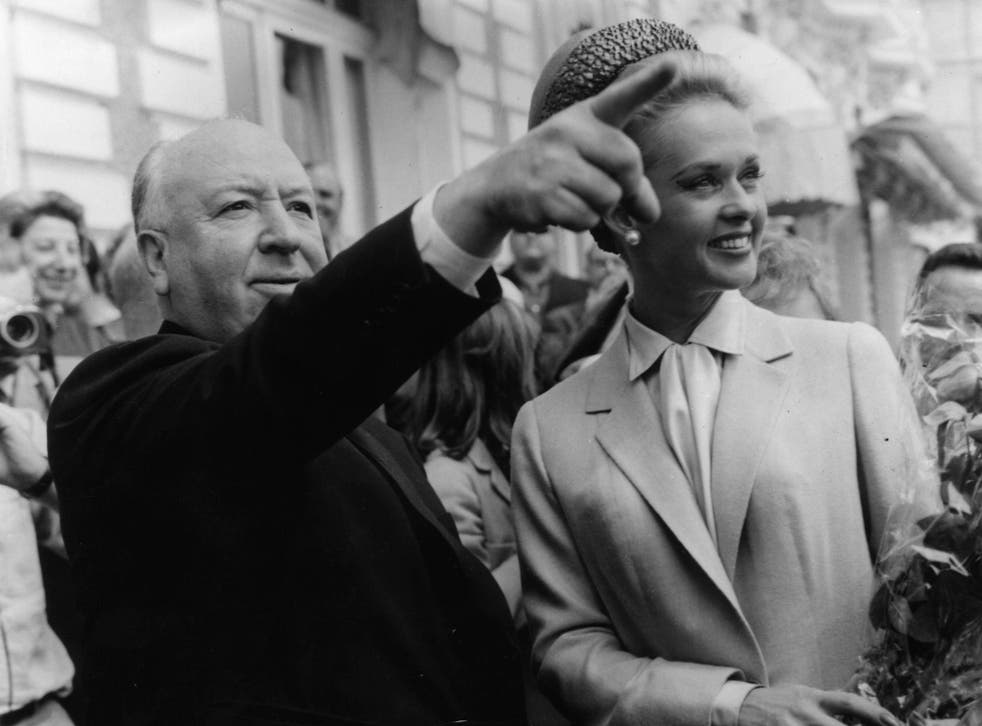 Tippi Hedren has claimed she was sexually assaulted by Alfred Hitchcock when filming several of her iconic movies with the late director.
Hedren made a name for herself after appearing in the iconic horror classic The Birds in 1963 after she was discovered by British director Hitchcock at the age of 31 while she was a newly divorced single mother caring for her daughter Melanie Griffith.
Now at the age of 86, Hedren has documented her time working on the films in a new memoir of which excerpts have been published in the Mail Online and the New York Post.
In a series of extraordinary claims, Hedren alleges the director threw himself on top of the actress and tried to kiss her while they were driving in his limousine during The Birds filming.
"It was an awful, awful moment," she reportedly writes. She says she did not tell anyone because "sexual harassment and stalking were terms that didn't exist". She also claims she knew that he was more "valuable" to the studio than her so doubted how much she would be heard.
Alfred Hitchcock's Greatest Films

Show all 10
The alleged harassment extended on to the set where Hedren claims Hitchcock became "petulant and icy" if he saw her talking to other men. She also claims the infamous scene where the character is besieged by a flock of angry birds was changed at the last minute subjecting the actress to near-torture as the mechanical birds they initially planned to use were replaced with live birds.
"Not even the greatest trainer in the world could control every move an animal makes, especially when it's under stress. It was brutal and ugly and relentless," she wrote.
Hedren says she snapped when a bird pecked her close to her eye and later experienced nightmares and blackouts.
"I just sat there on the floor, unable to move and began sobbing from sheer exhaustion," she wrote.
The role catapulted her to fame and she won a Golden Globe. As part of her five-year contract with the director, she went on to make one more film with Hitchcock: Marnie.
During filming, she alleges the director had installed a secret door connecting his office to her dressing room and ordered the make-up department to make him a mask of her face which was not to be used in the film but just for him to own.
The actress says when she would find herself alone, "he'd [Hitchcock] find a way to express his obsession with me, as if I owed it to him to reciprocate somehow" and claims he told her he loved her.
It was also during filming for Marnie Hedren claims Hitchcock sexually assaulted her detailing an alleged incident in her dressing room where Hitchcock "put his hands on me".
"I've never gone into detail about this, and I never will. I'll simply say that he suddenly grabbed me and put his hands on me. It was sexual, it was perverse. The harder I fought him, the more aggressive he became," she wrote, according to the Mail.
She claims, in response to her rejections, he warned her he could ruin her career and allegedly became hell-bent on trashing her name around Hollywood.
"I've made it my mission ever since to see to it that while Hitchcock may have ruined my career, I never gave him the power to ruin my life," she writes.
Register for free to continue reading
Registration is a free and easy way to support our truly independent journalism
By registering, you will also enjoy limited access to Premium articles, exclusive newsletters, commenting, and virtual events with our leading journalists
Already have an account? sign in
Register for free to continue reading
Registration is a free and easy way to support our truly independent journalism
By registering, you will also enjoy limited access to Premium articles, exclusive newsletters, commenting, and virtual events with our leading journalists
Already have an account? sign in
Join our new commenting forum
Join thought-provoking conversations, follow other Independent readers and see their replies