Transgender Day of Visibility: Bethany Black on Doctor Who, stand-up, transitioning and depression
The Independent spoke to one of Britain's leading transgender actors about coming out as trans to her family and on stage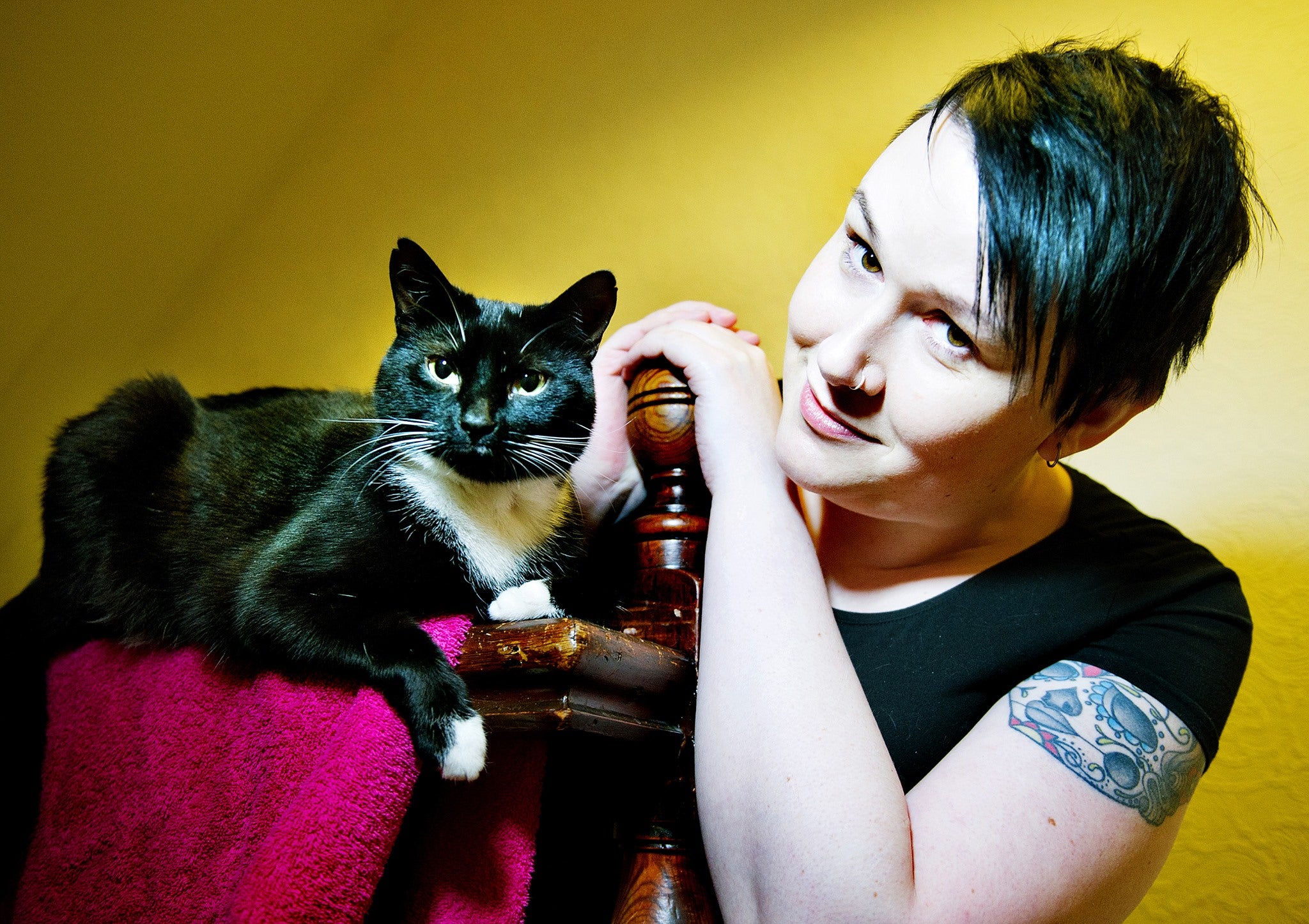 Self-styled as "Britain's only goth, lesbian, transsexual stand-up comedian", Bethany Black has been privy to more pigeonholes than hot dinners. Ignited by a droll, razor-sharp sense of humour, Black sees the funny side in funny side in, well, everything.
Known for her roles in Doctor Who and Channel Four drama Cucumber, the 37-year-old was the first openly trans person to star as a trans person in a television series in the UK. It hasn't been all plain sailing. Born in Chorley, Black went from doing data entry to getting sacked from 14 day-jobs in the space of a year to becoming one of the leading trans actors in British history.
Today marks International Transgender Day of Visibility. Founded by prominent transgender activist, Rachel Crandall, back in 2009, the day was created to raise the visibility of transgender people.
To celebrate the day, The Independent had a chat with Black about comedy, transgender issues, depression, Doctor Who, menial labour, and teenagehood.
Dull day jobs
Hailing from Chorley, a town best known for its old cotton industry and Chorley cakes, Black always knew she wanted to write, act or direct. In turn, she winded up setting off for university to study film and television in London in the late nineties. "But I dropped out in my third year when I went mad," she explains. "Trying to just pretend that I was something I wasn't became too much for me".
Moving back in with her parents, Black ditched her dreams and worked her way through a succession of mind-numbing day jobs, which included everything from data entry to being a receptionist in a carpet shop. "But I'm really not suited to 9-to-5's at all and never have been," she says. "I'm not suited to working an office. I've got too big of a mouth, I say the wrong thing, I have no filter".
Uninspired by her surroundings, she struggled to adapt to the humdrum of working life. "It's really difficult in an office environment when the most exciting thing anybody has got to talk about is the argument they had with their boyfriend in Ikea, and you're like, 'Oh [...] me and my mates did a load of drugs and went to a fetish club.''
The pioneers of LGBT rights in 2015
Show all 6
The birth of stand-up
But things eventually began to look up. "Being 21 when you've failed at everything, you think, 'well that's it, I've ruined my entire life', not realising that life goes on a lot longer than you expect," she says.
Yet it wasn't until her first stand-up gig that Black really realised what life was all about. "I gave stand-up a go and the second I got the first laugh for the first joke I'd ever written, I thought 'this is it, this is what I want to do with my life'," she recalls. After eight years hard graft, Black finally reached the point that she was able to earn enough money from just performing stand-up.
Coming out as transgender
When Black told her parents she was trans, her mother rather farcically remarked, "But we've just had a conservatory built!" However, Black insists this is not quite how it sounds on the tin. "Fifteen years ago when I first came out, it was the end of the 20th century and everything my mother knew about the lives of trans people was negative. She thought my life would be over and I'd have to go somewhere else and start again.
"The thought process behind it was we've spent this money on this conservatory, it would be handy to have that money in case we have to move because I'm prepared to do whatever it takes to look after my daughter".
Black began gender reassignment surgery in 2000. Although she now happily discusses her transition in her stand-up comedy, it did take some warming up. "As a comedian, it's a double fear. First, there's the fear you're going to be rejected for it, and [there is the fear] you're going to be attacked."
Another dip
But as trite as it may sound, things had to get worse again before they could get better. About four years ago, Black's life fell into disarray and everything came tumbling down. "I got dumped shortly before I was supposed to be getting married, three of my best friends died in a year. I got thrown out of my house, I broke my leg," she says. "The week before Christmas, my house got broken into, they stole all of our presents while we were buying a Christmas tree".
In other words, everything that could possibly go wrong did. In the end, she ended up phoning Citizen's Advice Bureau trying to find out how to declare bankruptcy. "Looking back on it now, it's like it happened to someone else," she says.
Breaking into the mainstream
In another bizarre turn of events, things changed yet again when Black received an email from a friend telling her to apply for a role in Channel Four's Cucumber. "It read we're looking for a Mancunian trans woman between the ages of 20 and 40, a bit gobby and confident", she laughs. "In two weeks my life had turned around". Despite having rarely acted since her A-Levels days, from that point, she was catapulted further into the mainstream. Black has since appeared in the Channel Four series, Bananna, Cucumber and Tofu.
Doctor Who
But it wasn't until she was handpicked for Doctor Who that she really knew she'd made it. Having once watched the show religiously as a child, she then became the first openly trans actor to be featured on the programme which has since gone on to amass 77 million viewers worldwide. Starring in a non-transgender role, as 474, in November of last year, she was in the ninth episode of the ninth season. "That episode has been shown in countries where people like me are illegal which is mind-blowing," she says.
Depression
Having suffered from depression at certain points, Black has had her fair share of ups and downs. She is open about the fact she has tried to kill herself a number of times.
"My life has been mostly low points with the occasional bit of sunshine in between," she says with a wry laugh, managing to stay positive. "But once I got that first laugh from doing that first stand-up gig, there was nothing else I ever wanted to do in my life, so it didn't matter whatever else happened".
Join our commenting forum
Join thought-provoking conversations, follow other Independent readers and see their replies