When will Hollywood drop men accused of domestic violence?
Until celebrities actually go to trial when they're accused of heinous acts, the entertainment industry will never stop working with them
Alyssa Rosenberg
Wednesday 01 June 2016 15:29 Comments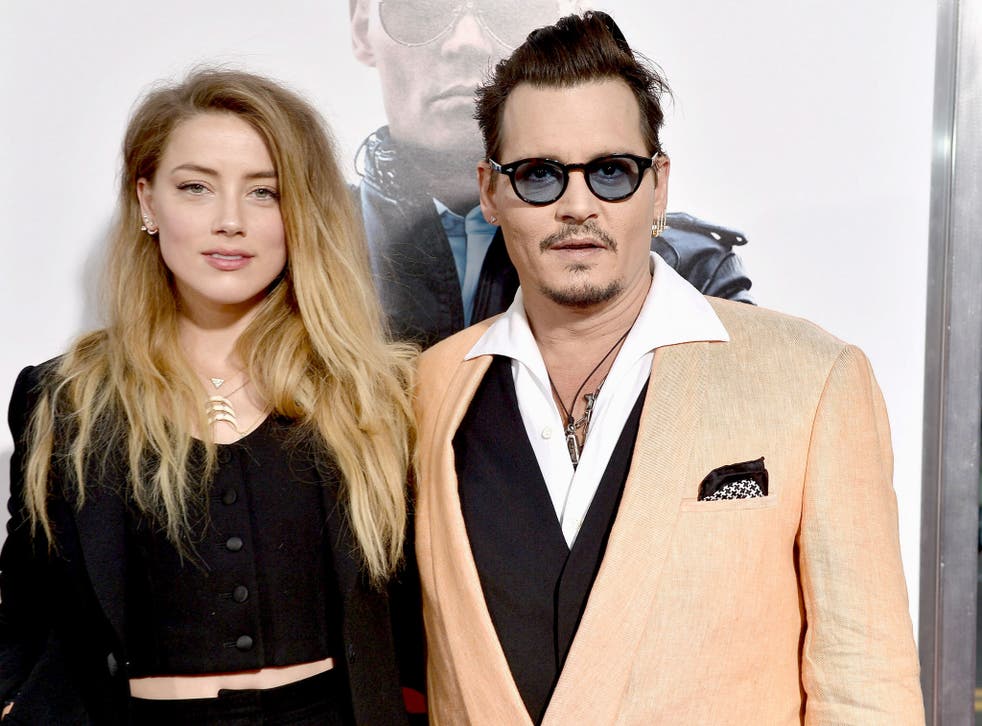 Last week, when Amber Heard filed for divorce from Johnny Depp, the story initially seemed like just another dissolution of a celebrity misalliance. But the news quickly became uglier: Heard alleged that Depp had abused her during their brief marriage and filed for a restraining order against him as Depp's latest family-friendly movie, "Alice Through the Looking Glass," opened over the Memorial Day weekend.
And today, Heard's divorce lawyers said that she had gone to the Los Angeles police department to give a formal statement, even though previously "Amber did not provide [an initial] statement to the LAPD in an attempt to protect her privacy and Johnny's career." In recent years, we have become inured to stories about famous men accused of domestic or sexual violence. But Heard's decision first to not go to the police and then to give a statement is one of the best illustrations of why actually getting these men to trial would be good not only for the larger causes of justice and gender equity, but also for an industry that has flailed and failed in response to serious allegations against famous men.
First, it's important to acknowledge that Heard is in a complicated position: Because she and Depp didn't sign a prenuptial agreement, his future earnings could have an impact on any spousal support she might receive. And given Depp's position as one of Disney's most reliable box office anchors, the amount of money at stake is significant.
But looking at the issue more broadly, the fact that so few famous men accused of grave misdeeds even go to trial makes it much harder to set a bright line for what the entertainment industry shouldn't tolerate.
I understand the arguments many advocates make that Hollywood shouldn't give enormous sums and great prestige to people accused of grave misdeeds. And in certain circumstances, I think companies should certainly move immediately when such allegations become public. Even setting aside the liability issues, no child actor should have to work with a co-star, director or crew member who has been accused of child abuse until it can be sure that the child actor is absolutely safe on set.
But this stance also puts large entertainment businesses in the position of acting as substitutes for the legal process. In the absence of trials and verdicts of guilt or innocence, movie studios and television networks are trying to make those determinations on their own, without the benefit of evidence or legal arguments. And they're also trying to weigh that presumed guilt or innocence against public perception and a star's previous marketability. Is it any wonder that under these circumstances, Hollywood often makes bad and unsatisfying decisions?
There are parallels between Hollywood's failures and cowardice with regards to men like Bill Cosby, Woody Allen and Charlie Sheen, and the ways colleges and universities have tried to create alternate disciplinary proceedings to adjudicate sexual assault allegations. College disciplinary systems were supposed to be an alternative to broken criminal justice processes. Instead, they ended up illustrating how badly we need those systems to work.
The same is true for Hollywood. Trials can produce odd verdicts, and famous, wealthy people can purchase extraordinary defenses. But verdicts at least offer employers, or schools, much more clear-cut bases on which to make decisions. If Charlie Sheen had been convicted of domestic violence, rather than cutting a plea deal, FX would have had a much more difficult time greenlighting "Anger Management," a show ostensibly about his redemption. If Bill Cosby had been tried for and convicted of sexual assault years ago, it's hard to imagine that networks would still have been trying to cut deals with him. Innocent until proven guilty is a good principle, until we get to a point where we're not engaging with the process that would determine whether someone is guilty or innocent.
And now, if Johnny Depp is actually charged with and convicted of domestic violence, Disney will have a definitive verdict to deal with as the company deliberates over whether to continue profiting from his mad-cap acting style in franchises like the "Alice" and "Pirates of the Caribbean" movies. That doesn't guarantee that Hollywood will make good choices. But at least the decisions will be stark ones.

Copyright: Washington Post
Register for free to continue reading
Registration is a free and easy way to support our truly independent journalism
By registering, you will also enjoy limited access to Premium articles, exclusive newsletters, commenting, and virtual events with our leading journalists
Already have an account? sign in
Join our new commenting forum
Join thought-provoking conversations, follow other Independent readers and see their replies