Whoopi Goldberg defends Bill Cosby over rape allegations: 'I have a lot of questions'
The actress made the comments as a panellist on The View
Antonia Molloy
Tuesday 18 November 2014 11:35 Comments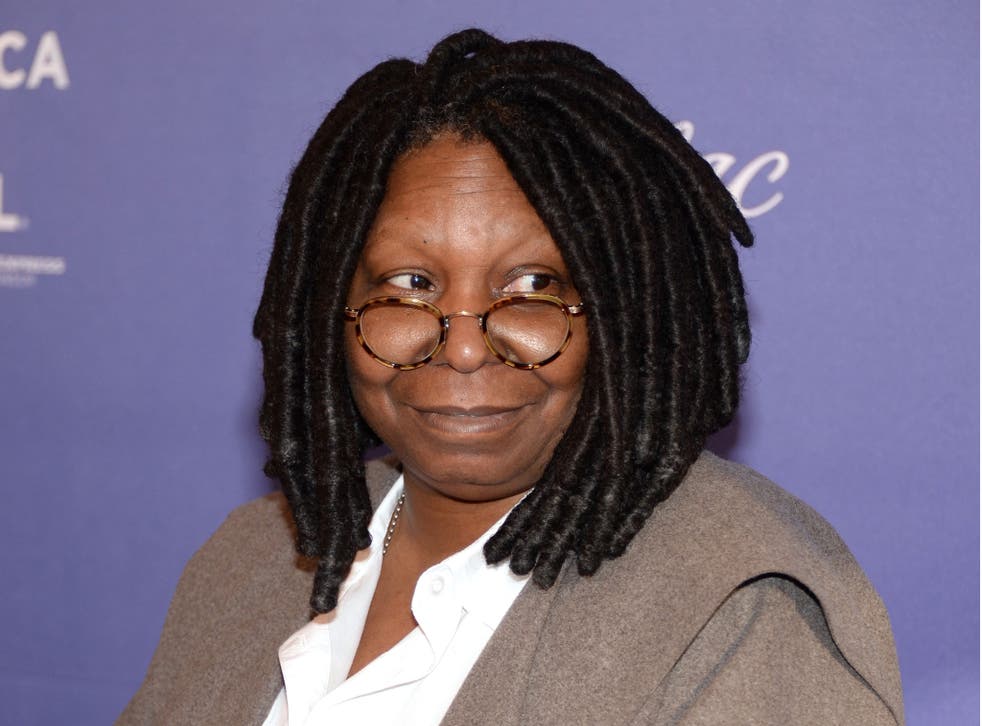 Whoopi Goldberg has come to the defence of Bill Cosby, following allegations of rape against the comedian and actor.
Speaking as a panellist on The View, Goldberg cast doubt on the alleged victims' claims, saying she had "a lot of questions" and would "reserve… judgement".
Goldberg questioned why Barbara Bowman, who claimed in October that Cosby drugged and raped her when she was a teenager in 1985, had not gone to the authorities after the alleged incident.
"Perhaps the police might have believed it. Or the hospital. Don't you do a kit when you say someone has raped you?
"Isn't that the next step once you make an allegation? Don't the cops take you into a hospital for a kit?"
Bowman claims Cosby used his position of power as a way of coercing and manipulating her as she set out to become an actress.
Bowman told the Daily Mail that she went to a lawyer in 1987, but was laughed at.
"He laughed me out of the office. He said I was delusional, ridiculous, making these stories up," she said.
"No one believed me. No one would listen. They thought I was making up stuff to get money. I never asked for or was given a penny. That's not the point. But it shut me up. I didn't need one more authority figure to tell me I was full of s***."
When another woman, Andrea Constand, claimed that Cosby had drugged and assaulted her in his Philadelphia mansion in 2004, Bowman was one of 13 women called to take to the witness stand in 2006.
The allegations were firmly denied by Cosby's lawyers. In 2006, he settled the case with Constand. The terms of the settlement remain undisclosed.
Referring to this, fellow host Rosie O'Donnell said: "There was a settlement, so that's the thing that's curious."
To which Goldberg replied: "I can speak to settlements. Settlements don't necessarily mean you're guilty.
"You genuinely settle because you just don't want to have to out your family through it again and you don't want to have to keep going through it again and again."
"I hope there is justice for this lady. I hope somebody gets to the bottom of it but I'm going to reserve my judgement because I have a lot of questions, as I've said. It's crazy but I have a lot of questions, because I know we all have friends who have gone through this."
She added: 'You have to really take a minute and follow the evidence - follow what happened.
"We'll know when we know. That's what I know."
Bill Cosby: Career in pictures

Show all 20
This weekend, the actor's lawyer said that he will not be commenting on the "decade-old discredited" allegations.
"The fact that they are being repeated does not make them true," read a statement on Cosby's website.
"Mr Cosby does not intend to dignify these allegations with any comment. He would like to thank all his fans for the outpouring of support and assure them that, at age 77, he is doing his best work.
There will be no further statement from Mr Cosby or any of his representatives."
Register for free to continue reading
Registration is a free and easy way to support our truly independent journalism
By registering, you will also enjoy limited access to Premium articles, exclusive newsletters, commenting, and virtual events with our leading journalists
Already have an account? sign in
Join our new commenting forum
Join thought-provoking conversations, follow other Independent readers and see their replies