Harvey Milk Day: Why the former Wall Street banker is still the most influential LGBT activist – 37 years after his murder
To mark Harvey Milk Day, we celebrate the astonishing life and death of the one of the first openly gay officials to be elected in US political history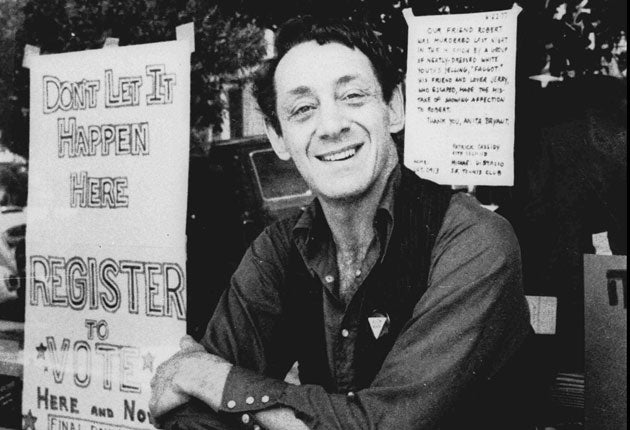 Harvey Milk was an ordinary Jewish boy from an ordinary part of New York, working in his parent's ordinary store and playing football with his brothers in his spare time.
After graduating from high school, he joined the U.S. Navy, was discharged four years later and moved back to the Big Apple, where he took on a myriad of jobs, including roles as a public school teacher, a Wall Street investment banker, and even a Broadway production associate.
So far, still so ordinary. But what he did after he moved to San Francisco in 1972 was anything but.
Milk, who had known since school that he was gay, opened a camera shop on Castro Street in the heart of the LGBT community.
His shop, Castro Cameras, soon became a neighbourhood hub and Milk found a voice as an activist and a political leader.
"Rights are won only by those who make their voices heard," he said.
10 Harvey Milk Quotes To Inspire You
Show all 10
A year later, he announced his candidacy for a position on the San Francisco Board of Supervisors.
He wasn't a success straight away. With little funding for a campaign and with just as little experience, he lost the election. But he didn't give up.
His efforts were thwarted again when he narrowly lost a second election in 1975. What he lacked in status, however, he now made up for in experience: Milk had become an accomplished public speaker, a prominent leader within the gay community and a man with political connections in all the right places, including friends in the future city mayor Willie Brown, liberal San Francisco Mayor George Moscone and Dianne Feinstein, the future United States Senator.
In 1977, and after another tireless election campaign, he finally won a seat on the San Francisco City-County Board, making him one of the first openly gay officials ever to be elected in US history.
"It's not my victory, it's yours and yours and yours," he said. "If a gay can win, it means there is hope that the system can work for all minorities if we fight. We've given them hope."
He used his seat as a springboard to push for change and, together with Mayor Moscone, he saw the abolishment of the city's anti-sodomy law. The mayor also gave several members of the LGBT community high-profile positions on the board.
But his political history was cruelly cut short when, just a year later, on 27 November 1978, he, along with Mayor Moscone, was murdered by fellow supervisor Dan White.
White, a former firefighter and Vietnam veteran who had spiralled into depression following the breakdown of his own career, had become bitter and resentful at what he saw as the corrosion of traditional values and a growing acceptance towards homosexuality. One of the only supervisors to vote against Milk's gay rights ordinance, he resigned from his job the same month, complaining the salary he received was not enough to support his family.
Moscone told White he would consider re-appointing him if he chose to return to his seat, but when he asked to be re-instated, Milk requested for Moscone to refuse him.
Angry and largely unstable, White sought revenge, and snuck into City Hall carrying a .38 revolver. Ushered through into Moscone's office by his secretary, he shot the Mayor four times.
He then moved to Milk's office, where he drew out his gun and fired five shots into his head at point blank range.
Their deaths sent a wave of shock and devastation reverberating through the city after Board of Supervisors President Dianne Feinstein announced their deaths on the steps of City Hall. That night, over 40,000 civilians walked the San Francisco streets with candles to mark his passing in a silent vigil.
Today – the 22 May – would have also been Milk's 85th birthday. Yet he remains just as prominent a figure in LGBT rights as he once was. His influence on the changing tide of acceptance in the US is still felt years after his death as slowly, state by state, prejudices are picked apart and gay marriage is legalised.
"You've gotta give them hope," he said. "If a bullet should enter my brain, let that bullet destroy every closet door."
It's this quote perhaps more than any other that serves as a poignant reminder that Milk gave his life to fight for what he believed in. He fought for every civilian in San Francisco to choose who they loved ̶ regardless of sexuality, race or creed ̶ at a time when many American psychiatric "experts" still considered homosexuality a mental illness.
His plight was dangerous, unchartered, and at times deeply unpopular. But he persevered. And eventually, he won. For that, he will always be remembered.
Join our commenting forum
Join thought-provoking conversations, follow other Independent readers and see their replies