Wimbledon 2014: Did an argument with Kim Sears put Andy Murray off his game?
Speculation over who Murray was muttering about on court during his straight sets defeat to Grigor Dimitrov continues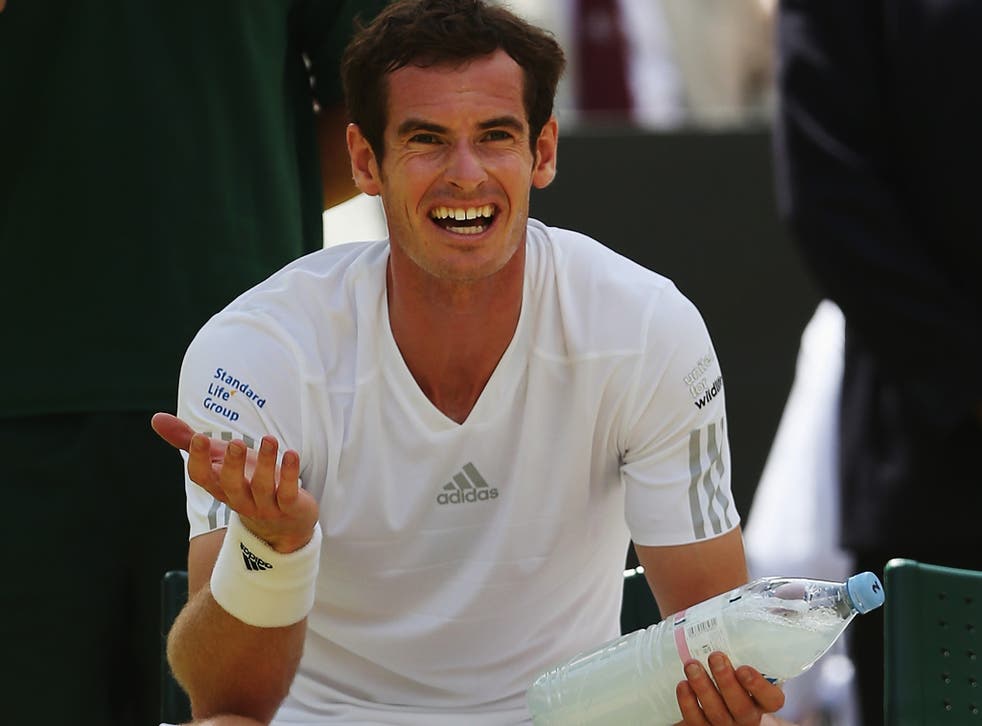 Andy Murray wasn't his usual self when he took to Centre Court at Wimbledon yesterday to defend his title.
Even his opponent, 23-year-old tennis star Grigor Dimitrov, noted something was off about the former champion.
"As soon as we started to warm up, I sensed that his game was not at the highest level," he said.
Murray, 27, rubbished Dimitrov's comments, claiming he had simply had a "bad day at the office" and pointed out that he had break points in the very first game.
But he lost to the Bulgarian in three straight sets during the quarter-final match, leading many to speculate over what went wrong for the player, who appeared on peak form as he breezed through the early rounds relatively unchallenged.
The best pictures from Wimbledon 2014

Show all 55
In the second set, Murray was heard muttering the words "shut the f*** up" to himself. In the third, as he clung onto the game for dear life down 4-2, he was heard again saying: "Five minutes before the f***ing match."
Since then, reports suggest the colourful mutterings were the result of some sort of incident that took place as he prepared to take to the court. His comments seemed to be aimed up at the players' box, where his new coach Amélie Mauresmo, his girlfriend Kim Sears and his mother Judy Murray were sitting.
Murray left the grounds at SW19 in an All England Club car straight after his post-match interview, before he'd even changed out of his tennis kit.
Video: Murray crashes out of Wimbledon
The couple's separate exit stood at a stark contrast to Murray's defeat in the finals in 2012. After losing out on the title to Roger Federer, they left together.
Murray's spokesperson Matt Gentry, who was sitting in the players' box, said he had not heard Murray's utterances but agreed that the British number one had seemed a little "off his game".
"He always mutters to himself," he said. "Occasionally his language is a bit colourful and he does talk to himself. I think they were utterances of frustration."
However, he gave no indication of what could have been the source of his frustration and is yet to respond to further request for comment.
Murray has since addressed reports that his pre-match preparations had been disturbed. "There was nothing different in the build-up and no reason to expect that kind of performance," he told the BBC.
"The timings changed a bit because we played the quarter-final pretty early compared with some of my other matches, but my routine was the same and I practised with James Ward both days.
"I was nervous, I felt the butterflies and was excited about the match, but that's perfectly normal. I didn't feel overcome by the moment, but I certainly wasn't very good when I got out on court."
Before the tournament had started, bookies closed bets on Murray proposing to Sears at Wimbledon, because they believed the couple were already engaged.
Engagement confirmation odds reached 7/2 – the same for Murray winning Wimbledon – leading William Hill to close the book.
"Gambles such as these are often proved correct so we believe that the announcement is imminent – but for the gamble to win he still needs to win Wimbledon," a William Hill spokesperson told The Independent last week.
The couple started dating in 2006, after meeting at the 2005 US Open. However, the tennis player has determinedly fought off ongoing questions about his relationship status.
In January he tweeted a 'joke', informing fans that he would marry his long-term girlfriend after Wimbledon 2014. He was later told his followers that it had all been prank.
The sportsman has also said he rather enjoys the time they spend apart.
"She doesn't come to loads of tournaments as I also find being away from each other is good as well," he told The Times recently.
"If you spend three months in a row together, by the end of it we're like, you know, arguing and stuff."
Murray's crashing out of Wimbledon is the latest in a long line of sporting disappointments for the UK this summer. It follows England's worst ever performance at a World Cup in history, after they were knocked out of the tournament in Brazil with just one point.
Join our new commenting forum
Join thought-provoking conversations, follow other Independent readers and see their replies