Yuriko Koike: First female governor of Tokyo isn't out to make friends
The staunch conservative, known for her nationalist positions, is not coming into office promising to make nice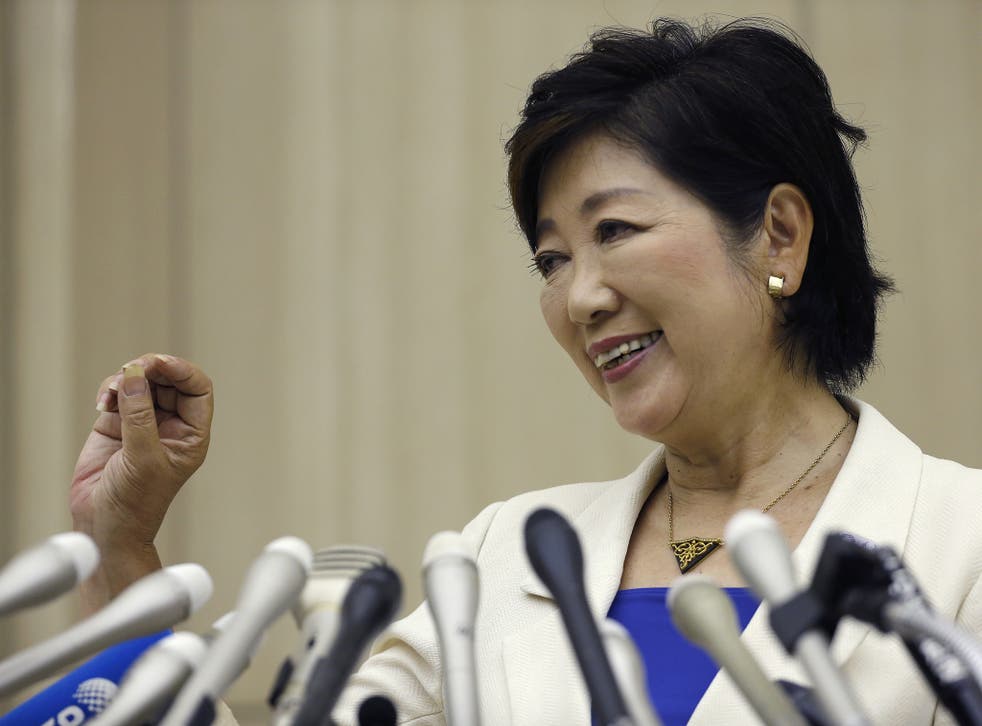 Tokyo's first female governor, Yuriko Koike, found an overflowing inbox when she took office last week: fix the 2020 Tokyo Olympic preparations, clean up the government of the world's largest city, eliminate the day-care shortage that is keeping women from the workplace, and restore Tokyo's financial centre to its former glory.
Oh, and do it all against the wishes of an old boys' club that did not want her elected in the first place. (One of them even suggested it would be wrong to elect a woman who "wore too much makeup.")
But Ms Koike, a staunch conservative known for her nationalist positions, is not coming into office promising to make nice.
"There will be no occasions on which I will compromise," she said in an interview in her new office on Wednesday, her first with a foreign news organisation since being elected, when asked about how she would proceed with a legislature that is not exactly enamoured with her.
Instead, she invoked the maxim of one of her role models, Britain's "Iron Lady" Margaret Thatcher, about acting on conviction, not by consensus.
"In Japanese society, you try to build consensus and try to keep harmony, but I would like to convince people to change for the sake of our society," Koike said. "I learned that from Mrs Thatcher." Ms Koike, who is fluent in English, chose to speak mostly in Japanese.
She is taking on one of the most high-profile roles in Japan, running a megalopolis that has almost 14 million people and an economy bigger than Sweden's.
She comes to the office with a strong mandate. She ran as an independent after the ruling Liberal Democratic Party, in which she served, chose a lesser-known (male) candidate. She crushed him with a landslide victory.
Despite spending almost a quarter of a century in public office, serving as national security adviser and minister for the environment, Okinawa and then defence, Ms Koike, 64, won the governorship because she was viewed as an outsider.
She has two pressing tasks, analysts say. One: restore order to the shambles that is the 2020 Olympics. And two: after two governors had to resign over financial scandals, to promote transparency in the Tokyo government.
The preparations for the 2020 Olympics have lurched from one fiasco to another. The official logo was scrapped after allegations of plagiarism, then plans for a stadium designed by architect Zaha Hadid were torn up because of costs.
Most recently, French prosecutors and the Tokyo organisers have launched an investigation into $2m (£1.5m) in suspicious payments made to a Singapore company.
Then there is the inevitable overspending. The budget for the next summer Games has more than tripled, to more than $10bn, and the public has become concerned that politicians have been awarding contracts to their cronies.
"It's true that we've had some trouble relating to the Olympics," said Ms Koike, who will travel to Rio de Janeiro for the closing ceremony, and handover, on 21 August. Her term runs until 30 July 2020 – six days after the Olympic Games begin.
Ms Koike said that many of the problems with the Olympics stemmed from it not being clear who was in charge: the organising committee headed by former prime minister Yoshiro Mori, the Japan Olympic Committee, the central government or the Tokyo metropolitan government.
"We need to make it clear who's making the decisions," she said. Ms Koike has already established a headquarters within the Tokyo government to make it clear who is in charge, that the buck stops with her. "As the governor of the host city, I'd like to take the leadership of the Olympics and Paralympics."
Ms Koike has an unusual background for any Japanese politician, male or female.
Her grandfather founded a trading company in Seattle in the early 19th century, and her father was involved in the oil trade, sparking Ms Koike's interest in the Middle East. As a college student she studied Arabic in Cairo and then completed a degree in sociology there. While in Egypt, she married a fellow Japanese student, but the marriage did not last long.
On her return to Japan, she put her language skills to work, interviewing Libyan dictator Muammar Gaddafi and Yasser Arafat, the Palestinian leader, before becoming a news anchor. She entered parliament in 1992.
Ms Koike was Japan's first defence minister, but only briefly, serving just 55 days.
In 2008, she became the first woman to run for the leadership of the Liberal Democratic Party, and, by extension, the country's top job.
But Ms Koike has not been particularly outspoken about women's issues. Regardless, she faces an official Japan plagued by rampant sexism, where male politicians comment on how much makeup she wears and how she dresses.
"While all women worldwide face greater scrutiny compared to their male counterparts, the pressure on Ms Koike to be effective will be especially harsh," said Shihoko Goto, a north-east Asia specialist at the Woodrow Wilson International Centre for Scholars.
"So far, though, she seems unafraid and confident enough to overcome obstacles her own way," Ms Goto said.
Indeed, Ms Koike is throwing down the gauntlet. "As the new governor, I will make policies, and I doubt that my ideas will be opposed by the assembly," she said.
World news in pictures

Show all 50
There is talk in Tokyo that Ms Koike will launch a new political party before next year's assembly elections.
"If she can form her own party and put her own people in the legislature, I think she'll be able to move forward with her reforms," said Lully Miura, a political analyst at the University of Tokyo. "The governor alone cannot make any difference. History has proven that."
But for all of her bravado, Ms Koike will have to deal with an assembly dominated by a Liberal Democratic Party-led coalition, where many of the representatives – overwhelmingly men – are annoyed that she did not adhere to deferential etiquette by calling on them before she ran for governor.
She will need the legislature on board to implement changes to the running of the Olympics and the city government, as well as making good on other campaign pledges such as eliminating the waiting list for day care, improving facilities for the rapidly aging population, and reinvigorating Tokyo's position as a major financial centre.
But even so, Ms Koike will have to pick her battles and decide whether to champion the Olympics or to improve transparency in the Tokyo government – not both – or risk pushing the old guard too far, Ms Miura said. "Otherwise, she'll find herself mired in scandals, just like her predecessors."
Washington Post
Register for free to continue reading
Registration is a free and easy way to support our truly independent journalism
By registering, you will also enjoy limited access to Premium articles, exclusive newsletters, commenting, and virtual events with our leading journalists
Already have an account? sign in
Register for free to continue reading
Registration is a free and easy way to support our truly independent journalism
By registering, you will also enjoy limited access to Premium articles, exclusive newsletters, commenting, and virtual events with our leading journalists
Already have an account? sign in
Join our new commenting forum
Join thought-provoking conversations, follow other Independent readers and see their replies