US government official Melissa Schlag kneels during Pledge of Allegiance to protest Donald Trump's presidency
11 year old facing charges after refusing to stand for US pledge of allegiance in Florida
Child is arrested after refusing to stand for Pledge of Allegiance — a right protected by the US Constitution.
An 11-year-old is facing charges in Florida after being arrested in school when he refused to stand for the Pledge of Allegiance, reportedly telling officials he believed the US flag was offensive to black people.
The student's substitute teacher at Lawton Chiles Middle Academy in Lakeland, Florida said in a statement to the district that she asked the boy "Why if it was so bad here he did not go to another place to live" as he remained seated during the daily pledge earlier this month.
She then called the school office "because I did not want to continue dealing with him," the substitute wrote in her statement.
The 11-year-old was accused of threatening to "beat" the teacher — an allegation that was strongly denied by his mother, who said her son had "never been through anything like this" — and placed under arrest by the school's resource officer. He was then sent to a local juvenile detention centre.
Dhakira Talbot, the child's mother, is accompanying her son to a court hearing on Tuesday to face misdemeanour charges for resisting arrest without violence and disrupting a school function.
World news in pictures

Show all 50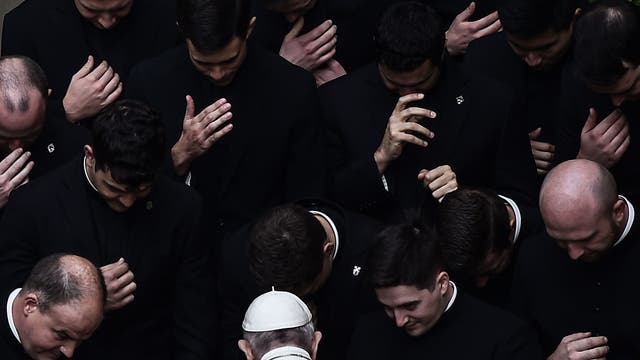 She told local news outlet Spectrum Bay News 9 that she was "upset," "angry" and "hurt" by the way school officials responded to her son's decision to stay seated during the pledge — a right protected by the US Constitution.
"I feel like this should've been handled differently," she said. "If any disciplinary action should've been taken, it should've been with the school."
"He shouldn't have been arrested," she added.
In a statement, the school district said the substitute teacher would be barred from working within the district and that students have the right to refuse participation during the Pledge of Allegiance.
Support free-thinking journalism and attend Independent events
Ms Talbot has called on officials to drop the charges and for the school to "be held accountable for what happened because it shouldn't have been handled the way it was handled."
An arrest affidavit filed shortly after the 4 February arrest reportedly claimed the child refused to follow orders and called school officials "racist".
Join our new commenting forum
Join thought-provoking conversations, follow other Independent readers and see their replies