Poland refuses to officially recognise Biden as president-elect despite GSA confirming win
Comments come less than 24 hours after US General Services Administration recognised Biden win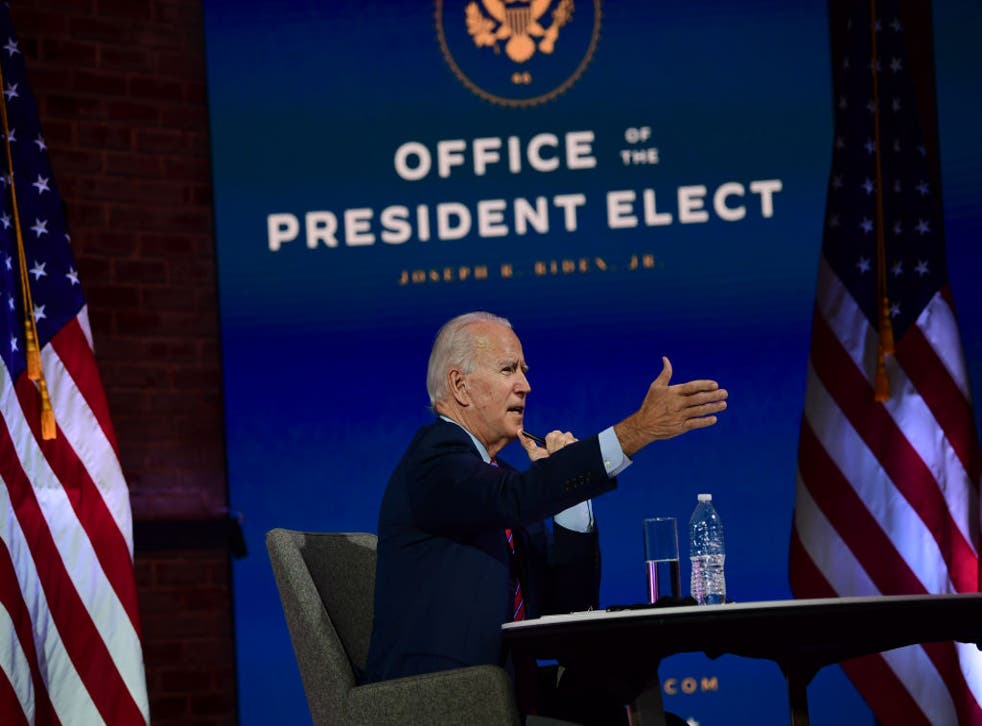 Leer en Español
Poland is still refusing to officially acknowledge Joe Biden as president-elect, despite the US General Service Administration last night essentially handing him the keys to the White House.
Foreign minister Zbigniew Rau said on Tuesday Warsaw would wait for further "political developments" and the conclusion of outgoing president Donald Trump's legal challenges before recognising Mr Biden as the 46th president of the US.
Mr Rau's comments came less than 24 hours after GSA chief Emily Murphy gave team Biden the green light to press ahead with planning for government, while Mr Trump said a transition was in the "best interests" of the country, although he did not admit defeat.
Ms Murphy's decision puts a further stamp of approval on Mr Biden's election victory and gives his team access to the federal agencies and finances needed to help with the smooth transition of power.
The writing has been on the wall for Mr Trump for several weeks now, but his team is ploughing on with legal challenges to election results in a handful of battleground states, citing so far baseless claims of voter fraud.
A host of world leaders congratulated Mr Biden shortly after major news networks declared him the election winner on 7 November, but some authoritarian-leaning countries were slow to - or still refuse - to publically recognise his win.
Poland's president Andrzej Duda congratulated Mr Biden on a successful campaign, but Warsaw has yet to officially acknowledge Mr Biden as the next president.
"It depends on the political and legal developments in the United States itself," Mr Rau told Polish radio on Tuesday morning when asked when Poland's right-wing conservative government might finally accept Mr Biden as the election winner.
He cited the fact that the US's electoral college had not yet met to certify the election result as a reason for the delay. EC officials are scheduled to meet on 14 December to confirm Mr Biden's win, a date some team Trump insiders say will be the final nail in the president's coffin.
Mr Biden's victory on 3 November is awkward for Poland's government, which found a natural ally in outgoing president Trump. It secured a pledge of a permanent US military deployment while straining the tolerance of Brussels and European Union allies over its handling of democratic values.
Across the Atlantic, Michigan officials yesterday certified Mr Biden as the winner there while a Pennsylvania judge on Saturday threw out a team Trump challenge to the result in the Mid Western state.
Those defeats are a huge blow to Mr Trump's efforts to frustrate the will of the American people by trying to overturn an election that he has lost by 74 electoral college votes.
Mr Trump's two defeats in the Rust Belt states were enough to convince Ms Murphy and the GSA that there was no way back for the president, following weeks of delay.
"Please know that I came to my decision independently, based on the law and available facts," she said in a statement last night.
"I was never directly or indirectly pressured by any Executive Branch official -including those who work at the White House or GSA - with regard to the substance or timing of my decision. To be clear, I did not receive any direction to delay my determination."
Despite endorsing the transition of power, Mr Trump said in a tweet he "will never concede" as he continued to push his baseless claims of voter fraud. "Our case STRONGLY continues, we will keep up the good fight and I believe we will prevail!" he said.
Meanwhile, Mr Biden made a number of picks to take up roles in his administration. Janet Yellen, the first woman to chair the US Federal Reserve, is expected to become treasury secretary.
Capitol Hill veteran and Obama-era secretary of state, John Kerry is expected to return to government with "climate tsar" role. Jake Sullivan is Mr Biden's pick for national security adviser while Alejandro Mayorkas would become the first Latino and migrant to be homeland security secretary.
Elsewhere, Avril Haines has been nominated for the director of national intelligence brief, and Linda Thomas-Greenfield for ambassador to the United Nations.
Additional reporting by Reuters
Register for free to continue reading
Registration is a free and easy way to support our truly independent journalism
By registering, you will also enjoy limited access to Premium articles, exclusive newsletters, commenting, and virtual events with our leading journalists
Already have an account? sign in
Register for free to continue reading
Registration is a free and easy way to support our truly independent journalism
By registering, you will also enjoy limited access to Premium articles, exclusive newsletters, commenting, and virtual events with our leading journalists
Already have an account? sign in
Join our new commenting forum
Join thought-provoking conversations, follow other Independent readers and see their replies