Qatar is falling into a socio-economic death spiral and the UAE made it illegal to feel sorry for it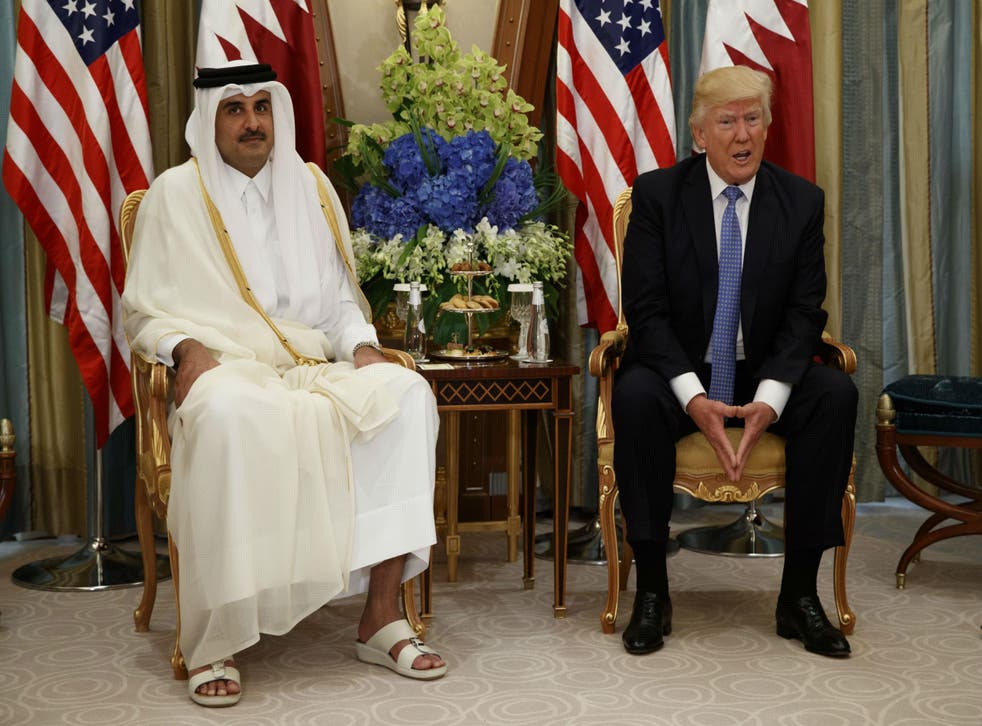 Bahrain, Saudi Arabia, Egypt, and the United Arab Emirates severed diplomatic relations with Qatar over its alleged support for Islamist groups and Iran.
They cut transport links, making it difficult for the country to import and export goods.
Citizens are worried about food shortages.
Qatar is one of the richest countries in the world and can protect its banks -- but there are reports of deals being put on hold and investors looking to pull out money altogether.
The socio-economic impact is already hitting hard -- and it has only been three days since the announcement.
Qatar's unprecedented slide into a potential socio-economic death spiral started almost immediately after Bahrain, Saudi Arabia, Egypt, and the United Arab Emirates severed diplomatic relations with the country over its alleged support for Islamist groups and Iran.
While Qatar denies the accusations, relations are now so strained between the powerful Arab states that it is not just diplomatic relations that are suffering, key transport links are already being severed, and the economy is starting to feel the squeeze.
The UAE essentially just made it illegal for citizens to feel sorry for what is happening to Qatar. The UAE-based newspaper Gulf News and pan-Arab channel Al-Arabiya reported that the UAE has banned people from publishing expressions of sympathy towards Qatar.
The punishment? Imprisonment for 15 years and a minimum fine of at least 500,000 dirhams (£105,446 or $136,115). UAE Attorney-General Hamad Saif al-Shamsi said to Gulf News.:
"Strict and firm action will be taken against anyone who shows sympathy or any form of bias towards Qatar, or against anyone who objects to the position of the United Arab Emirates, whether it be through the means of social media, or any type of written, visual or verbal form."
Qatar is one of the richest countries in the world -- but that doesn't matter
Qatar is one of the richest nations on the planet by GDP per capita. It is the 18th most competitive country in the world, according to the World Economic Forum's benchmark Global Competitiveness Report.
It has a small nation of just 2.4 million people, most of whom are expat workers.
Its macroeconomic environment is so stable that only Norway beats it in WEF's rankings:
The fact that Qatar is so rich and powerful may make it seem as though it would be very difficult to rupture the country's economy. After all, Qatar's biggest liquefied natural gas buyers are not Arab states. The diplomatic and transportation cuts would not impact this sector. Moreover, Qatar is a huge contributor to the world's supply of LNG.
But there is already tangible proof that the country is being badly impacted by the cutting of ties -- both on the social and economic level.
The immediate social and economic impact on Qatar
An Eikon ship-tracking screen shows tanker traffic around Qatar over the last seven days in this June 6, 2017 illustration photo. Reuters
The sudden severance of ties between Qatar and powerful Arab states was not just a huge shock to foreign relations, it was also a terrifying blow for those living and working there.
Over the last few days, we have seen panic spread across several sectors and costs mount up in a clutch of areas:
1. Shipping
2. Food
3. Airlines
4. Banking
5. Stocks
Qatar is a huge import country, especially for perishable goods (mainly food). Qatar mainly imports from the US and Germany, but also Saudi Arabia.
Here is the monthly data in US dollars showing the trade balance of Saudi Arabia, Egypt, Bahrain, and UAE, with Qatar:
When the ties were severed, people in Qatar started panicking that the country could run out of food. Qatari authorities had to stop people raiding supermarkets, which were all replenished on Tuesday.
Qatar normally imports food through its land link with Saudi Arabia. So while Qatar can still buy perishables from the US, it cannot physically get the goods to the country.
Dubai, part of the UAE, is also massively important for the import and export of goods due to its huge port Jebel Ali.
The world's largest container shipping line, Maersk, said in a statement to Reuters on Tuesday: "We have confirmation that we will not be able to move Qatar cargo in and out of Jebel Ali."
It added that it is currently looking for alternative routes. These changes will naturally delay shipments and potentially carry a greater cost burden -- one that has not been officially calculated yet.
It is not just the land and sea links that are being immediately impacted -- air routes are potentially being affected.
As my colleague Benjamin Zhang pointed out, "Qatar actually has very little airspace relative to the size of the country." He cited the CAPA Center for Aviation report which said "Losing Saudi, Bahrain, and UAE airspace would effectively ground Qatar Airways."
"It is largely surrounded by Bahrain airspace (the Bahrain FIR), a slither on the south is managed by Saudi Arabia while the UAE is on the eastern border."
A map here shows that how devastating it could be if there is a lack of access to Bahraini, Emirati, and Saudi airspace. Countries are free to refuse landing rights, but it is unclear whether Bahrain and the UAE can legally bar Qatar Airways from their airspace.
Financials are suffering and wider economic impact could be terrible
Qatar has the world's third-largest reserves of natural gas. But as Euromonitor Insights said in a report sent to Business Insider, it "borrowed heavily to fund export facilities that would chill the gas into liquids which allow the country to export to previously unreachable markets in Asia, Europe and the USA."
Now with the four powerful Arab states cutting transport ties too, this could make LNG shipments more expensive and therefore less economically competitive because it will have to find new ports outside its usual Gulf zones to refuel.
The economic impact could potentially hit jobs if it continues in the coming days. "The country's oil and gas industries employ the greater part of the active workforce, accounting for well over 90% of export revenues and 50% of GDP," Euromonitor Insights' report says.
The financial system is also feeling the heat.
Reuters reported on Wednesday that "some banks from Saudi Arabia, the United Arab Emirates and Bahrain delayed letters of credit and other deals with Qatari banks after their governments cut diplomatic ties and transport links with Doha on Monday."
The Financial Times also said, "Saudi banks are already looking to sell off their loan exposure to Qatari lenders."
This is making markets volatile. The Qatari riyal, which fell on Tuesday to its lowest level since June 2016 against the US dollar-- although it has since recouped losses and is near its official peg of 3.64 to the dollar.
The FTSE Nasdaq Qatar 10, which tracks the biggest companies in the country, has dropped 8.2% since the announcement.
All that has happened over just three days. Qatar is already seeing an economic cost, a societal impact, and the way things are going makes its outlook very uneasy.
Yes, Qatar is one of the richest nations in the world. It has incredible financial firepower to protect its banks: It earns billions of dollars a month in gas exports and has $335 billion of assets in its sovereign wealth fund. But people are still wondering if investors pulling out might start a run on Qatari banks.
After just three days, there is already a tangible, detrimental impact on its economy. The curbs on transportation freedom it enjoyed with its neighbours is a huge deal, and the foreign relations fallout has only just begun.
Qatar is an economic goliath, but even giants can be felled.
Read more:
• This chart is easy to interpret: It says we're screwed
• How Uber became the world's most valuable startup
• These 4 things could trigger the next crisis in Europe
Read the original article on Business Insider UK. © 2016. Follow Business Insider UK on Twitter.
Register for free to continue reading
Registration is a free and easy way to support our truly independent journalism
By registering, you will also enjoy limited access to Premium articles, exclusive newsletters, commenting, and virtual events with our leading journalists
Already have an account? sign in
Register for free to continue reading
Registration is a free and easy way to support our truly independent journalism
By registering, you will also enjoy limited access to Premium articles, exclusive newsletters, commenting, and virtual events with our leading journalists
Already have an account? sign in
Join our new commenting forum
Join thought-provoking conversations, follow other Independent readers and see their replies