'Alien found after UFO sighting' appears to be a deer foetus, picture from before California test missile launch
The horrifying photograph has been widely shared online as evidence of extraterrestrial visitors, but none of it appears to be as claimed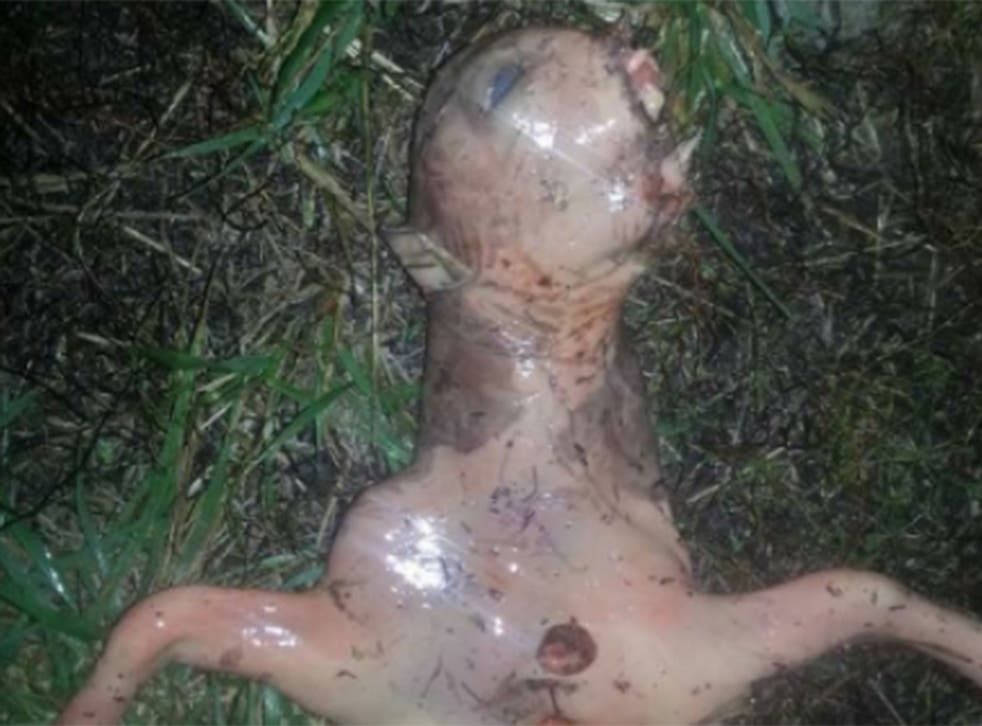 A photograph that is being widely shared online as evidence of alien visitors appears to depict a deer fetus.
Numerous wildly popular Facebook posts have tied the picture — apparently of an alien that dropped onto the ground outside of someone's house — to strange events over the skies in California over the weekend. But the picture doesn't show an alien, wasn't taken in San Jose as claimed and was first uploaded before the events.
Instead, the picture most likely depicts a fetus, dropped by a deer after it was likely startled, and which has been partially consumed by predators. It is undeveloped and partly destroyed, giving it its strange look.
Despite the more Earthly explanation, the picture is being widely-shared. The original Facebook post and subsequent emails claim that the image is still unexplained.
The picture is being shared by some people in an email, according to fact-checking website Snopes.
"Seems this is going viral on Facebook. They are talking about a missle launch and consequent "lights" then stating they heard screaming and found this "alien" or animal," the email reads, followed by a picture of the find.
"In Southern California everybody noticed a bright weird light. The government tried to tell everybody it's a testing of a missile launching. And now ppl in San Jose, CA are seeing dead aliens laying around and Facebook deleting it every time somebody mentions it."
Science news in pictures

Show all 20
The claim that Facebook is deleting mentions of the alien foetus are false — the pictures are being widely-shared across the social network. But the original post of the photos has been deleted.
The images were posted soon after people spotted a strange light streaking across the California sky over the weekend. Many were confused by the sight — arguing that its strange movements could have been an indication of a UFO — but the US Navy later claimed that it was a Trident missile that was spotted during a test.
The pictures do however seem to have come from earlier in November, and appear to have originally been taken in Missouri.
Register for free to continue reading
Registration is a free and easy way to support our truly independent journalism
By registering, you will also enjoy limited access to Premium articles, exclusive newsletters, commenting, and virtual events with our leading journalists
Already have an account? sign in
Register for free to continue reading
Registration is a free and easy way to support our truly independent journalism
By registering, you will also enjoy limited access to Premium articles, exclusive newsletters, commenting, and virtual events with our leading journalists
Already have an account? sign in
Join our new commenting forum
Join thought-provoking conversations, follow other Independent readers and see their replies