Mutant gene found in Amish people that makes them live 10 years longer
Mutation discovered in the Old Order Amish of Indiana is linked to a range of positive health effects and appears to significantly extend the lives of carriers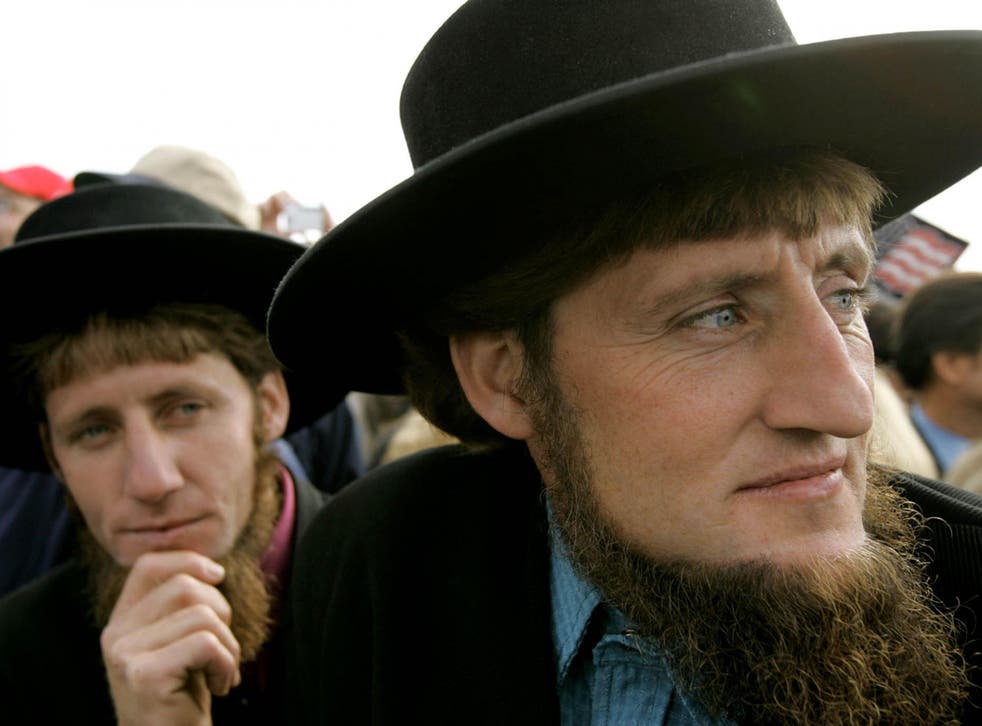 An age-defying mutation found in the genes of Amish people appears to be boosting their lifespan.
Individuals carrying a single non-functional copy of the gene SERPINE1 live an average of 10 years longer than other members of their communities, according to new research.
The study was carried out with the Old Order Amish of Indiana, who generally avoid the trappings of modern society, including electricity, cars and medicine.
"They don't take advantage of modern medicine in general, so the fact that the carriers have a median lifespan of nearly 85 is rather remarkable," said Dr Douglas Vaughan, a cardiovascular specialist at Northwestern University who co-authored the study, published in Science Advances.
Amish arrested over hair and beard attacks

Show all 1
Of the 177 people tested, 43 had the mutation.
Ageing is one of the most challenging biological processes to understand, so finding a single mutation that has such a dramatic effect is unusual.
"There's been an enormous challenge in identifying genetic predictors of a long lifespan," said Dr Vaughan.
Ageing comes with numerous symptoms. What is notable about this mutation is that it seems to address so many of those, with effects ranging from protection against diabetes to maintenance of cardiovascular elasticity.
"We're talking about something that appears to have an effect at molecular levels, at hormonal levels, at tissue levels, and plays out with people having a longer lifespan," said Dr Vaughan.
The mutation results in longer telomeres – caps at the end of DNA strands that protect the chromosomes. Shortening of telomeres has been implicated in the process of ageing, which may explain the mutation's life-enhancing effects.
Two copies of this non-functional gene, however, have quite the opposite effect. Instead of protecting individuals from disease, it is linked with excessive bleeding following injury.
As the peoples with two copies – so-called heterozygous individuals – are so healthy, it is unlikely their mutation would have been observed were it not for the homozygous individuals with two copies, who present with this obvious illness.
In the general population, Dr Vaughan said, similar mutations might occur at a rate of around one in 70,000 people.
The fact that Amish people tend to be more interrelated than the wider population owing to their insular communities might explain the relative prevalence of the SERPINE1 mutation.
In terms of learning about the genetics underlying complex processes like ageing, Dr Vaughan suggests that this provides an excellent example for future work.
"Looking at unique populations like this might be more informative than broad genetic studies in normal populations," he said.
Register for free to continue reading
Registration is a free and easy way to support our truly independent journalism
By registering, you will also enjoy limited access to Premium articles, exclusive newsletters, commenting, and virtual events with our leading journalists
Already have an account? sign in
Register for free to continue reading
Registration is a free and easy way to support our truly independent journalism
By registering, you will also enjoy limited access to Premium articles, exclusive newsletters, commenting, and virtual events with our leading journalists
Already have an account? sign in
Join our new commenting forum
Join thought-provoking conversations, follow other Independent readers and see their replies