Egyptian embassy tries to prevent auction of 2,300-year-old coffin lid in Cambridgeshire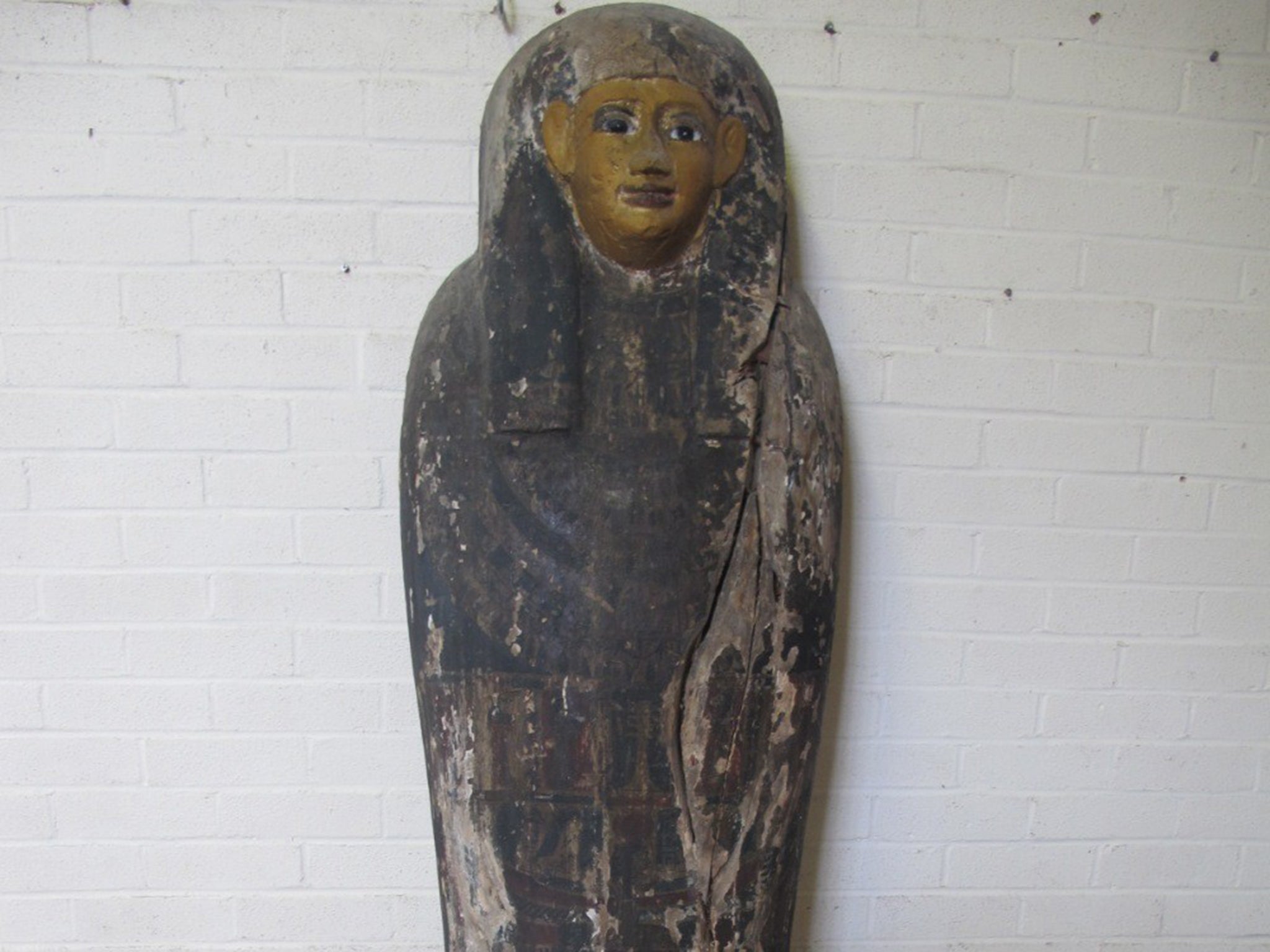 An ancient Egyptian coffin lid being sold at auction in Cambridgeshire today should be withdrawn from sale and repatriated to Egypt, embassy officials in London have said.
They are furious at the refusal of Willingham Auctions to withdraw the partial sarcophagus, which dates back thousands of years. It was discovered by auctioneer Stephen Drake during a clearance of a house in Bradwell-on-Sea, Essex, last month.
The property was the home of the big game hunter and journalist Captain "Tiger" Sarll, who is thought to have found the coffin lid in Africa and had it shipped back to Britain. He died in 1977, and his widow continued to live there until her death in 2005.
The two-metre artifact is an ancient Egyptian Ptolemaic coffin top made for "Hor, son of Wenennefer" and dating back to around 330 years BC, according to an initial assessment by Egyptologists at Fitzwilliam Museum in Cambridge.
An Egyptian embassy official told The Independent that sellers or owners of Egyptian antiquities "should have proper provenance and an export licence". The Ministry of Antiquity in Cairo has instructed them to try to prevent the sale from going ahead, they added.
"We tried to encourage the auction house to convince the family that we are keen to repatriate it to its country of origin. We wanted them to give it up voluntarily but unfortunately they refused."
The embassy official described such items as "our treasure, part of our history and our culture" and added: "This is not a normal commodity; you have to give perspective to the cultural element here and our right to repatriate this."
They admitted it is not a simple matter to resolve. "The complexity here is that it has been out of the country for many years and the owner has passed away," but stressed: "It's our assumption it might have been illegally removed from Egypt."
The coffin lid, described by the auction house as "a very rare and unusual Egyptian antiquity" is expected to fetch several thousand pounds when it goes under the hammer on Saturday, and dozens of advance bids have already been made from all over the world. Prospective buyers of the item, listed as Lot 1400 and described as "an interesting antique" are told "inspection advised" with some "paint loss and fading... worm holes...splits, slight movement to side."
Earlier this week, the Egyptian Embassy, London, reported the proposed sale to Scotland Yard, but it is understood that the police are powerless to act since it is a civil matter, not a criminal one.
In a statement, a spokesperson for the Metropolitan police's Arts and Antiques unit, said: "This month we were informed of the planned auction of an Ancient Egyptian coffin lid at an auction house in Cambridgeshire. Having reviewed the available information, including the due diligence and information gathered by the auction house, we have found no requirement for a criminal investigation."
Auctioneer Stephen Drake was unrepentant: "Legally we are allowed to sell it; the vendor wants us to sell it for them, we are acting on their behalf." He added: "While being sympathetic to the Egyptian embassy, it's not our decision to put it into sale. The Egyptian government are welcome to bid for it."
But the Egyptian Embassy official ruled out such a move, as that would simply be "encouraging more people to loot items and put them on sale".
Join our commenting forum
Join thought-provoking conversations, follow other Independent readers and see their replies