Ancient Egyptian tomb found containing 3,800-year-old mummy
Tomb also contains funeral goods such as pottery and wooden models representing scenes of daily life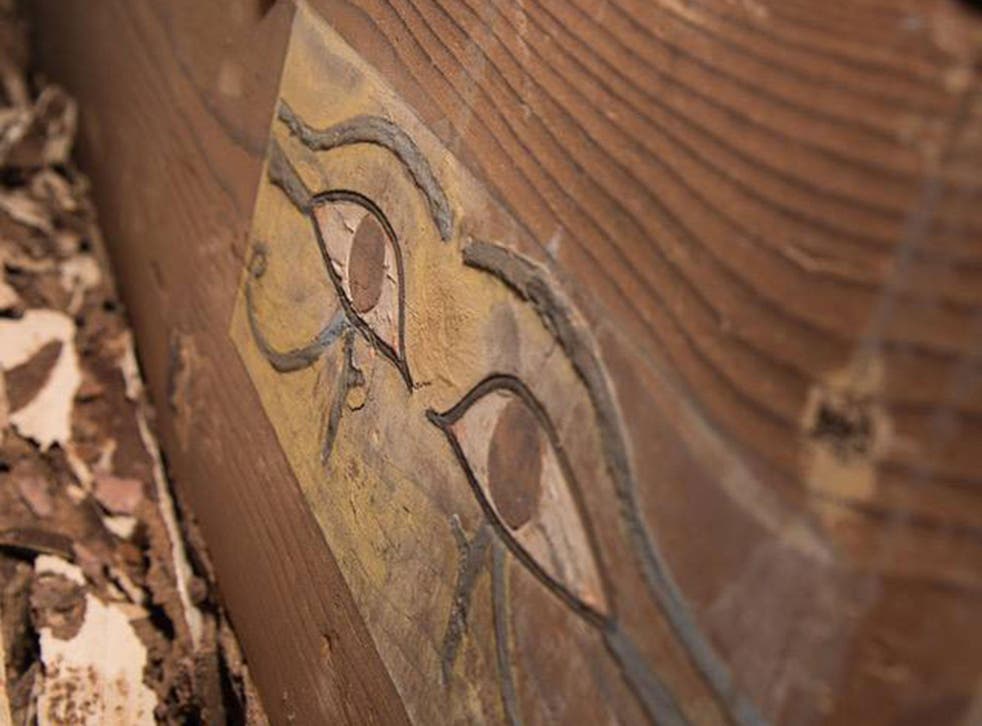 Archaeologists have uncovered a 3,800-year-old tomb where the brother of one of the most important governors of ancient Egypt's Twelfth Dynasty was buried.
The intact tomb was discovered in the necropolis at Qubbet El-Hawa, which translates to Hill of Wind, by the Spanish Archaeological Mission in Aswan, Egypt.
Alejandro Jimenez-Serrano, from the University of Jaen, told Ahram Online a well preserved mummy was also found.
He said it was covered with a polychrome cartonnage, collars and a mask.
Video shows tourist illegally climb Great Pyramid of Giza in Egypt
The tomb also contained funeral goods such as pottery and wooden models representing funerary boats and scenes of daily life, as well as an outer and inner coffin, both made of cedar.
Inscriptions on the coffin name the deceased as Shemai, son of Satethotep and Khema, who was governor of the Elephantine island on the Nile under the reign of Amenemhat II.
Mr Afifi said the eldest brother of Shemai, Sarenput II, also served as governor of Elephantine under the rule of Senwosret II and Senwosret III.
Archaeological treasures of ancient Greece

Show all 9
Previously, 14 members of the ruling family of Elephantine were discovered in Qubbet El-Hawa.
The necropolis of Qubbet El-Hawa was also the site where rock carvings depicting masked men hunting an ostrich, thought to date back 6,000 years, were found.
The paintings, pecked into the rocks with a hard point, are now barely visible due to their considerable age.
But Egyptologists from the University of Bonn traced the outlines of the visible markings to discover the dots depict three figures: a hunter with a bow, a man thought to be a hunt dancer and an African ostrich.
"This archaeological area is about a millennium older than we knew before," Ludwig Morenz of the University of Bonn told Live Science.
Register for free to continue reading
Registration is a free and easy way to support our truly independent journalism
By registering, you will also enjoy limited access to Premium articles, exclusive newsletters, commenting, and virtual events with our leading journalists
Already have an account? sign in
Register for free to continue reading
Registration is a free and easy way to support our truly independent journalism
By registering, you will also enjoy limited access to Premium articles, exclusive newsletters, commenting, and virtual events with our leading journalists
Already have an account? sign in
Join our new commenting forum
Join thought-provoking conversations, follow other Independent readers and see their replies