Sir David Attenborough set to reveal the biggest dinosaur ever to walk the planet in upcoming BBC show
The newly-discovered dinosaur measured 37 metres from nose to tail - around the length of four double-decker buses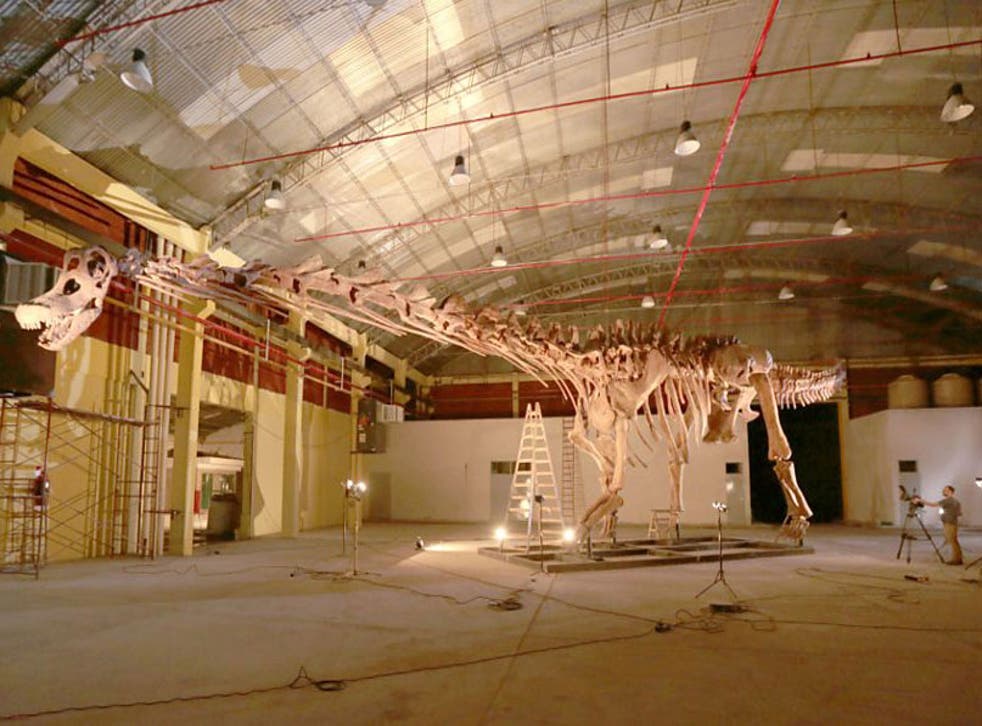 Veteran broadcaster and naturalist Sir David Attenborough is set to reveal the biggest dinosaur ever to exist in an upcoming BBC show.
The newly-discovered dinosaur, which has not yet been named, is estimated to have weighed around 70 tonnes, the weight of 920 average adults, and believed to have measured 37 metres from nose to tail - the length of four double-decker buses.
By comparison, the dinosaur would have dwarfed 'Dippy' the Diplodocus at London's Natural History Museum, who only measures around 26 metres long.
The long-extinct creature's thigh bone alone is almost 8 feet tall, and provided the key to the species' discovery.
This bone was discovered near a farm in Chubut province, Argentina, in 2014. Paleontologists travelled for hours to the remote location to investigate, and eventually discovered more than 220 bones.
Further investigation revealed that these bones came from not one but seven different dinosaurs, all of whom belonged to the same giant species which walked the Earth over 100 million years ago.
Speaking about the amazing discovery, Dr Diego Pol, who led the excavation, described the piecing together of bones as being like a "paleontological crime scene."
He said: "According to our estimates this animal weighed 70 tones. A comparison of the back bones shows that this animal was 10 per cent larger than Argentinosaurus, the previous record holder."
"So we have discovered the largest dinosaur ever known."
Science news in pictures

Show all 20
The programme, Attenborough and The Giant Dinosaur, was filmed over the course of two years, and follows the twists and turns of the investigation - taking in the uncovering, cleaning and examination of the fossils for the first time.
CGI reconstructions will also reveal what the dinosaur may have looked like when it was alive, giving viewers a chance to see the enormous internal structure of the animal.
Dinosaurs of this size belong to the Titanosaur group, a diverse collection of animals who lived from the late Jurassic to the late Cretaceous period.
Compared to other Titanosaur discoveries, the excavation depicted in the show is huge - only around a dozen Argentinosaurus bones have ever been found, so the discovery of 223 fossils allowed scientists to estimate the animal's size much more accurately than ever before.
The name of the dinosaur depicted in the show will be revealed once an upcoming scientific paper describing the discovery is released.
Attenborough and The Giant Dinosaur is set to premier on BBC One at 6:30PM on Sunday 24 January.
Register for free to continue reading
Registration is a free and easy way to support our truly independent journalism
By registering, you will also enjoy limited access to Premium articles, exclusive newsletters, commenting, and virtual events with our leading journalists
Already have an account? sign in
Register for free to continue reading
Registration is a free and easy way to support our truly independent journalism
By registering, you will also enjoy limited access to Premium articles, exclusive newsletters, commenting, and virtual events with our leading journalists
Already have an account? sign in
Join our new commenting forum
Join thought-provoking conversations, follow other Independent readers and see their replies