Ashya King: Inside the Prague Proton Therapy Centre where British five-year-old will be treated
Steve Connor visits the pioneering clinic where Ashya will soon be treated - and is hugely impressed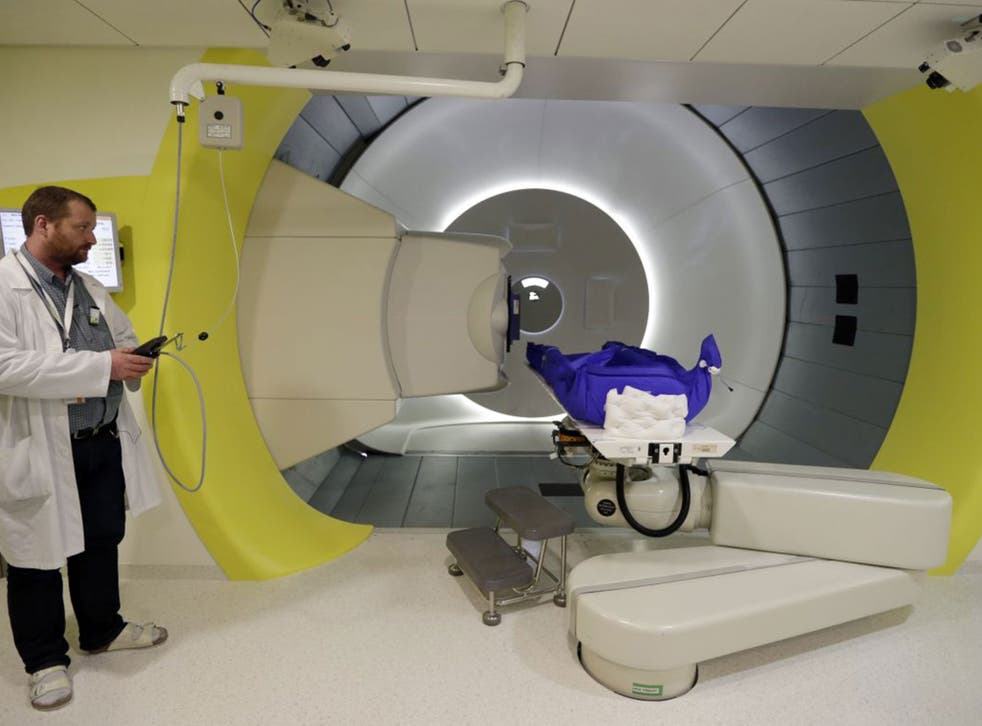 Walking through the front doors of the Proton Therapy Centre in Prague you could be forgiven for thinking this is the entrance to a one of those internet start-ups where people are paid to write down their thoughts in computer code.
Built into the right wall of the reception is an impressive 20-foot tropical fish tank where Nemo-like clown fish dance among real corals. On the left is a free coffee bar, while straight ahead grows a giant bonsai tree lit by shafts of sunlight pouring through the overhead atrium.
The gentle hum of air-conditioned silence pervades the designer space and the only hint of something medical going on within the newly finished building is the staff, dressed in their pristine whites and indoor shoes - in deference to the ultra-clean floors.
A week ago, few people had heard of proton beam therapy and even fewer could explain what it was. That changed when British police launched a Europe-wide search for the family of Ashya King, the five-year-old boy with a brain tumour who was "abducted" from Southampton General Hospital by his desperate parents after doctors had apparently refused to approve proton therapy overseas.
In pictures: Ashya King's case

Show all 22
Brett King, Ashya's father, had contacted the Proton Therapy Centre in the Czech Republic on 20 August to see if his son could be a candidate for the anti-cancer treatment. After reviewing Aysha's medical notes, sent this week from Southampton, the centre confirmed he was a suitable patient.
It now looks likely, after a U-turn by the hospital, that Aysha will be going to the Prague centre to treat his medulloblastoma, a life-threatening tumour growing in his cerebellum, a movement-control centre at the base of the brain.
It would be easy to dismiss proton beam therapy as one of those alternative cancer treatments with dubious credentials that so often seduce anguished parents trying to find a way of protecting their child from a hideously cruel illness, and sometimes equally cruel treatment. The fact that they were Jehovah's Witnesses didn't help the initial prejudice.
Peter Wilson, the chief pediatrician at the Southampton hospital, seemed to acknowledge the medical profession's suspicion of proton therapy for medulloblastoma earlier this week when he told the BBC that, despite his better judgement, a referral to Prague had not, after all, been ruled out.
"We were going to refer him to Prague for proton radiotherapy despite the fact that we felt it was not going to do him any benefit," Dr Wilson said.
"We also agreed it wasn't going to do him any harm so we had agreed that if it could be privately funded, which is normal standard practice in this country and happens a lot of times, we would support them," he said.
Despite being widely seen as a novel cancer treatment, proton therapy has in fact been around for many years. Indeed, a small, specialist NHS centre for treating eye tumours with low-energy protons has been operating for the past 20 years at Clatterbridge in the Wirral.
Over the past two decades proton beam therapy has become the treatment of choice in Europe and the United States for several kinds of cancers - but not for medulloblastoma which is still not a recommended condition in the UK for proton therapy, according to NHS England, which declined to explain why.
For the "recommended" cancers, the Government has pledged money for two high-energy proton therapy centres, in Manchester and London, but they will not be open before 2018. Meanwhile, a limited but increasing number of patients are being referred for proton therapy in the US, France and Switzerland, up from 18 approved cases in 2008 to 122 in 2013, at an average cost of £70,000 per patient, said NHS England.
The Proton Therapy Centre in Prague, meanwhile, claims to be offering cancer therapy that is less than half the price of comparable treatment in the US, where most NHS patients seeking proton therapy end up. There is the added advantage that it is only two hours by budget airline, and with cheaper hotel accommodation than in the US.
The centre is the brainchild of two Czech brothers, Vaclev and Pavel Lastovka, both with self-made fortunes in the telecoms business. They decided nearly 15 years ago to set up a private centre offering proton beam therapy after an unspecified family member had been treated, apparently successfully, with the technique.
The two brothers saw an investment opportunity after becoming convinced of the superiority of proton radiotherapy over conventional radiotherapy. With their entrepreneurial drive, they raised the funds (more than £100m) and secured a prime site next to one of Prague's biggest hospitals where the centre was finally opened at the end of 2012.
In business terms, you might say that the unique selling point of proton therapy rests with the physics of how proton particles - hydrogen atoms stripped of their electrons - behave when they are inside the body relative to the photon beams of conventional radiotherapy using X-rays or gamma rays.
This fundamental difference in the physics of proton beam therapy means that most of its energy of the fast-moving proton particles is delivered directly to the site of the tumour. This explains why proton therapy is so much safer than conventional radiotherapy, where the energy of photons is released inside the healthy tissue bordering the tumour, said Pavel Lastovka.
"We can deliver higher doses to the tumour, not hurting the surrounding tissues, and so the treatment time can be shorter," Mr Lastovka said.
"With protons you can also retreat the patient, but with photons you can't. The cells have memories and in 10 or 20 years they remember the dose [of photons] they had received," he said.
The first child with medulloblastoma to be treated at the Prague centre was Miki Roth, 11, who underwent proton therapy after emergency brain surgery last year to remove a cancerous growth that was swelling inside the back of his head.
Miki's mother Karolina, 36, who lives in Prague with her husband Jakub, 41, and their other five children, went through the same kind of agony experienced by the Ashya's parents over whether to agree to conventional radiotherapy following surgery knowing that it will also cause irreparable brain damage.
"You know there is a treatment necessary for the survival of your child, but you know it will also damage your child, but then there is hope that another treatment will hurt your child less," Mrs Roth said.
"We knew there was a difference between conventional radiotherapy and proton therapy in terms of side effects and so we decided to fight for protons for our son. The big difference in the two kinds of therapy is in the mental decline that will happen afterwards," she said.
"With conventional radiotherapy, it damages the whole body because it has to be delivered not just to the site of the tumour in the brain, but to the whole spinal cord.
"Conventional radiotherapy affects all the vital organs that get in the way of the photon beam. Whereas proton therapy treats only the spine and not the the vital organs, while in the brain it can be focused on the tumour," she added.
After a course of proton radiotherapy that was shorter than it otherwise would have been had he received conventional radiotherapy, Miki is doing well and has just passed his entrance exams for secondary school despite the side effects of the surgery and the chemotherapy he had to receive.
But the Roths are adamant that these side effects would have been far worse had had Miki undergone the conventional radiotherapy with photon beams that his doctors initially recommended.
The proton centre in Prague works closely with other state hospitals in the Czech Republic but there was some suspicion about whether it knew what it was doing, Mrs Roth remembered. "Our doctors said they didn't have the experience of treating children - which was true in a way. We were the first," she said.
A deeper suspicion towards proton beam therapy comes from what some radiation oncologists see as a lack of hard evidence that it works as well as the photon beams of conventional radiotherapy. Some have pointed to the need for clinical trials before changing existing policy.
But Pavel Lastovka is dismissive: "We keep having requests for clinical trials. But clinical trials were not done with conventional radiotherapy, ever. If you have a child with medulloblastoma, you would never want to carry out a clinical trial on your child when you know a treatment has fewer side effects," Mr Lastovka said.
"You do not need a clinical trial to know what will happen when you step out of a plane without a parachute. It's the same situation. We know what happens when you use photons compared with protons," he said.
A spokesman for NHS England commented: "The NHS has assessed several hospitals in the USA and Switzerland who have proven track records in treating patients with Proton Beam Therapy. These hospitals have been able to treat all patients referred by the NHS."
Aysha, meanwhile, is in the care of doctors in Spain and the UK Government is offering to send out a British oncologist to advise the Kings on what to do next.
Join our new commenting forum
Join thought-provoking conversations, follow other Independent readers and see their replies