Fauci says AstraZeneca vaccine 'very good' amid 'unprecedented' criticism of trial data
Top US scientist offers assurances after experts said new trial results on the vaccine may have been drawn from 'outdated information' that 'provided an incomplete view of the efficacy data'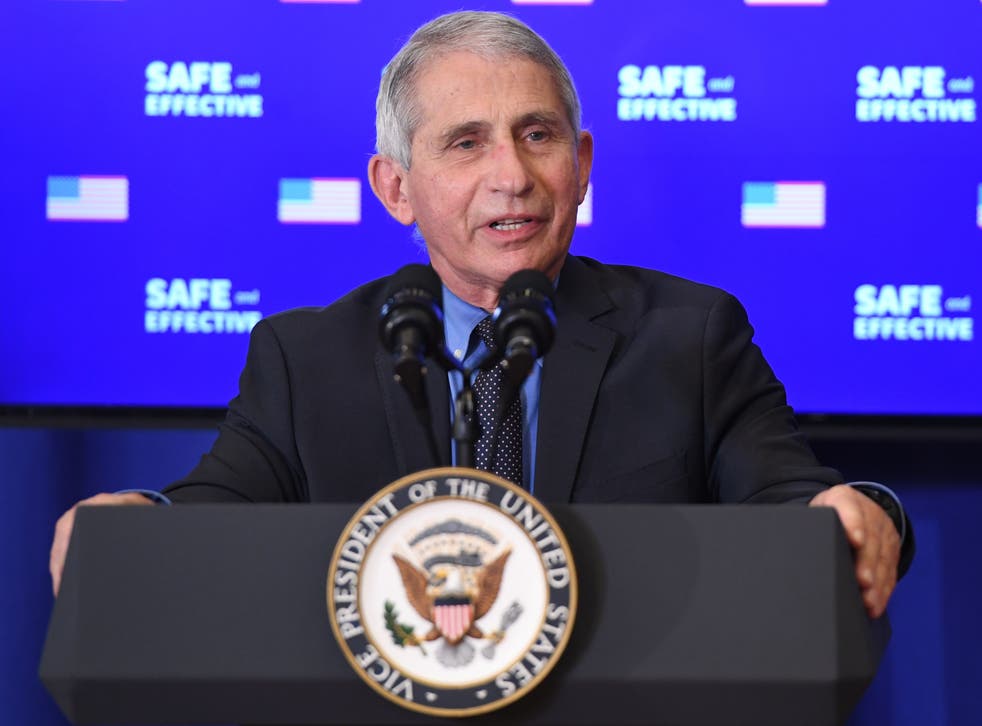 Leer en Español
A top scientific adviser to the US government has offered assurances over the AstraZeneca-Oxford vaccine, saying it is likely to be very effective, after new trial data on the jab was questioned by American health officials.
In a move that has been described as "unprecedented", experts from the National Institutes of Health (NIH) said that the results from the US-based trial of the vaccine may have been drawn from "outdated information" that "provided an incomplete view of the efficacy data".
But Dr Anthony Fauci, the White House's chief medical adviser, has since insisted that it is "likely" the jab is still "very good".
Regarding the highly unusual statement released by the NIH, Dr Fauci explained that the agency's data and safety monitoring board (DSMB) became "concerned" that the data in AstraZeneca's public statement was "somewhat outdated and might in fact be misleading a bit".
On Monday, the pharmaceutical giant said its large clinical trial, which involved more than 30,000 participants, had shown the vaccine to be 79 per cent effective at preventing symptomatic Covid-19 and 100 per cent effective at preventing severe illness and hospitalisation.
Read more:
Scientists also said there were no concerns associated with blood clots, adding weight to rulings by UK and European regulators that the AstraZeneca jab is safe to use. They added that the vaccine was effective among all age groups, including the over-65s.
Despite this, government health experts said early on Tuesday that they were concerned by the information that had been released.
"We urge the company to work with the DSMB to review the efficacy data and ensure the most accurate, up-to-date efficacy data be made public as quickly as possible," a statement from the NIH read.
It has not yet emerged what the US experts have asked for, though AstraZeneca has since announced that it will release more data on its vaccine trials "within 48 hours". The company added that its latest results were based on an interim analysis with a data cut-off point of 17 February.
Speaking on Good Morning America, Dr Fauci also said that the US Food and Drug Administration would independently review "every bit of data themselves", rather than relying solely on the firm or any other interpretation.
He added that the data looked more favourable than the results from other trials of AstraZeneca's vaccine.
"I was sort of stunned," Dr Fauci said. "We felt that we could not remain silent." He added: "In my mind, it's an unforced error by the company" – one that could further fuel hesitancy surrounding the jab.
Some British scientists and health experts challenged the statement put out by the NIH.
Dr Peter English, a former chair of the BMA public health medicine committee, said it had been "presented out of context, without any explanation of the reasons for drawing the conclusion".
He added: "In my opinion this is shamefully bad communication by NIH, as with their lack of clarity they have left room for speculation, which could be damaging for vaccine uptake."
Stephen Evans, professor of pharmacoepidemiology at the London School of Hygiene & Tropical Medicine, said it was not "unknown" for a DSMB to disagree with investigators over the interpretation of trial results.
However, he said, "it is usually done in private, so this is unprecedented in my opinion".
"One explanation might well be that this trial is currently being conducted when there is a large amount of a new variant about more recently.
"It does not leave me concerned particularly, unless they had found a safety issue that was being hidden, which does not appear to be the case."
World news in pictures

Show all 50
From concerns over its efficacy among the elderly, to reports of blood clots in some recipients, the vaccine's rollout has been beset by questions.
Last week, more than a dozen countries temporarily halted their use of the AstraZeneca jab, after reports of rare blood clots in some recipients. Following an investigation, the European Medicines Agency concluded that the vaccine was not linked to the "thromboembolic events".
Before that, France, Germany and Spain, among other countries, restricted use of the jab to under-65s only, citing a lack of data on the vaccine's efficacy among the elderly. This decision was later reversed following the publication of additional trial information from AstraZeneca – but not until after the French president, Emmanuel Macron, had wrongfully claimed that the vaccine was not effective for older people.
Experts are fearful that such high-profile setbacks have undermined worldwide confidence in a jab that is known to be safe and effective.
"This is unfortunately more about perception than it is the science," said Dr Bharat Pankhania, an infectious diseases specialist at the University of Exeter.
"We have now seen, on several parameters, that the AstraZeneca vaccine provides protection and is safe. But the narrative for the public has not been as clear," he said, criticising politicians for undermining confidence in the vaccine without evidence.
Register for free to continue reading
Registration is a free and easy way to support our truly independent journalism
By registering, you will also enjoy limited access to Premium articles, exclusive newsletters, commenting, and virtual events with our leading journalists
Already have an account? sign in
Register for free to continue reading
Registration is a free and easy way to support our truly independent journalism
By registering, you will also enjoy limited access to Premium articles, exclusive newsletters, commenting, and virtual events with our leading journalists
Already have an account? sign in
Join our new commenting forum
Join thought-provoking conversations, follow other Independent readers and see their replies