'Best evidence yet' for UK booster programme, says head of new study
'Our evidence is pretty compelling that there would be a benefit of a third dose,' says Professor Jonathan Ball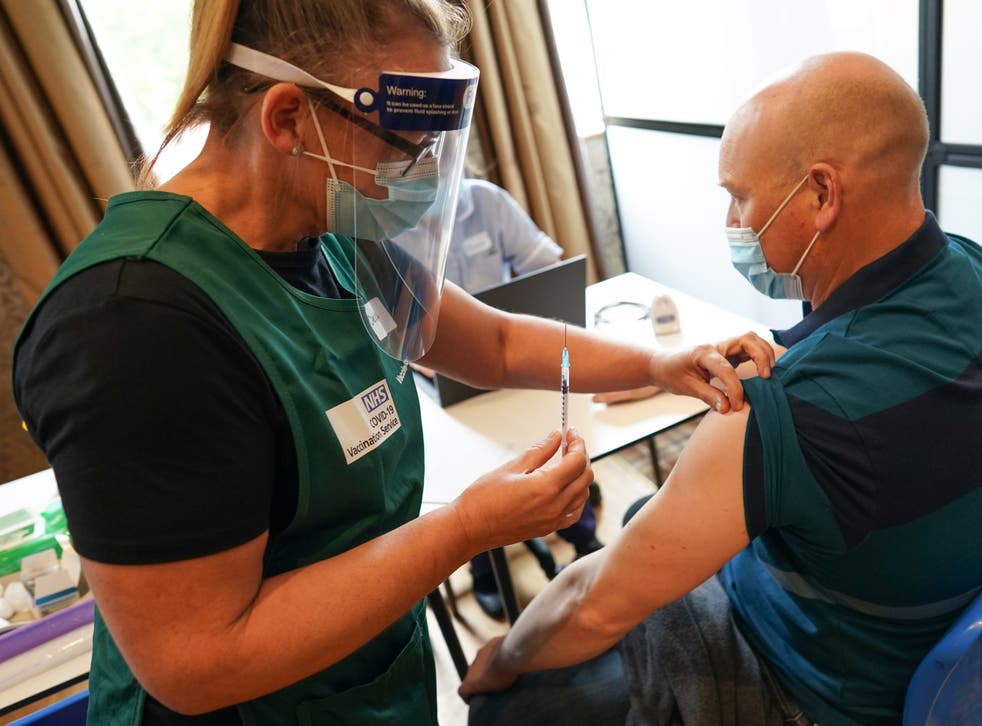 People who have been infected with Covid-19 and later fully vaccinated generate stronger immune responses against different variants of concern, new research shows, in what has been described as the "best evidence yet" for the rollout of booster jabs in the UK.
Professor Jonathan Ball, a virologist at Nottingham University, said his team's study found that two doses of the Pfizer vaccine in people previously exposed to Covid elevate the body's antibody response against the Beta and Lambda variants to "a similar virus-killing level to that you'd see in fully vaccinated individuals for the original [Wuhan] lineage".
This is a "pretty compelling" justification for the administration of a third dose in healthcare workers, the clinically vulnerable and care home residents, as recommended by the Joint Committee on Vaccination and Immunisation (JCVI), said Prof Ball.
Some 30 million people in the UK are expected to receive a booster jab throughout autumn to ensure immunity levels in the most vulnerable remain high throughout a feared winter wave and protect against new and emerging variants.
However, there is debate within the scientific community whether third doses are needed. Although antibody levels do appear to wane with time, raising the prospect of reinfection, experts believe other components of the immune response will continue to provide long-lasting protection against hospitalisation and death from all current coronavirus variants.
Prof Ball admitted that "we don't fully understand what protective immunity looks like" but said his study demonstrated that three exposures to the Covid spike protein, the part of the virus that gains entry to human cells, "definitely increase the level of antibodies and their ability to kill variants".
Previous studies have shown that a single dose vaccine can improve antibody levels in previously infected individuals. However, the Nottingham study, published in the Science Translational Medicine journal, is among the first to further explore the combined effects of prior infection and full vaccination on immunity.
The research looked at 45 healthcare workers who had all received two doses of the Pfizer vaccine over a 10-week period. Twenty of the participants had previously been infected with Covid-19, while 25 had not.
Blood samples were collected and then analysed from the volunteers after their first and second doses. Prof Ball and his team were focused on measuring the level of antibodies that were capable of neutralising the spike protein of the Beta and Lambda variants, which originated from South Africa and Brazil respectively.
"There's always been this concern about there being a limit to how many doses you can give people and still see a benefit – the so-called antibody ceiling," said Prof Ball. "So we wanted to get an idea of whether two doses was the maximum amount of immunity you can get."
Following a first vaccine dose, concentrations of these antibodies were significantly higher in individuals with evidence of prior infection compared to those who were uninfected, the study showed.
This trend continued after the administration of a second dose among the two cohorts. The antibodies produced by those who had been previously infected were more diverse and more capable of effectively neutralising the Beta and Lambda variants.
"Our data show that multiple exposures to Sars-CoV-2 spike protein in the context of a delayed booster expand the neutralising breadth of the antibody response to neutralisation-resistant Sars-CoV-2 variants," the paper says.
"This suggests that additional vaccine boosts may be beneficial in improving immune responses against future Sars-CoV-2 variants of concern."
Prof Ball told The Independent that the research was the "best evidence yet" for booster jabs.
"What we've shown is that immunity in people who have had a past infection extends after the second dose of vaccine and, I think most importantly, increases the virus-killing effect against some of these variants of concern," he said. "I think on that basis, that's why our evidence is pretty compelling that there would be a benefit of a third dose."
UK news in pictures

Show all 50
The study did not focus on the Delta variant of coronavirus, which is now dominant in the UK and many other countries, so the researchers warned against extending their results beyond Beta and Lamba.
Earlier on Tuesday, Professor Sir Andrew Pollard, director of the Oxford Vaccine Group, told MPs that "there isn't any reason at this moment to panic" about rolling out booster jabs. "The time which we would need to boost is if we saw evidence that there was an increase in hospitalisation or people dying amongst those who are vaccinated," he said. "That is not something that we're seeing at the moment."
Join our new commenting forum
Join thought-provoking conversations, follow other Independent readers and see their replies