G7 nations will have stockpiled a billion spare Covid vaccine doses by end of 2021, analysis shows
Many of the world's poorest nations will struggle to vaccinate even 20 per cent of their populations by early 2022, research shows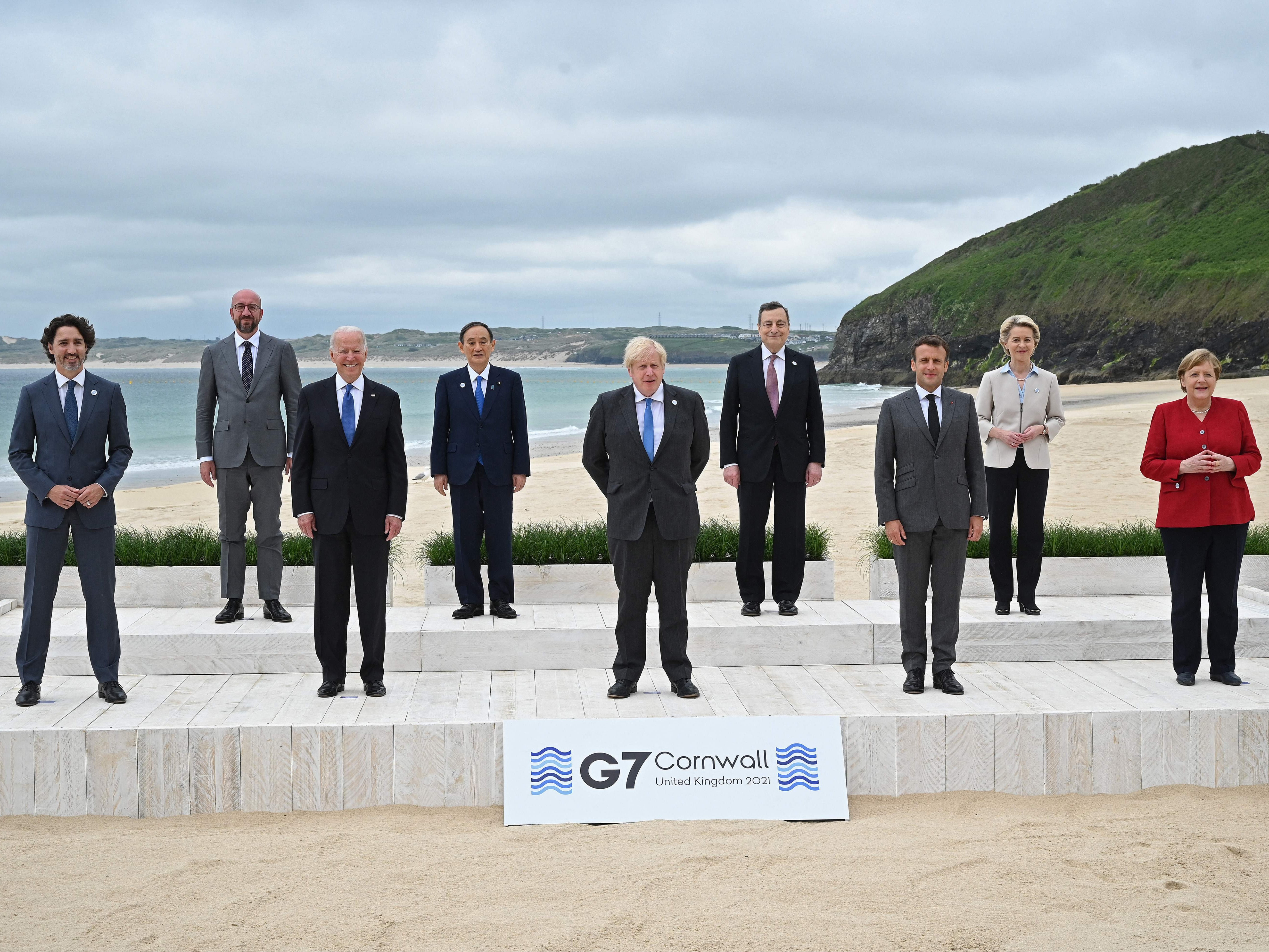 The G7 nations will have accumulated close to a billion spare vaccine doses by the end of 2021, analysis suggests, as campaigners warn that unequal access to the Covid jabs will prolong the pandemic and endanger millions of lives across the globe.
A billion vaccines would be enough to help protect the 30 least-vaccinated countries, the majority of which are in Africa.
Scientific advisers to the UK government have urged ministers to take more action in supporting overseas vaccination efforts to combat rising global infections and to prevent the emergence of new variants, while the World Health Organisation (WHO) has condemned international leaders for stockpiling doses and making them unavailable to the rest of the world.
Yet analysis from science analytics company Airfinity suggests that, by the end of the year, Britain and its fellow G7 nations will have hoarded 977,813,000 of leftover vaccine doses that are desperately needed in some of the world's poorest countries.
Many of these nations – including Namibia, Sierra Leone, Gabon and Macedonia – won't have immunised even 20 per cent of their populations by the beginning of 2022, according to current vaccination rates.
In line with current uptake rates across Europe, Airfinity's analysis assumes that 80 per cent of people aged 16 and over will have received two vaccine doses throughout the course of each G7 nation's rollout. It also factors in the administration of booster shots to high-risk populations from September 2021.
Even then, Airfinity estimates that the G7 nations – UK, US, Germany, Italy, France, Canada and Japan – will still have 1,723,513,000 doses left over between them once their vaccination and booster programmes are completed.
Some 745,700,000 of these are to be donated to the Covax vaccine-sharing initiative in the coming months, leaving just under 1 billion spare doses.
But campaigners do not believe these donations will be enough to bridge the widening gap between those with access to the jabs, and those currently without.
Luke Gibson, a Covid-19 vaccine campaign manager at Médecins Sans Frontières (MSF), said: "With new and dangerous variants spreading across the globe, it is in everyone's interests to ensure everyone, everywhere is vaccinated against Covid-19 as soon as possible.
"The fastest way to save lives right now is for high-income countries to stop hoarding Covid-19 vaccine doses, and immediately redistribute their excess doses to low- and middle-income countries."
Earlier this month, the WHO called for a moratorium on booster shots in an attempt to vaccinate 10 per cent of every country's population by the end of September. According to Oxford University's Our World In Data, 70 countries have yet to reach this figure.
The 30 countries with the lowest vaccination rates – encompassing more than 977 million people – have not even surpassed the 2 per cent mark.
Nations such as Nigeria, Mali, Sudan, Liberia, Cameroon, Chad and Yemen have meanwhile vaccinated less than 1 per cent of their populations, Our World in Data shows.
"Every day, every hour, people in developing countries are dying with no hope of a vaccine, while rich nations stockpile billions of doses," said Max Lawson, head of inequality policy at Oxfam.
The UK's scientific advisory group for emergencies urged the government last month to ramp up its efforts in supporting international vaccination programmes.
Unless more is done to increase oversees vaccination rates by sharing doses or supporting increased manufacturing, the continued global circulation of Covid-19 will lead to the evolution of new dangerous variants, the experts warned.
Both Oxfam and MSF have also called upon the global community to approve the sharing of vaccine "blueprints" between manufacturers. This would allow more drugmakers across the world to produce doses, they say.
"For the world to overcome Covid-19, pharmaceutical companies must share their vaccine technology and know-how with manufacturers in low- and middle-income countries so more vaccines can be made in more places across the world," said Mr Gibson.
Oxfam said that objection to the proposals was a "crime of historic proportions".
All G7 nations have outlined their intentions to donate millions of doses to the Covax scheme, which is co-led by the WHO, Gavi and Coalition for Epidemic Preparedness Innovations.
The US is to hand over 500 million doses of the Pfizer vaccine to the world's poorest nations, while the UK has said it will donate 100 million through Covax.
In June, the UK prime minister, Boris Johnson, said he would urge G7 leaders to commit to vaccinating the world against Covid-19 by the end of next year.
Join our commenting forum
Join thought-provoking conversations, follow other Independent readers and see their replies