The Independent's journalism is supported by our readers. When you purchase through links on our site, we may earn commission.
World's largest general science organisation slams Trump's lack of 'scientific thinking'
'Science and scientists have not been at the table for most of the policy discussions'
Ian Johnston
Science Correspondent
Saturday 02 September 2017 18:35 Comments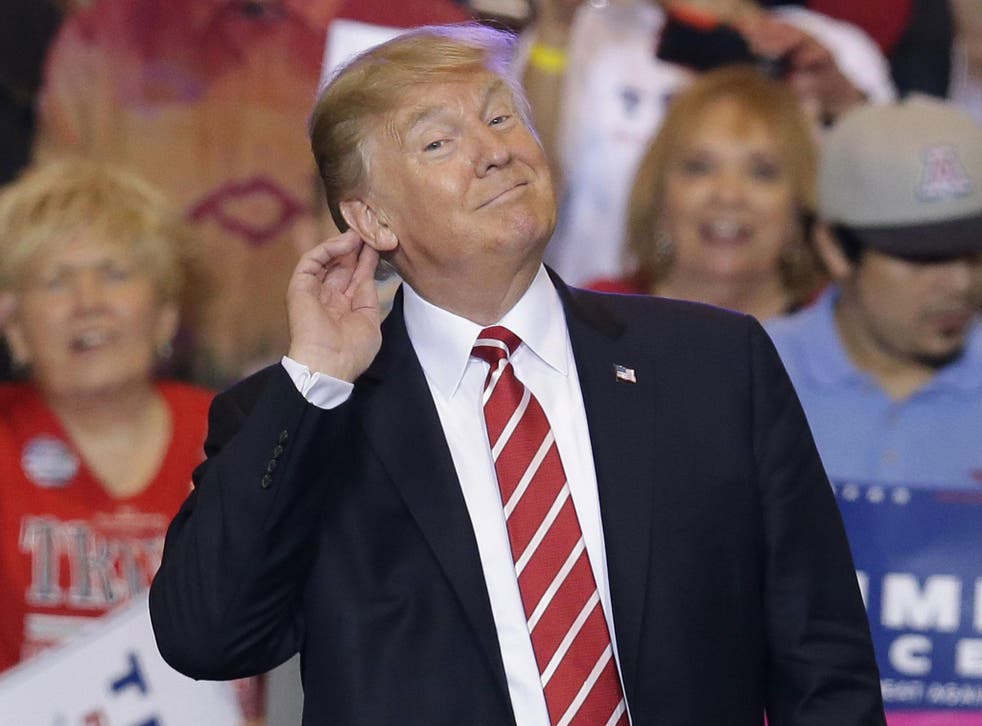 The head of the world's largest general science organisation has accused the Trump administration of paying "scant attention" to research and lacking understanding of scientific thinking.
Dr Rush Holt, chief executive of the American Association for the Advancement of Science (AAAS), pointed to the "great slowness" in appointing people with a scientific background to senior positions.
And he said that scientists had "not been at the table for most of the policy discussions".
Donald Trump has infamously dismissed climate change as a "hoax", but Dr Holt said the problems were much more widespread, encompassing a range of issues from public health to the military.
He was speaking amid controversy over the US Department of Interior's decision to halt a $1m study into the effects of "mountain-top" coal mining on the health of people living nearby. Mr Trump has spoken repeatedly about his desire to reinvigorate the ailing US coal industry.
In an outspoken editorial, the prestigious journal Nature said the decision suggested the Trump administration might cancel other scientific studies it did not like in "another blow for science and for academic freedom".
Marches for science were held in the US and other cities around the world in April because of concerns over Mr Trump's attitudes towards climate change and hard evidence generally.
And, in an interview, Dr Holt told The Independent there had been little sign of improvement.
"Within the administration, there's scant attention paid to science, to the scientific way of thinking, to the support for science, not in policy and not in funding," he said.
"So it really is not just a matter of great slowness in appointing people who know something about science to mid-level and high-level positions in the agencies.
"It also seems to be a failure to recognise that science has much to offer."
He said this applied to issues such as public health, social welfare programmes, immigration discussions and "even security and military matters".
The Washington Post and a non-profit group has been tracking 591 key administration posts that must be confirmed by the Senate. According to the latest figures, just 117 people out of that number had been confirmed in their jobs, 106 had been nominated for a post, two were awaiting nomination and there were no nominees for the other 366 jobs.
Donald Trump's first 100 days: in cartoons

Show all 33
The US Secretary of State's science and technology adviser, Vaughan Turekian, resigned in July and has not been replaced; the White House Office of Science and Technology Policy has been "all but wiped out" by departures, according to The New York Times; the Interior Department has suspended more than 200 advisory panels; and the Environmental Protection Agency has sacked dozens of scientists.
The Justice Department decided to ditch the National Commission on Forensic Science, a panel of independent judges, lawyers, scientists and police, and replace them with its own in-house team.
Dr Holt said there had been one Trump administration statement – from the Office of Management and Budget – that "might be interpreted to be a strong endorsement of science research".
"But, in so many other ways beyond this one statement, science and scientists have not been at the table for most of the policy discussions," he said.
"It just seems that there aren't many people in this administration who understand what science and scientific ways of thinking can bring to their programmes and projects."
At the AAAS's annual meeting in Boston, Dr Holt said some academics had voiced concern that the US could become like Soviet Russia, where political ideology was more important than hard evidence and facts.
Asked about whether fears that the Trump administration might seek to exert political influence on the results of research were coming to fruition, he said the picture was mixed.
"I'd say there's not been much encouragement and some discouragement of the practice of good science," Dr Holt said.
"I don't want to overstate things. In many of the labs with federal funding, the research goes on every day just fine."
There have been cases where Trump administration agencies have removed words like "climate change" and "global warming" from their websites.
Dr Holt said he was not aware of how widespread a problem this was.
But he added: "If there is a widespread practice or an emerging policy to remove for political reasons certain phrases from scientific communications, whether it's grant proposals or research papers, that should be condemned.
"That kind of censorship of scientific expression is really anathema to progress."
Register for free to continue reading
Registration is a free and easy way to support our truly independent journalism
By registering, you will also enjoy limited access to Premium articles, exclusive newsletters, commenting, and virtual events with our leading journalists
Already have an account? sign in
Register for free to continue reading
Registration is a free and easy way to support our truly independent journalism
By registering, you will also enjoy limited access to Premium articles, exclusive newsletters, commenting, and virtual events with our leading journalists
Already have an account? sign in
Join our new commenting forum
Join thought-provoking conversations, follow other Independent readers and see their replies