Europe's GM stance denies Africa the right to feed itself, warns leading academic
Leading academic condemns environmentalists for blocking the widespread use of genetically modified crops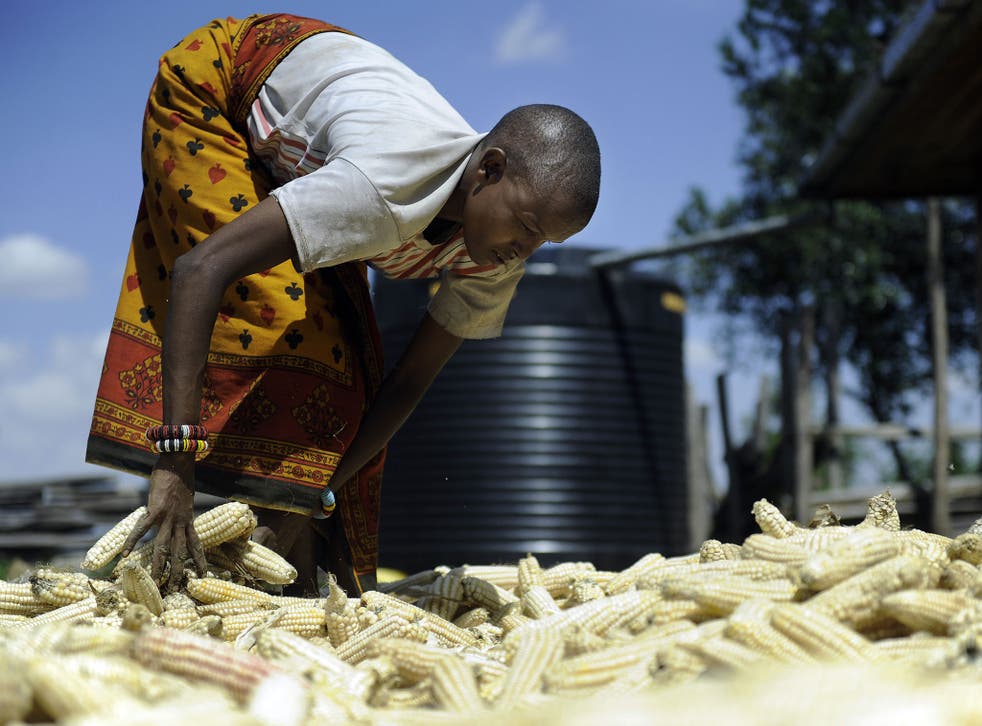 A leading African academic has issued a withering attack on the "petty political mischief" of the anti-GM lobby in Europe which has caused Africa to fall behind in the global race to grow genetically modified crops
Professor Calestous Juma, a Kenyan-born expert on sustainable development, warns that vital improvement in food production that could help to feed a rapidly expanding population in Africa is being held back by anti-GM legislation designed to placate environmental activists in Europe.
At the behest of Europe, many countries in Africa have laws and rules that limit the testing and cultivation of GM plants even though there is now overwhelming evidence that the technology can boost food production with comparatively little or no adverse environmental impact, Professor Juma told The Independent.
Europe forcibly recruited African governments as allies in its trade war with North America, arguing that importing GM products could cause catastrophic damage to the environment, Professor Juma said.
"It involved putting diplomatic pressure on African countries saying that if you produce GM crops we will not import any agricultural products from your countries," he said.
"Europe didn't want to see GM material entering from Africa when it was saying 'No' to North American GM products, so Europe then pressured African countries not to grow GM crops. It was to the great detriment of Africa," he added.
Professor Juma, who holds a chair in international development at Harvard University, is a former executive secretary of the UN Convention on Biological Diversity and founding secretary of the African Centre for Technology Studies in Nairobi.
Later today, he will be awarded an honorary doctorate at McGill University in Montreal and in his acceptance speech he will severely criticise Europe for its GM stance and for its role in causing African countries to lag behind other developing nations in adopting the technology.
"Today we acknowledge that given the growing human population, the problem is to feed people. However, opposition to new technologies may cast a dark shadow over the prospects of feeding the world," Professor Juma said. "It is now 17 years since the first commercial release of transgenic crops in North America. Evidence is stacking up against catastrophists and sceptics as emerging economies become major beneficiaries of the biotechnology revolution."
Last year, for the first time, the value of GM crops grown in developing countries outstripped industrialised nations' crops. Yet of the 28 countries growing GM crops, only four – South Africa, Bukino Faso, Egypt and Sudan – are in Africa, he said.
"When Europe imposed a moratorium on the importation of GM crops from North America, that debate spilled over to Africa and so African countries became equally cautious and moved very slowly because of seeing what is happening in Europe," Professor Juma said.
"The UN started to get African countries to adopt a series of highly restrictive biosafety rules. The funding was coming to Africa from European countries through the UN so many of them put in place laws that make it very difficult to adopt GM or even carry out field trials," Professor Juma said.
"These laws are excessively restrictive because it was assumed that GM crops would have catastrophic consequences for the environment, yet we have not seen this after 17 years of their use."
Professor Juma cited two examples of GM technology developed by African scientists for Africa – a transgenic banana and a GM blackeyed pea – which are being hampered by rules that date to Europe's influence over African anti-GM legislation.
"There are many places where they can do without GM, but when you open up land for growing crops, pests very quickly start to catch up and you have to make choices about how to control them," Professor Juma said.
"My argument is to have all of the technological options open, including organic foods."
"They [Europe's environmental activists] need to look at it on a case-by-case basis and not to generalise. Every case has to be looked at on the evidence rather than a blanket condemnation on the technology," Professor Juma said.
Food for thought GM in Africa
Only four out of the 28 countries growing GM crops commercially are in Africa. Professor Calestous Juma cites two GM crops being developed by African scientists that could help to feed a rapidly expanding population in sub-Saharan Africa.
In Nigeria, scientists have developed a pest-resistant variety of the blackeyed pea – a subspecies of cowpea – to control an insect pest called Maruca vitrata, or "mung moth". The pest destroys nearly £200m worth of crops each year, and costs farmers more than £300m a year to import pesticides to tackle the parasite.
In Uganda, scientists are working on GM bananas – which include the staple crop plantain – to control the spread of a wilt disease caused by the Xanthomonas bacteria. Using extra genes from the pepper plant, s
Join our new commenting forum
Join thought-provoking conversations, follow other Independent readers and see their replies