Hallucigenia: significance of bizarre extinct creature revealed as it finally bares its teeth
The fossil's bizarre appearance had mystified scientists for more than a century
Steve Connor
Thursday 25 June 2015 11:08 Comments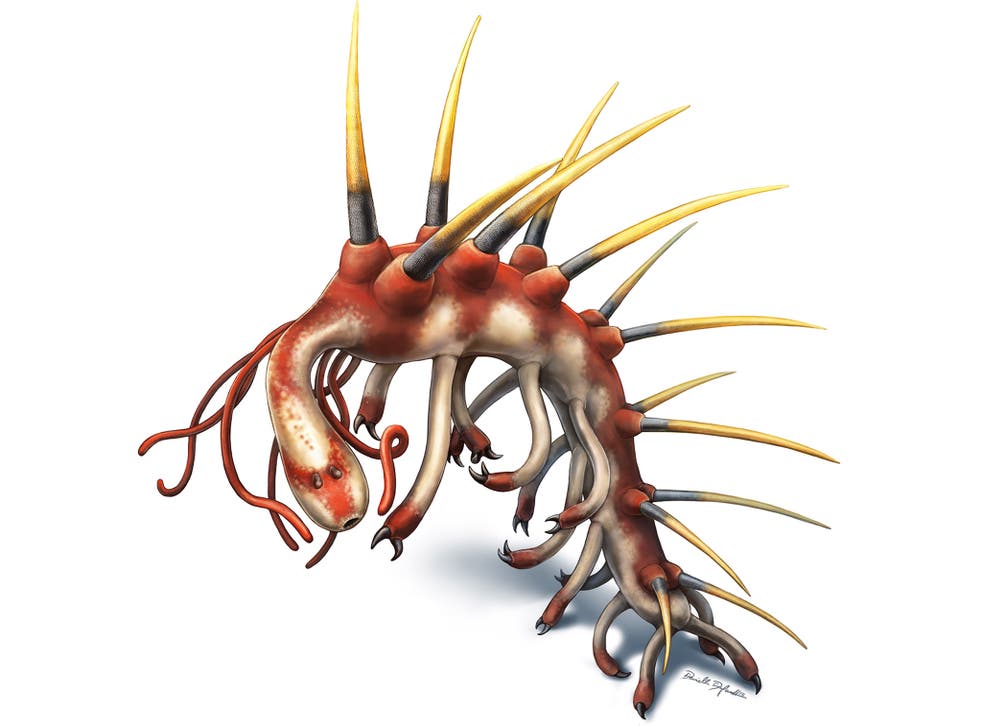 A bizarre extinct creature that has mystified scientists since its 500m-year fossil was first unearthed more than a century ago has finally revealed its teeth – placing it centre stage in the evolution of many complex life-forms living today.
Hallucigenia, which owes its name to its unworldly appearance, was so odd that scientists initially confused its top from its bottom and its head from its tail. However, a study has now unequivocally identified its mouth, complete with a fearsome ring of sharp teeth.
Researchers from the University of Cambridge have also identified a pair of simple eyes on Hallucigenia's head and have determined that it was a close relative of the last common ancestor of everything from tiny velvet roundworms to huge lobsters.
"The early evolutionary history of this huge group is pretty much uncharted. While we know that the animals in this group are united by the fact that they moult, we haven't been able to find many physical characteristics that unite them," said Martin Smith of Cambridge University, the lead author of the study in Nature.
"Prior to our study there was still some uncertainty as to which end of the animal represented the head, and which the tail," Dr Smith said.
"A large balloon-like orb at one end of the specimen was originally thought to be the head, but we can now demonstrate that this actually wasn't part of the body at all, but a dark stain representing decay fluids or gut contents that oozed out as the animal was flattened during burial," he said.
Fossil discoveries

Show all 7
Register for free to continue reading
Registration is a free and easy way to support our truly independent journalism
By registering, you will also enjoy limited access to Premium articles, exclusive newsletters, commenting, and virtual events with our leading journalists
Already have an account? sign in
Join our new commenting forum
Join thought-provoking conversations, follow other Independent readers and see their replies