Lizard species discovered – on a restaurant menu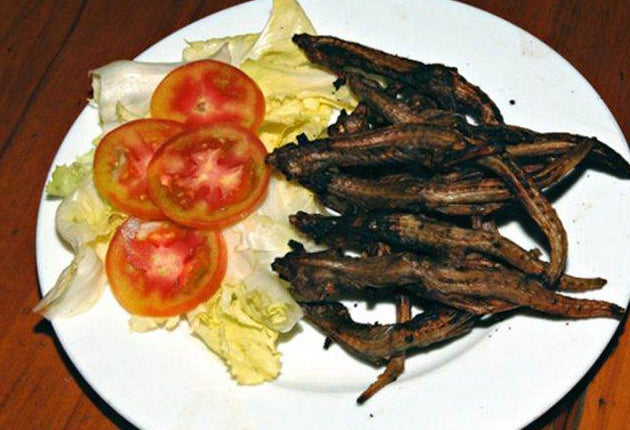 A new species of lizard has become a legend in its own lunchtime after being identified by scientists from the menu of a local restaurant in the region of Vietnam where it lives.
Specimens of the lizard are served up grilled with salad in restaurants of the Mekong Delta in south-west Vietnam, which led to the discovery that it was a species new to science.
A study of the lizard has revealed that it consists entirely of females who reproduce by a form of cloning called parthenogenesis, which is not unknown among reptiles. Scientists suspect the species is a hybrid of two other closely-related lizards that live in the same area.
The new lizard, called Leiolepis ngovantrii, is named after scientist Ngo Van Tri of the Vietnam Academy of Science and Technology who came across live specimens of the species stored in a tank in a restaurant in Ba Ria-Vung Tau Province.
His suspicions were aroused by the fact that all the individuals he saw in the restaurant seemed to be female because similar lizards living in the region are known to exhibit a strong sexual dimorphism – males and females have distinct colour differences.
Dr Van Tri emailed pictures of the lizard to two herpetologist colleagues, Lee Grismer of La Sierra University in Riverside, California, and his son Jesse Grismer of Villanova University in Pennsylvania, who both suspected that what they were looking at was a new, all-female species of lizard.
The two scientists hopped on a plane to Ho Chi Minh City and called the restaurant to "reserve" their dish. They then hired motorbikes and spent two days riding to the restaurant where the owner said he had the lizards waiting for them.
"When we finally got there, this crazy guy had gotten drunk and served them all to his customers," said Lee Grismer in an interview with National Geographic News. The two scientists hired some local boys to go out scouting for fresh specimens and very soon they had more than 60 individual lizards, all female. A scientific report on the species, published in the journal Zootaxa, confirmed that it was a new species that reproduced by cloning.
"It's an entirely new lineage of life that was being eaten and sold in restaurants for food. But it's something that scientists have missed for hundreds of years. It's not that they're not known, locals know all about them. It's just that they're not known to scientists," Dr Grismer said.
DNA tests have confirmed that the lizards are all females and that they are related through the maternal line to another local species, Leiolepis guttata. The scientists believe that L ngovantrii probably arose as a new species as a result of being a hybrid between L. guttata and an as-yet unidentified species that acted as the male line.
The resulting offspring were unable to reproduce sexually but were still able to clone themselves from unfertilised egg cells, a process known as parthenogenesis. Several members of the reptile class are also known to engage in asexual reproduction, especially when placed under environmental stress.
The new species lives in an area that lies between two ecological habitats, scrub woodland and coastal sand dunes, which may have helped the hybrids to survive, Dr Grismer said.
"Species that do really well in one habitat or the other will occasionally get together and reproduce to form a hybrid," he said.
Join our commenting forum
Join thought-provoking conversations, follow other Independent readers and see their replies