Space explorer behind Mars One mission says humans could one day move to Venus or Jupiter
But Bas Lansdorp says the first task is colonising the red planet – one he hopes to start in 2031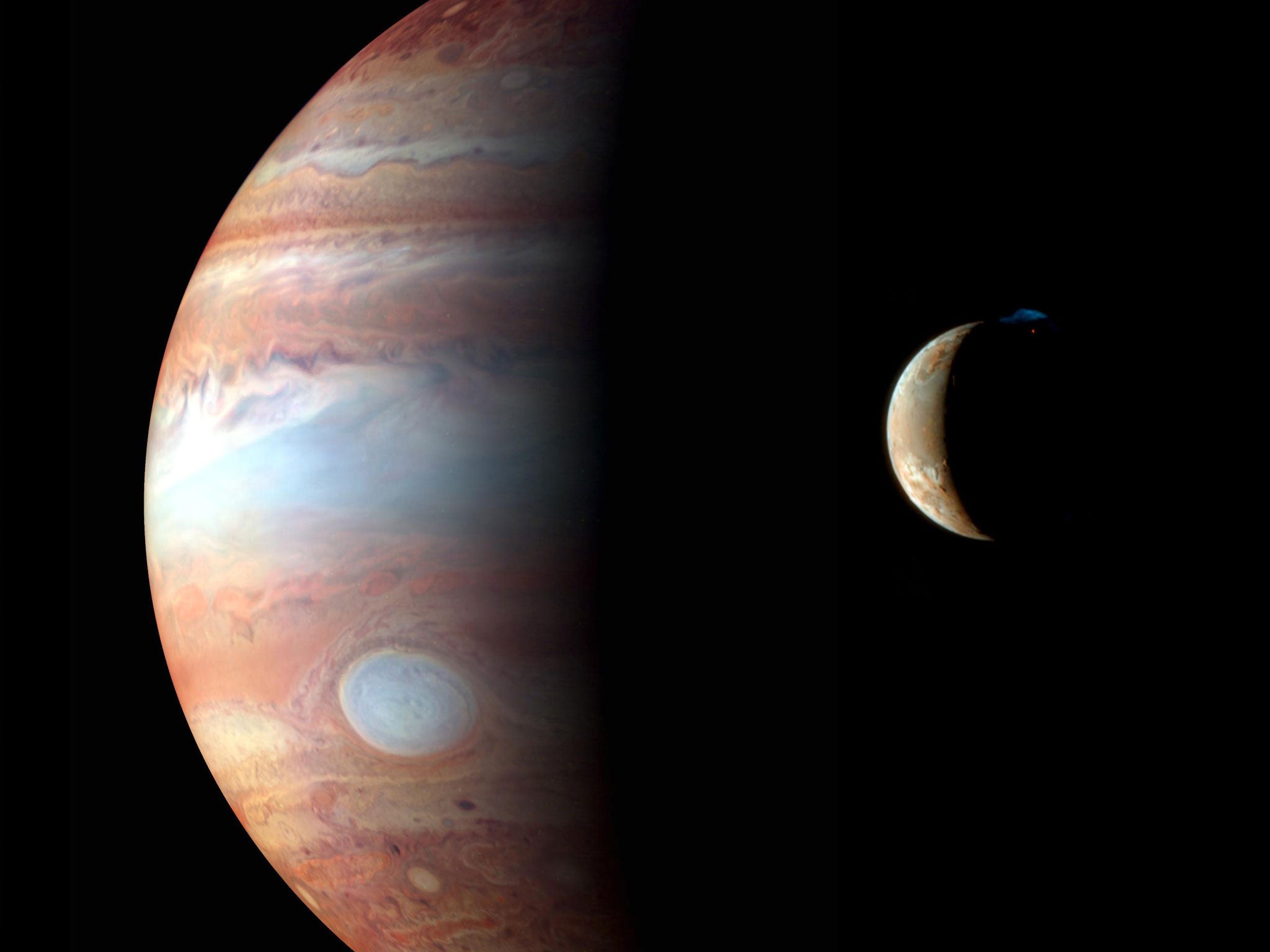 The man behind a project to establish a permanent habitable settlement on Mars has said he hopes people will one day inhabit floating balloons suspended in Venus' thick atmosphere or pods fixed to one of Jupiter's 69 moons.
Bas Lansdorp said he was now confident his Mars One mission – to send people on a one-way trip to the red planet – would lift off in 2031.
That date was pushed back five years after the project ran into problems with funding, but, speaking to The Independent, Lansdorp says his mission is now back on track.
Huge ice sheets on Mars could allow humans to live on the Red Planet, Nasa spacecraft shows
This year marks the beginning of a gruelling selection process for the 100 successful applicants, involving indeterminate periods locked in a 200sq m cabin with complete strangers in a test of their psychological state.
Mars One aims to establish a fixed human settlement on the planet.
But the length and complexity of the journey means candidates must accept the bleak reality that it will be a one-way trip, with no prospect of returning home.
That has not stopped more than 200,000 participants adding their names to the list for an experiment that hopes to create "a second home for humanity".
Lansdorp has faced criticism from others in the science community over the feasbility of the project, with some questioning whether his team has the expertise to pull off such an audacious feat.
But he insists the project can and will be delivered, and plans to recruit experts from Nasa and aerospace giant Lockheed Martin to help deliver it.
If it goes ahead, the four-man-and-woman crew will make a six-month interplanetary trip, which at its shortest stretches some 35 million miles. At its longest, when the two planets are both at their furthest point from the sun, the astronauts' new home will be 250 million miles from Earth.
Once there, they will be expected to survive with basic supplies in incredibly harsh conditions, including giant dust storms that plague the red planet.
Water use will be severely limited and Lansdorp says the crew will likely have to forego a bath or shower for at least the first two years. They will have to grow their own food and will not be able to leave the confines of their settlement alone.
"There really is no escape; that is the biggest challenge," he tells The Independent. "The first crew to make the trip will have the toughest time, they are on their own and the level of comfort will be very low.
"But the scarcity of water is nothing compared to the psychological impact."
And if they want to phone home, they must be prepared to wait. A radio signal would take between three and 20 minutes to reach Earth, making instantaneous communication with family, friends or the control room impossible.
Asked whether he would volunteer for the one-way trip, Lansdorp, 40, who has two children aged two and four, says he would, before adding he was "completely unqualified" to be among the first crews.
"I am too stubborn and impatient," he admits, "and now I have children, I want to see them grow up, but maybe one day they would want to come with me.
"Before I had kids, there was no doubt in my mind that I wanted to go."
In order to get that far, the candidates will first need to pass the selection process.
"We are focused on selecting the best team players, and will then train them in the skills they will need – engineering, emergency medicine, basic surgery, how to grow their own food," Lansdorp says.
"They will need to cope with the stress of knowing that whatever happens, they will need to fix it."
Each year between now and 2031, the candidates will be locked up in a copy of the Mars Outpost on Earth – a 200sq m cabin, the size of a house – to test how they cope with the effects of incarceration.
Crucially, they won't be told how long, to mimic the psychological impact of living on Mars in perpetuity. It could be days, weeks or months before they are allowed to leave and return to their training on the outside.
Clare Weedon, 30, one of five Britons among the 100 shortlisted candidates, says involvement in the project would be "the greatest achievement I could ever ask for".
She told The Independent: "The thought of it brings out every emotion in me. Terrified, but excited, the kind of feeling you get when waiting in line for a rollercoaster. Something I love too – I'm a bit of an adrenalin junkie.
"A part of everyone would like to do something significant, amazing even, with their life. This is it for me. I am not the type of girl who wants to settle down with the average life, I do not desire to get married and have 2.4 children."
Mars is the only known planet that can currently support human life, although the effects of its inhospitable environment and low gravity are not yet fully understood. Earlier this month scientists found what they believed were huge ice sheets stretching across Mars, a development that could be a "game-changer" in efforts to live there.
Several unmanned missions will take place before the first group of four – two men, two women, and a mixture of ages (but all over the age of 18) and nationalities – will be fired into space in a mere 13 years' time.
Lansdorp says the project is in a "better state than ever" to deliver a spacecraft to Mars, despite a setback in 2014 when the money ran out, forcing him to delay departure from 2026 to 2031.
But if colonising Mars sounds like science fiction, Lansdorp is confident his project will be just the start of future human missions deeper into the solar system.
"Mars won't be the final destination for humans looking to set up permanent settlements away from Earth," he says.
"After that, space explorers will be thinking about floating cities in the atmosphere of Venus in an extremely large balloon, or moving to one of Jupiter's moons, or an asteroid.
"Humans have always settled in new places they have discovered."
Huge ice sheets on Mars could allow humans to live on the Red Planet, Nasa spacecraft shows
And he insists the concept of relocating to Mars would gradually become more normal.
"Seventy years ago, if you told your neighbour you were moving to New York, they would have assumed you were selling your house and never coming back.
"Mars is the least complex of all of these possibilities."
Colonising Venus has long been the subject of scientific debate. While the surface of Earth's "sister planet" is hot and stormy, suspending a balloon in its atmosphere could achieve temperatures suitable for humans.
As for Jupiter's moons, the comfortingly named Europa – the sixth-closest to the planet, complete with an ocean and ice shelf – is likely to be more habitable than desert-covered Mars, Nasa scientists believe.
In order to fund the $6bn (£4.33bn) project, Lansdorp has established a new business arm which will sell exclusive rights to broadcast footage of the mission.
The spectacle will have a bigger global audience than the Olympics, he claims, and with the potential for far greater revenues from sponsors and merchandise.
"In 500 years, no one will know who Usain Bolt is, but everyone will know the first people to inhabit Mars," he says.
He has already been approached by car companies to manufacture the project's first Mars rover, and expects other offers from leading technology companies to follow.
For anyone who missed out on the first and second rounds of the application process, Lansdorp said there would be further recruitment drives in the future to compensate for those who have died or got cold feet.
So why do it? The Dutch entrepreneur, who made his money in wind power before launching the Mars project, says the goal was as much about preserving Earth as colonising an alternative planet.
"The human mission to Mars is the most effective way of making Earth a better place," he says. "The project highlights that there is only one Earth, and we need to take care of it.
"This is just the next step after the colonisation of Earth. Now it is time to discover a new 'continent'."
Join our commenting forum
Join thought-provoking conversations, follow other Independent readers and see their replies