The Independent's journalism is supported by our readers. When you purchase through links on our site, we may earn commission.
Chinese genetics company BGI is going to start selling genuine £1,000 'micropigs' that never grow up
Animal welfare groups and bioethicists have raised concerns over BGI's latest business venture
Doug Bolton
Monday 19 October 2015 18:23 Comments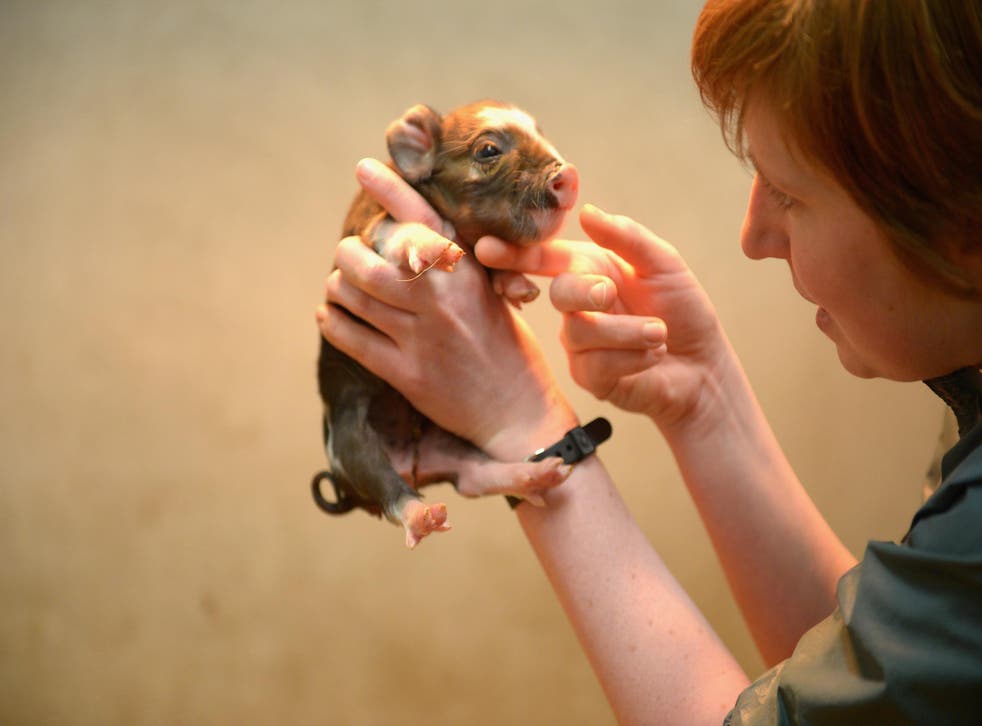 The 'micropig' phenomenon was one of the most bizarre pet-related fads ever to occur in recent years.
Many people bought these pigs assuming they would stay an adorable teacup size for the rest of their lives, suitable for being kept in a house or possibly carried around in a handbag.
When they grew up, however, it turned out the pigs were not quite as tiny as they were said to be. Many 'teacup' breeds grow to be much larger and heavier than many owners expect, leaving them with a large pig that some can struggle to take care of properly.
Miley Cyrus was one of the many celebrities to jump on the micropig trend, and posted a number of pictures of the tiny animal on social media at the time.

The pig, named Bubba Sue, recently appeared with her on the cover of this summer's Paper magazine, and is certainly much bigger than she once was.

However, for those looking for the real deal, a genetics company in China has announced it will start selling 'gene edited' pigs that will stay small for their entire lives.
BGI, the Shenzhen-based company that has created the pigs, announced it would start selling them at the Shenzhen International Biotech Leaders Summit in September.
The animals naturally start off small, but unlike their larger celebrity pet counterparts, they will only grow to be around 15kg (30 lbs) when mature, around the same weight as a medium-size dog.
The pigs' small size is down to the process of gene editing. The BGA scientists created these super-small pigs by cloning Bama pigs, an existing small pig breed which usually grow to be around 40kg, compared to the usual 100kg size of normal farmyard pigs.
Before cloning the pigs, the scientists used effector nucleases to disable one of the two growth hormone receptors in the pig fetuses' cells.
Without this receptor the cells do not receive growth signals during development - leaving them stunted and small for life.
BGI has said the pigs will be sold for 10,000 yuan (£1,000) each, but added this price was subject to change as they figure out the market.
The plan is for the pigs to subsidise the cost of BGI's other fields of research. The company says they plan on taking orders now to see what the scale of the demand is.
In the future, they said there was also potential for owners to specify what patterns and colours they want on their pig's coat, which the company can also dictate through gene editing.
If the prospect of genetically-altered designer micropigs flooding the streets of upmarket neighbourhoods makes you feel queasy then you're not alone - animal welfare and animal rights groups have come out against BGI since they made the announcement.
Speaking to The Observer, Dr Penny Hawkins, head of the RSPCA's research animals department called the idea "completely unacceptable", and said there was a high risk that the pigs could suffer from painful disabilities, in the same way that many pedigree dogs do after generations of selective breeding.
Pugs, for example, have been bred to have flat faces, which can cause breathing difficulties. Bulldogs are particularly susceptible to hip dysplasia, and their characteristic wrinkled faces can leave them prone to skin infections.
There are concerns that the huge, sudden genetic change in these tiny pigs could leave them open to similar health problems.
Others think the problem lies with the very idea of pigs as pets. Crystal Kim-Han, who rescues abandoned pigs in Nevada, told Nature that the animals are not meant to be kept in houses or small city flats.
Pigs naturally want to root around and dig in soil, and with no place to fulfil these urges, they can become depressed and destructive.
While trendy pet-owners may have moved on to pugs and french bulldogs, the micropig may make a return if BGI's animals make it to the UK.
Register for free to continue reading
Registration is a free and easy way to support our truly independent journalism
By registering, you will also enjoy limited access to Premium articles, exclusive newsletters, commenting, and virtual events with our leading journalists
Already have an account? sign in
Join our new commenting forum
Join thought-provoking conversations, follow other Independent readers and see their replies