Microbeads: Ban on dangerous plastic particles to be considered after damning environmental report
Trillions of microplastic particles floating on the surface of the world's oceans are contaminating marine life and causing potential harm to human health, scientists have warned
Rachael Pells
Sunday 05 June 2016 12:13 Comments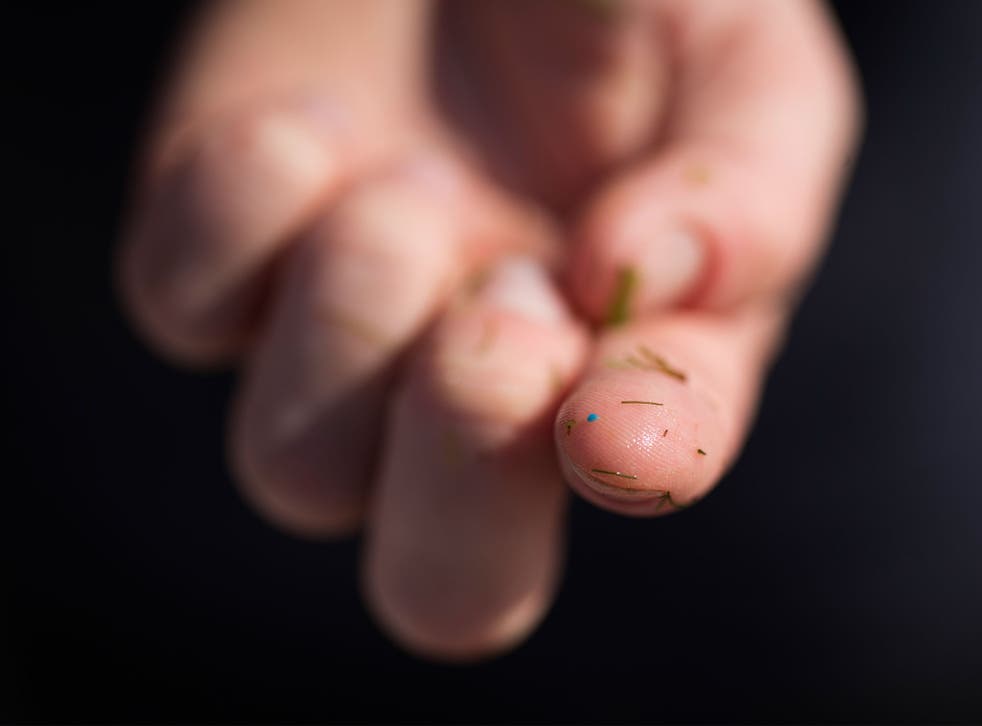 A call for the full ban of dangerous plastic microbeads may be considered if cosmetic companies do not "clean up their act", MPs have said.
In a new research briefing on Marine Microplastic Pollution, the cross-party Environmental Audit Committee have warned of increasing amounts of damage done to marine life, leading to potential harm to human health as a result of plastic accumulating in the marine environment.
An estimated 16-86 tons of plastic microbeads commonly found in cosmetics such as exfoliating scrubs and some toothpastes are washed into the sea each year from the UK. These microplastics are in turn ingested by marine life and have been found in zooplankton, mussels, oysters, seals and whales along with several other species.
One study found microplastic contamination to be present in 36.5 per cent of fish in the English Channel, leading to concerns that the problem extends further than previously realised.
Commenting on the research ahead of a hearing in Parliament on Wednesday on the subject, Mary Creagh MP, the Chair of the Environmental Audit Committee said: "This paper raises important questions about the damage microplastics could be doing to our marine environment. We know shellfish and fish are ingesting plastic fragments, what we don't know is the effect this is having on them and on human health."
"The most effective way to reduce microplastic pollution is to prevent plastic entering our waters in the first place. Cosmetic companies need to clean up their act and phase out the plastic microbeads causing marine pollution. If they refuse to act, the Environmental Audit Committee will consider calling for a full ban on microbeads."
In pictures: Plastic pollution around the world

Show all 10
Microplastics, which are fragments of broken down plastics and other synthetic fibres under 5mm, can break down even further according to the research paper, creating what is known as nanoplastic particles for which there is no estimate on scale.
At present the impact that microplastic pollution could have on marine life and human health is uncertain. However, laboratory studies carried out so far have shown that plastic ingestion can have a detrimental effect on reproduction and feeding activity for many species.
Current estimates are based on surface pollution, since it is impossible to gauge the amount of plastic at the bottom of the ocean. It has been estimated that there were between 15 to 51 trillion microplastic particles floating on the surface of the world's oceans in 2014, weighing between 93 and 236 metric tons.
Researchers from the committee say that even if the flow of plastic litter into the sea was halted immediately, the amount of microplastic in the ocean would probably continue to increase as larger items in the sea continue to fragment and degrade.
Technology to remove microscopic debris from the sea does not currently exist.
Several countries including Canada and the US have already placed a ban on the inclusion of plastic beads in cosmetic products. Around 25 UK companies intend to become or are already microbead-free, as are the multinational brands Unilever, Colgate-Palmolive and P&G.
Register for free to continue reading
Registration is a free and easy way to support our truly independent journalism
By registering, you will also enjoy limited access to Premium articles, exclusive newsletters, commenting, and virtual events with our leading journalists
Already have an account? sign in
Join our new commenting forum
Join thought-provoking conversations, follow other Independent readers and see their replies