Rewilding: Consultation seeks views on reintroduction of ospreys to Suffolk
The large fish-hunting hawk species was wiped out in southern England during Victorian period, and are slow to spread into new areas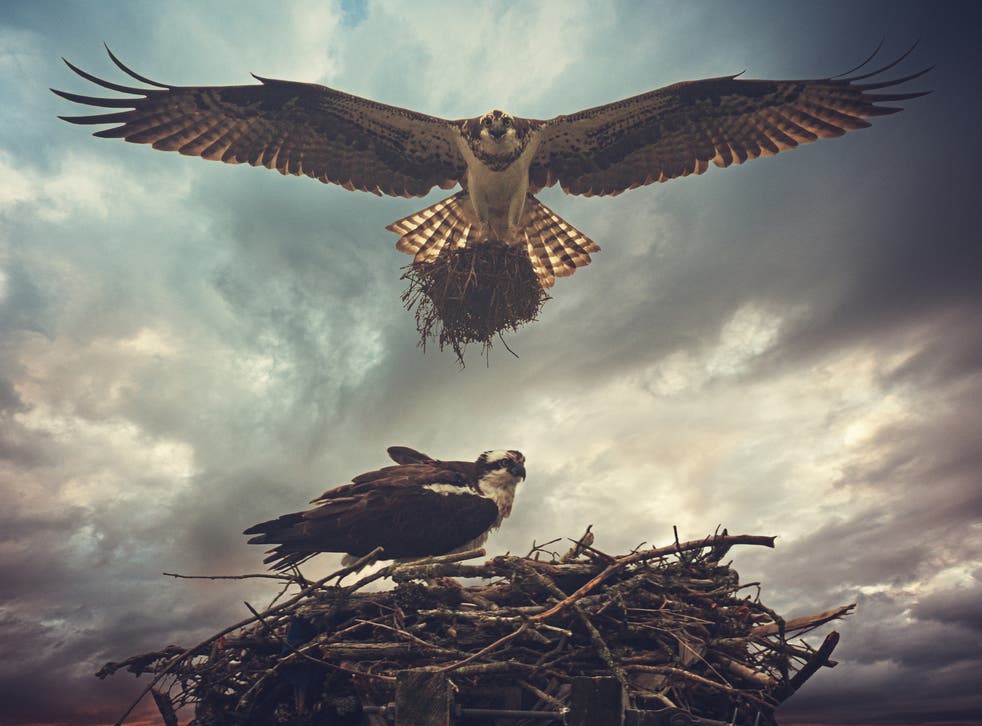 The Suffolk Wildlife Trust (SWT) has launched a consultation on plans to reintroduce ospreys to the area for the first time in more than a century.
The fish-hunting birds – a type of hawk – were wiped out in southern England during the Victorian period due to long-term persecution, habitat loss and use of pesticides, but the trust, along with other organisations, aims to restore a breeding population in Suffolk, helping it regain its previous range.
While pressures on birds of prey in the UK remain, as they still face widespread persecution, ospreys are particularly slow to move into new areas.
SWT said the reintroduction is needed for this reason.
It said: "Males in particular are very faithful to the location from which they fledged. When a young osprey leaves its nest for the first time and begins to explore its surroundings, the geographical location is imprinted in its memory, and despite flying thousands of miles on migration, most young birds return to the same location and nest site.
"Translocation projects respond to this behaviour by moving juvenile ospreys a few weeks before they fledge to a new location, which will then become its imprinted home."
Read more:
Craig Bennett, chief executive of The Wildlife Trusts, told The Independent: "Ospreys are magnificent birds of prey and seeing them swoop to fish is a true spectacle of the natural world.
"The Wildlife Trusts were instrumental in reintroducing them to England after they'd been driven to extinction in the Victoria era – and have played a leading role in re-establishing them here since then.
"Reintroducing species is part of the puzzle to put nature into recovery, but it has to be done properly. We're certainly hopeful that more ospreys grace UK skies in the future."
The Trust is working in alongside the Roy Dennis Wildlife Foundation, as well as a local landowner and Leicestershire and Rutland Wildlife Trust.
The Roy Dennis Wildlife Foundation has pioneered successful osprey translocation projects over the last few decades, and SWT said it hoped to replicate this success using the same procedures.
The five-year plan would involve moving up to eight juvenile ospreys each year to Suffolk from the Rutland Water area in the East Midlands where a healthy population is already established following a previous successful translocation project.
Young birds, about six weeks old, would be collected from nests with more than one healthy chick, and taken to a site in Suffolk.
The Trust said the populations in the donor sites would not be impacted negatively, and young would not be collected if there is an unsuccessful or poor breeding season.
This relocation of some chicks could also benefit the existing population around Rutland, which has grown to the extent that young males have to compete for nest sites and females, sometimes inadvertently breaking eggs in the process.
"Our project will help by relocating surplus birds and allowing the population to spread to highly suitable habitat at a much faster rate than would occur naturally," SWT said.
UK news in pictures

Show all 50
Currently ospreys only nest in a few parts of the British Isles, including in parts of Scotland, Cumbria, the east Midlands and Wales. They can also occasionally be seen at large bodies of water across the country during their annual migration. They remain in the UK only during the summer.
They are large brown and white birds which can be mistaken for seagulls at a distance. However, they are larger than even the biggest gull, with a wingspan of up to 1.8m. In comparison, the buzzard has a wingspan of up to 1.4m.
SWT added: "Having breeding ospreys in Suffolk will, after some years, mean the species will be able to expand its range up to Norfolk, down to Essex and across the wider East Anglia region.
"The osprey is part of a healthy ecosystem and its return will be one step closer to stemming the biodiversity loss we are all facing and help us create a wilder Suffolk."
Once the consultation process is complete, SWT will proceed with a licence application to Natural England.
Join our new commenting forum
Join thought-provoking conversations, follow other Independent readers and see their replies