Where can I see seals in UK? Death of Freddie sparks interest in wildlife watching
'People think you have to go to California or Alaska to see marine life, but we have heaps of it on our doorstep,' says zoologist and wildlife presenter Billy Heaney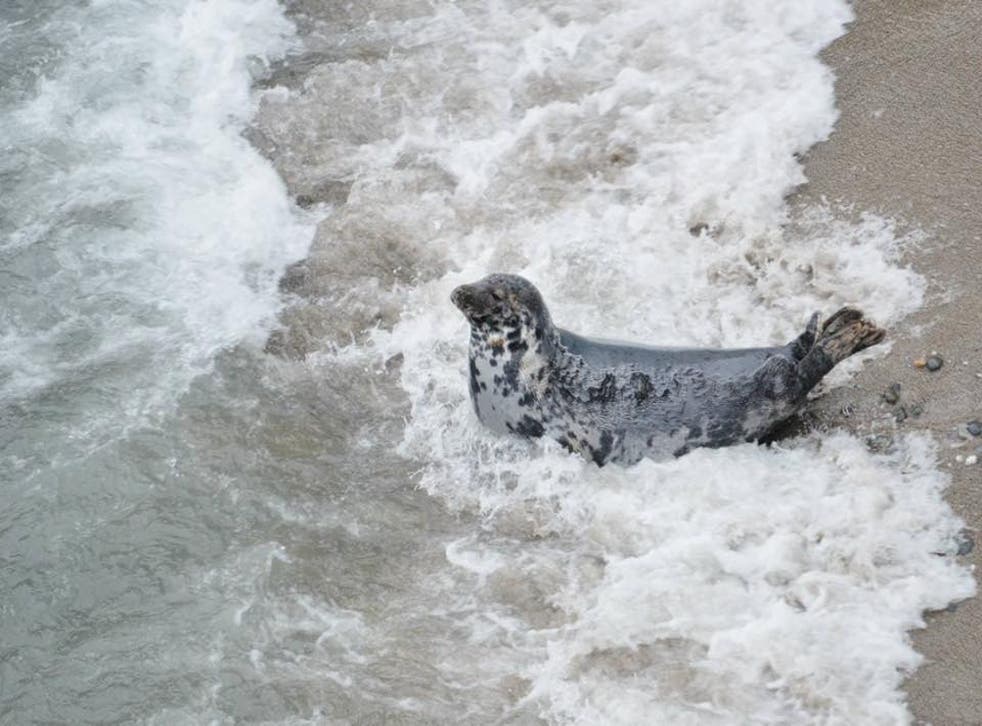 From killer whales to leatherback turtles, UK waters are teeming with sea life.
But the death of a seal known for appearing along the banks of the River Thames this week has served as a reminder that while Britain is home to an array of fascinating wildlife species, many remain vulnerable.
A recent audit of UK wildlife populations found 'partying' dolphins and rare sea slugs resembling glowing lumps of coal. And from the Cornish coast to the Outer Hebrides, there is no shortage of marine animals.
"A lot of people think you have to go to Monterey Bay in California or Alaska or Vancouver Island to see lots of marine life, but we're very lucky in the UK to have heaps of it right on our doorstep," said Billy Heaney, a zoologist and wildlife presenter.
"This year there will be a lot more people visiting our coastlines encountering wildlife, and they might not realise how much wildlife we have here."
Read more:
When it comes to seals, both grey and common species can be seen all around the UK coastline. They spend most of their time at sea but come ashore in the autumn to breed.
Some of the best places to see them include the Cornish coastline, Blakeney and Horsey Gap in Norfolk, Pembrokeshire in Wales and parts of Scotland including the Orkney Islands and Moray Firth.
Last year the Cumbria Wildlife Trust reported 412 grey seals and five pups at South Walney nature reserve.
When viewing seals in the wild, people are encouraged not to approach them as this can cause unnecessary stress. Dog owners are advised to keep their pets on a short lead.
"If you're looking for seals along the UK coast, Pembrokeshire, Cornwall and Devon are good spots," said Mr Heaney.
"Keep an eye out for 'footballs' in the sea, because that football might actually be the head of a seal. It's called bottling, where the seal is completely vertical with just their head out of the water."
The case of Freddie the seal, who was euthanised after being attacked by a dog in southwest London, highlighted the importance of protecting wild marine species, particularly when they come into contact with humans.
"Some animals may come closer, but that should always be on their terms," said Mr Heaney. "You want to leave the animal as you found it."
That means staying at least 100 metres away, remaining quiet and not attempting to touch or feed them.
In terms of other sea creatures, the Wildlife Trusts' 2020 marine review noted that thousands of Atlantic bluefin tuna were witnessed in a rare "run" up the English Channel from Cornwall to Kent and a baby Risso's dolphin was filmed being born in Wales.
However the charity has warned that marine wildlife was in "greater peril than ever" from plastic, litter, discarded fishing gear and disposable personal protective equipment.
There are several places around the UK where members of the public might spot a dolphin.
These include Durlston Head, in Dorset, which has its own dolphin and whale observatory, Chanonry Point, on Scotland's Black Isle, one of the few places in the UK you can see dolphins right up close and Cardigan Bay, Wales, which is home to the UK's biggest pod of dolphins and claims to be the best place in Europe to spot the mammals.
In early August, more than 30 bottlenose dolphins were observed on just one day frolicking off Saltburn Pier. The dolphin group was also spotted off Redcar and Hartlepool, again visible from the coastline.
"Always have a pair of binoculars with you because dolphins can pop up at any time," said Mr Heaney, who recently fronted a campaign to save whales and dolphins from dying in fishing gear in UK waters. "You've got to keep your eyes peeled, but bottlenose dolphins often hug the shoreline.
"A clue when looking for dolphins is if you see gannets diving in the water. If there's a lot of bird activity, and birds diving into the water, that's a good sign.
"There's obviously a big shoal of fish, and usually there's something bigger than the fish pushing the fish to the surface. That could be dolphins or porpoise or tuna, because we're getting more sightings of bluefin tuna off the UK coastline now.
"If you're lucky you could see them from a coastal path, and the perk of that is that you're on a cliff and they're in the sea, so you're not going to disturb them."
It is also possible to go whale watching within the UK, including in waters off the west coast of Scotland and the Isles of Scilly. Two orcas were seen in Strangford Lough near Belfast for the first time in at least 50 years last May.
And there are many other unusual creatures living in and around the UK, including a rare miniscule orange and black sap sucking sea slug called Placida cremoniana, measuring just millimetres in length, which was recently observed in Cornwall.
The species resembles a glowing lump of coal – but one covered in spikes – and is more usually found in the Pacific or Mediterranean.
Ocean sunfish, the heaviest bony fish in the world, several species of shark including the basking shark – the second-largest – and leatherback turtles are also known to inhabit waters off the British isles.
"Basking sharks are a great one to spot from coastal paths," said Mr Heaney. "It's such a big animal that you can see them from the coast.
"And each year we tend to get leatherback sea turtle sightings off our coastlines as well. Whether that's the south coast of England, Cornwall, Devon or Pembrokeshire, and up in Scotland as well.
"I think the furthest one ever recorded has been up in Iceland, actually, so they are designed for cold water swimming.
"We get them around our coastlines in the summer, when we get a lot of jellyfish around our coast, they will be scoffing those."
Register for free to continue reading
Registration is a free and easy way to support our truly independent journalism
By registering, you will also enjoy limited access to Premium articles, exclusive newsletters, commenting, and virtual events with our leading journalists
Already have an account? sign in
Register for free to continue reading
Registration is a free and easy way to support our truly independent journalism
By registering, you will also enjoy limited access to Premium articles, exclusive newsletters, commenting, and virtual events with our leading journalists
Already have an account? sign in
Join our new commenting forum
Join thought-provoking conversations, follow other Independent readers and see their replies