Strong solar storm threatens to hit satnavs
US airlines will divert flights that pass over the poles due to the risks posed by solar radiation
Steve Connor
Thursday 08 March 2012 01:00 Comments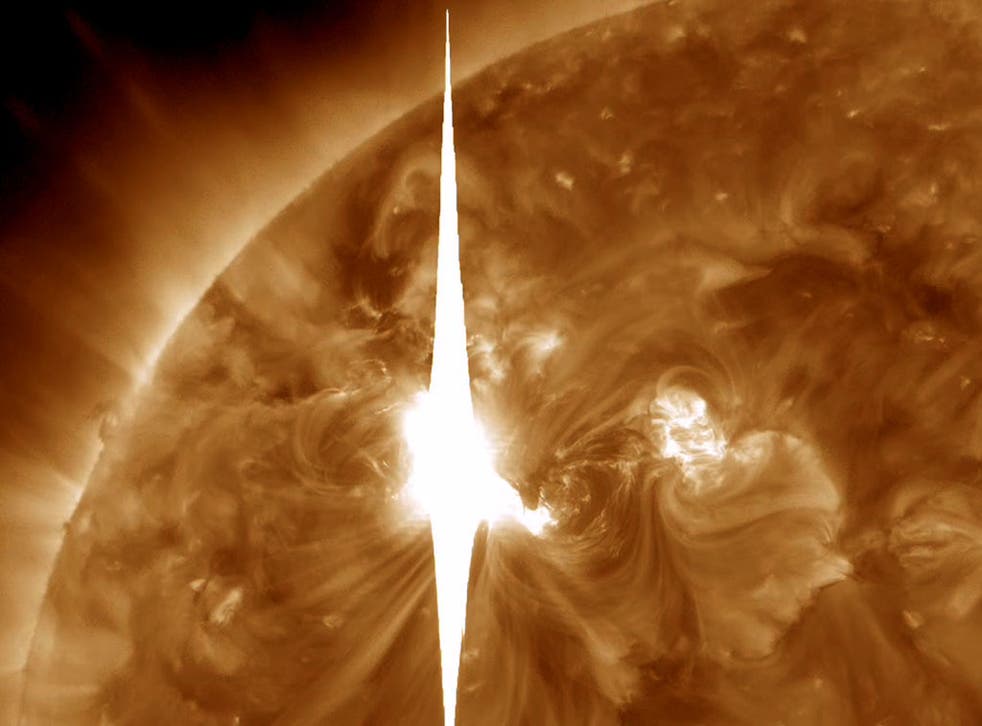 One of the largest solar storms so far this century will hit the Earth today following a huge eruption on the surface of the Sun in the early hours of yesterday morning which flung billions of tons of electrically charged particles towards the planet, scientists said last night.
Experts in the United States warned that the solar flare could cause power blackouts, disrupt GPS satellites and may lead to the diversion of long-haul flights that pass over the polar regions because of intense bursts of electromagnetic radiation at high latitudes.
The solar weather prediction centre of the US National Oceanic and Atmospheric Administration in Boulder, Colorado, said that the solar storm could be "moderate to severe" after it observed a massive explosive ejection of material from the Sun's outer corona.
"The so-called coronal mass ejection may reach Earth by early Thursday morning. Geomagnetic storms on Earth can impact the operation of electrical grids and temporarily disrupt radio and satellite telecommunications," a NOAA spokeswoman said.
"The radiation storm associated with this event is already triggering high-frequency radio blackouts at Earth's poles and in several other regions of the planet. High-frequency radio is used by airplanes flying over the poles, emergency managers, and others," she said.
Professor Mike Lockwood, a solar-terrestrial scientists at Reading University, said that the potential impact of the storm cannot be accurately assessed until about an hour before it actually reaches the Earth. Much will depend on the direction of its magnetic field and whether it will hit the Earth directly or strike a passing blow, he said.
"They can induce very large currents in electric power grids which can burn out transformers and cause power blackouts. It can take a long time to restore the grid when this happens," Professor Lockwood said.
"They can also have a devastating effect on satellites. The GPS satellites are quite robust and I doubt whether they will be lost completely, but they may give false readings for a while," he said.
The solar cycle of sunspots, which runs on an average period of about 11 years, has been unusually quiet in recent years and has only just emerged from a long solar "minimum" where there have been few if any sunspots, Professor Lockwood said.
"The indications are that we are now reaching a sunspot maximum, but it's still been very feeble. Upto now the sunspot cycle has been remarkably weak so this may be the peak of this particular cycle," he said.
Scientists have warned governments that society is more vulnerable to the geomagnetic storms caused by solar flares than during the last solar maxium in the 1990s because of the increased reliance on delicate electrical technology that can be easily disrupted.
Register for free to continue reading
Registration is a free and easy way to support our truly independent journalism
By registering, you will also enjoy limited access to Premium articles, exclusive newsletters, commenting, and virtual events with our leading journalists
Already have an account? sign in
Join our new commenting forum
Join thought-provoking conversations, follow other Independent readers and see their replies