Supermoon 2014: Russian cosmonaut gives early glimpse of perigee moon
This Sunday's supermoon will be the second, and biggest, of a trio of supermoons to appear in our skies this summer
Jack Simpson
Monday 11 August 2014 10:54 Comments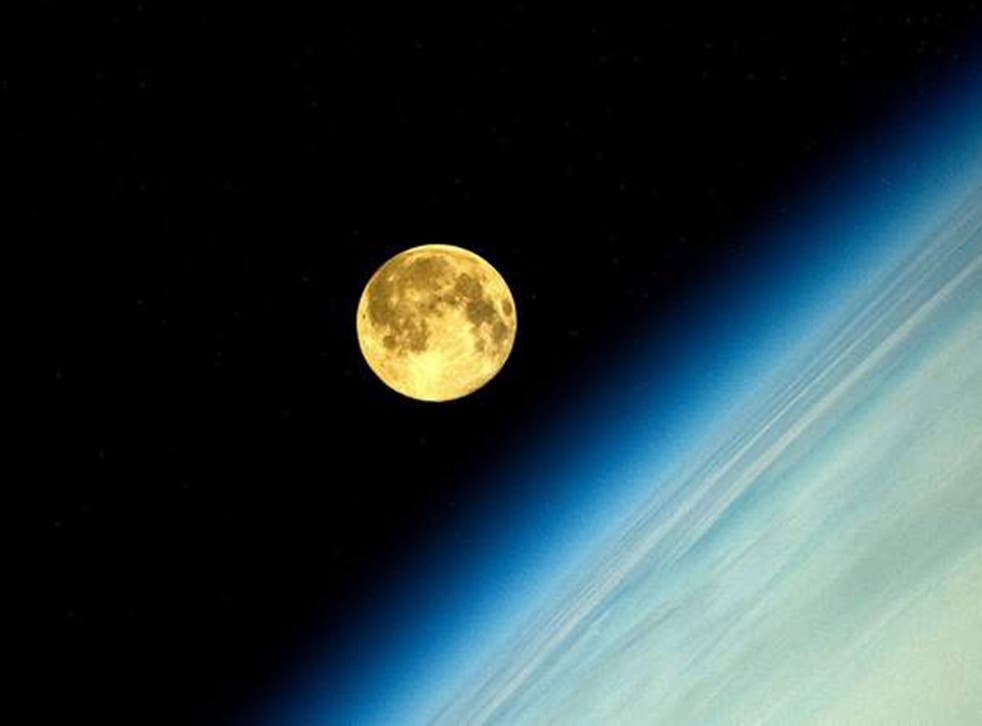 Stargazers have been given an early glimpse of tonight's supermoon after a Russian cosmonaut published spectacular images of the giant moon as it orbited the earth.
In a series of images posted on the Twitter account of Russian cosmonaut Oleg Artemyev, we see four pictures taken from the International Space Station, tracking the moon's journey behind the earth.
The pictures of what Artemyev called a "moonset", come just hours before those in Britain and across the world will be able to view the moon in its biggest and brightest state for 20 years.
There is a lot of excitement about this Sunday's supermoon, scientific name perigee moon, which will see the moon appearing 30% brighter than normal tonight and will appear 14% bigger as it reaches the point of its orbit closest to earth - 221,765 away from earth.
This Sunday's supermoon will be the second, and biggest, of a trio of supermoons to appear in our skies this summer.
On 12 July, a smaller supermoon produced some spectacular images being published from across the world, while on 9 September another supermoon is due to appear, the last until the 29 September 2015.
The supermoon on Sunday night could, however, prove a problem for those who had hoped to see the Perseid meteor shower - one of the most spectacular comet showers you can see from earth.
Scientists have said that the appearance of a bigger and brighter moon could mean that some of the fainter comets might be missed.
Supermoon: Stunning pictures of the phenomenon from around the globe

Show all 10
Dr Bill Cooke from Nasa's meteoroid environment said: "Lunar glare wipes out the black, velvety backdrop required to see faint meteors, and sharply reduces counts."
Register for free to continue reading
Registration is a free and easy way to support our truly independent journalism
By registering, you will also enjoy limited access to Premium articles, exclusive newsletters, commenting, and virtual events with our leading journalists
Already have an account? sign in
Join our new commenting forum
Join thought-provoking conversations, follow other Independent readers and see their replies