The future of GM: The greenhouses where Monsanto 'plays God' with the future of the planet
In the second in our series on genetically modified crops, Oliver Wright reports from St Louis – where science meets nature in the cause of feeding tomorrow's world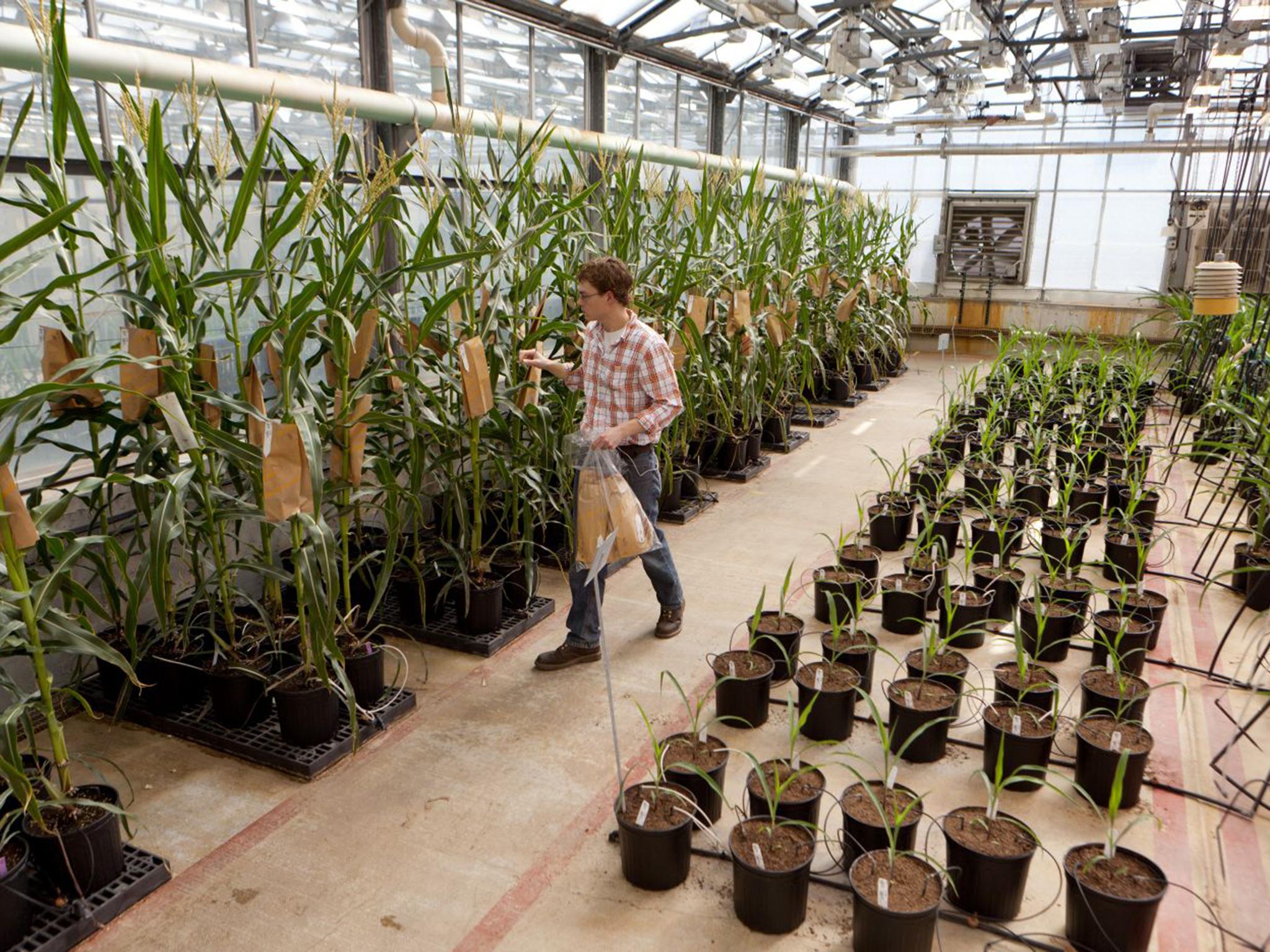 If you travel from downtown St Louis at night on Highway 40 towards Kansas City and look out to your right you will see a strange bright white haze emanating from the horizon.
Get away from the road, and what you see is stranger still. Sixty feet in the air and perched on top of a vast rectangular brick building are rows and rows of greenhouses illuminating the night sky.
The scene is like something out of a sci-fi movie – you almost expect to see a mad scientist emerge at any moment, cackling about world domination. But then, talk to some environmentalists, and that is pretty much what they think. Because these greenhouses belong to Monsanto and it was inside here that the first genetically modified crops were cultivated 20 years ago. And it is here today that the latest developments in biotechnology are being grown in the artificial light of day.
In sunlight, it has to be said, the greenhouses look more mundane – less evil empire and more poor planning regulations. The 40,000 square feet of 26 individual glasshouses are over 30 years old and beginning to show their age.
Each greenhouse is home to up to 650 plants of all shapes, sizes and varieties being grown in conditions to mimic where they would normally be cultivated. Most of the greenhouses are stiflingly humid, despite the chilly conditions outside. In one greenhouse there is maize – with paper bags covering the corn cobs to prevent pollen contamination. In another, oilseed rape plants (known in the US as canola) are sealed in white muslin cloth – trapping thousands of fruit flies, which have been put in to pollinate the plants. In another, soy bean plants and cotton are growing – with beautiful flowers that have yet to mature into buds.
This is the intersection of science and nature – which, depending on your viewpoint is either the cutting edge of the battle to feed an ever-growing human population, or an unnatural attempt to "play God" for profit in ways that may have unforeseen consequences for human health and the environment.
The Independent visited Monsanto's St Louis headquarters as part of its series examining the state of GM technology and the GM debate nearly 20 years after Monsanto first developed herbicide-resistant soya plants in the 1990s.
Since then, the company has become the personification of what many believe is wrong with large-scale modern agriculture. It has been accused of everything from pushing farmers in India to commit suicide, to creating "terminator" seeds to the control the food chain, to supressing studies casting doubt over the safety of the GM products that make it billions of pounds each year.
There is little or no evidence for any of these claims but Monsanto still tops (self-selecting) polls of the world's most "evil companies", easily seeing off opposition from BP, Halliburton and McDonald's. While at least five other multinational companies develop and produce GM seeds, it is only Monsanto that is the public face of opprobrium.
Inside the greenhouses overlooking Monsanto's sprawling St Louis campus, 34-year-old Logan Huff doesn't much look like an evil scientist or a corporate villain.
He has worked for 10 years developing GM corn and soya for Monsanto and is in charge of a project to determine the optimum level of moisture in a seed needed for germination.
But the company's past and present still weighs heavily on him. Working for Monsanto is one of the few jobs in science which garners an immediate (and mainly negative) reaction from those who would otherwise have little interest.
"I think Monsanto gets a bad rap," he says. "They say that Monsanto is poisoning things – that we're ruining the environment. On a personal level, my brother was dating a woman who said Monsanto was evil and ruining the environment by spraying more pesticides.
"And I say 'I'm not sure that you know what we're doing because we are developing seed where you only have to spray once – maybe twice. And do realise that on an organic field they are probably spraying a lot more than they would on a GM field – because there all sorts of weeds you have to lay waste to'."
Mr Hoff says his brother's girlfriend is now gone, but he still takes on those people who oppose GM – particularly for what the technology can do in developing countries.
"All of us here can pay for organic food at Wholefoods if we want to. But how can someone like me tell someone who doesn't have enough food that they shouldn't eat this?
"It's been scientifically stated that there is nothing wrong with this so how, as a decent human, can I tell someone in Africa that seed which Monsanto is giving away is going to kill you? It's blatantly false."
But that is the current controversy. Because Monsanto has formed a partnership with USAid and the Bill and Melinda Gates Foundation to provide its technology – and in particular drought-tolerant maize – to African countries free of charge.
But if the company thought this would spike its critics' guns it has been naïve. It has been accused of trying to move into the developing world by subterfuge.
This is categorically denied by Monstanto's chief executive, Hugh Grant, a Scotsman who has been with the company since 1981, and still talks with a strong Scottish burr.
He says Monsanto had been affected by seeing the consequences of the delay in getting Western HIV medicines to Africa. "We thought if we have technologies that allow you to grow crops with less water how on earth can you sell them in the First World when they are not available in the Third World?" he said.
"This is not getting Monsanto in through the back door. I am really, really proud of what the team has done."
That is not to say that Monsanto is not interested in selling its seeds as widely as possible and you suspect that by philanthropically stimulating productivity in Africa now, it could be a future market.
Rob Fraley, Monsanto's chief technology officer, argues that there is not a contradiction between a company like Monsanto making profits (around $1bn a year) and being good for society. He himself received the World Food Prize for his work on GM crop development.
"You do all the maths on population increasing and you end up with the conclusion that the world needs to double its food supply in 35 years," he said.
"[But] the other side of it is that this company is privileged to be one of the few companies on the face of the earth to be completely focused on agriculture and enhancing productivity. Over the next few years, it will spend tens of billions of dollars investing in this space and that's an incredible opportunity and challenge."
That will lead to more intensification of farming but Mr Fraley said it could even lead to some farmland being turned back to the wild.
Having spent three days with the company, it is hard to conclude that the bogeyman image is anything other than a caricature. The seeds Monsanto is producing – both GM and non-GM – are dramatically increasing yields in US farms, bringing down prices and increasing food security worldwide.
Twenty years on, there is also a broad consensus that, properly regulated, GM technology is safe.
As Nathan Hasheirder, a 32-year-old American farmer who is passionate advocate of GM put it: "You Europeans want us to follow the science on climate change. But you don't want to follow the science of GM. In our country, we call that hypocrisy."
Join our commenting forum
Join thought-provoking conversations, follow other Independent readers and see their replies