Transgender members of US military speak out against Trump's ban
'It's going to create this situation where there is a complete inequality'
Mythili Sampathkumar
New York
Saturday 26 August 2017 20:30 Comments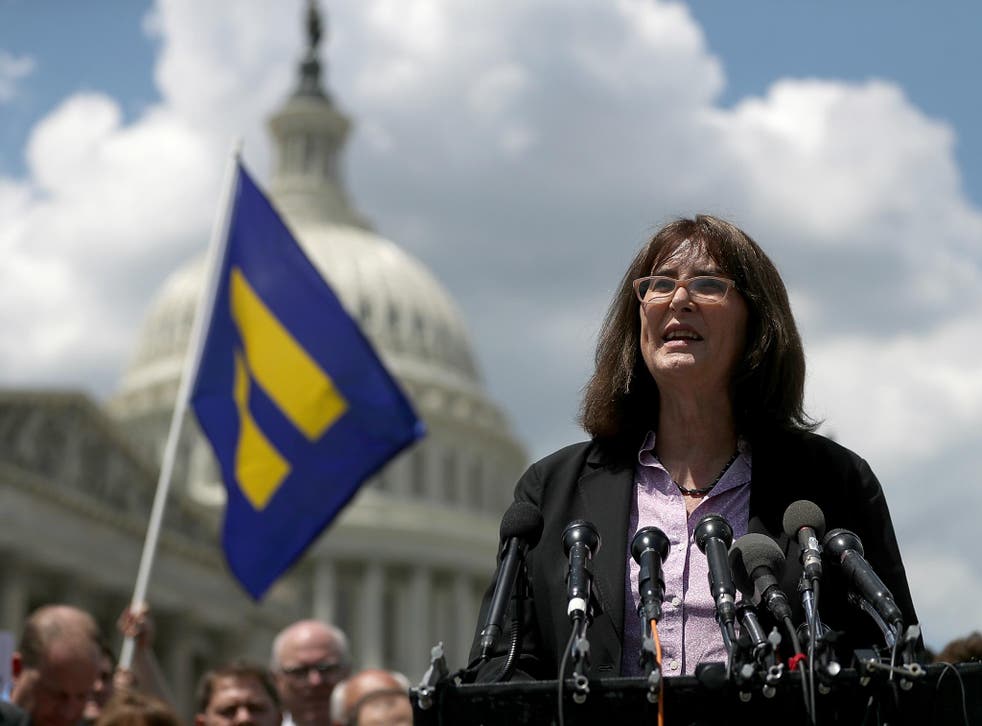 Active duty transgender troops have spoken out against Donald Trump's ban against their service in the US military.
They say a policy change that puts them at risk of being removed and indefinitely bars transgender people from enlisting in the military is a step backward for civil rights that will promote inequality in the armed forces.
On 25 August Mr Trump extended the ban on transgender people joining the military but gave the Pentagon the authority to decide the future of openly transgender people already serving, leaving some room for interpretation.
It appeared that the ban still allowed some transgender people who already are in uniform to continue serving.
Army Captain Jennifer Sims said Mr Trump's comments are contradictory.
Ms Sims is based in Germany and is taking pills to prepare for her transition surgery.
She pointed out that the Commander in Chief just praised the military for its tolerance when he told veterans in Nevada on 23 August that those in uniform come from all walks of life and are united by shared values and a shared sense of duty.
The three million-member US military also largely mirrors the demographics and trends of American society as a whole, according to the Pew Research Center.
Mr Trump also denounced prejudice, bigotry, and hate in the wake of violence that erupted at a rally organised by white supremacists in Charlottesville, Virginia at a speech in front of thousands of soldiers at Army Joint Base Myer-Henderson Hall, in Arlington, Virginia.
The ban, Ms Sims said, is "going to create this situation where there is a complete inequality in how transgender troops are treated."
Elaine Donnelly is president of the Center for Military Readiness, which has opposed allowing LGBT community to serve as well as being against having certain position open to female servicemebers.
Ms Donnelly said in a statement that allowing transgender people to serve is not the military's problem because "the armed forces are not just another equal opportunity employer."
US sailors will not be judged on whether they are transgender, admiral says
The military's limited funds, she added, should not be used "to indulge transgender demands."
However, many have argued the exact opposite. The military is an equal opportunity employer just like any other federal government agency or department.
Transgender people have been allowed to serve openly in the military since June 2016, when President Barack Obama signed an order allowing for it.
Mr Trump, in a series of tweets on 26 July, announced that he planned to end that policy.
The government "will not accept or allow transgender individuals to serve in any capacity in the U.S. military," he tweeted, contending that their service entailed "tremendous medical costs and disruption."
A 2016 study by the RAND Corporation however estimated it would cost the military $2.4 million to $8.4 million a year to provide gender transition-related coverage, only an increase of 0.04 percent to 0.13 percent in health care spending for active duty members.
Researchers estimated 29 to 129 active duty service members annually would seek such treatment.
Meanwhile, it would cost hundreds of millions of dollars to discharge thousands of transgender personnel, according to a study released this month by the Palm Center, an independent research institute.
The official 25 August policy appears to be less rigid than the complete ban which Mr Trump tweeted out, however.
The new guidance puts a stop to recruitment of transgender individuals and prohibits the use of federal funds to pay for sexual reassignment surgery, except in cases where it's deemed necessary to protect the health of an individual who has already begun the transition, according to a government official not authorised by the White House to speak on the matter but who is familiar with the language.
But, it would give Defence Secretary James Mattis six months to determine under what circumstances those active duty soldiers who are openly transgender might be permitted to continue serving.
Attorney Jennifer Levi of the Gay and Lesbian Alliance Against Defamation (GLAAD), said that current policy "requires equal treatment of transgender service members, including that they are subject to the same standards of deployment as other soldiers."
GLAAD and a partner organisation filed suit in August 2017 in US District Court in Washington DC on behalf of five transgender service members with nearly 60 years of combined military service.
They had hoped to get a swift court decision on Mr Trump's 26 July tweet that could prevent a ban from taking effect.
"Any special or different rule for transgender soldiers is discrimination, plain and simple," she said. "It also harms the military and, ultimately, the safety of our nation."
Mr Trump has argued that the military should not pay for medical care for transgender service members to transition to another gender and also argued that makes them unfit for deployment and a harm to the unit in which they serve.
Several service members have said that is not true.
Transgender military ban: Late night hosts take on Trump
According to the policy adopted under the Obama administration, commanders have the discretion to decide when to allow transgender troops to start their treatment to transition to a different gender to ensure that it does not disrupt operations. Commanders can also decide whether a person undergoing treatment is still fit to be deployed.
Army Captain Jennifer Peace, a transgender woman based at Joint Base Lewis-McChord in Washington state, said that she deployed to Afghanistan in 2012 while transitioning and that there are other transgender troops serving there now.
The numbers on transitioning or transgender troops vary, primarily because no on asks the question, said several service members.
"Being transgender had had absolutely no impact on my fitness for duty," Ms Peace said.
"There should be no transgender standard — there should be an Army standard. If I can make the Army standard, I should be able to serve," Ms Peace noted.
Many health reasons can delay deployment including pregnancy, knee or gall bladder operations, and laser eye surgery.
Soldiers may also reschedule their treatments if they see it could have a negative effect on their unit.
If the military will not or cannot pay for their medical care, many transgender troops say they will find a way to cover the costs otherwise.
Navy Lieutenant Commander Blake Dremann, president of trans advocacy group SPARTA, said he is telling concerned service members to wait for any legal challenges to play out and "continue to succeed, show them we're not an issue."
"Which we haven't been, so I don't understand," said Mr Dremann.
Agencies contributed to this report.
Register for free to continue reading
Registration is a free and easy way to support our truly independent journalism
By registering, you will also enjoy limited access to Premium articles, exclusive newsletters, commenting, and virtual events with our leading journalists
Already have an account? sign in
Join our new commenting forum
Join thought-provoking conversations, follow other Independent readers and see their replies