Donald Trump's top security adviser reportedly called him an 'idiot' with the brain of a 'kindergartener'
Mr Trump's Secretary of State, Rex Tillerson has previously denied reports that he called the president a 'moron' 
Mythili Sampathkumar
New York
Monday 20 November 2017 22:07 Comments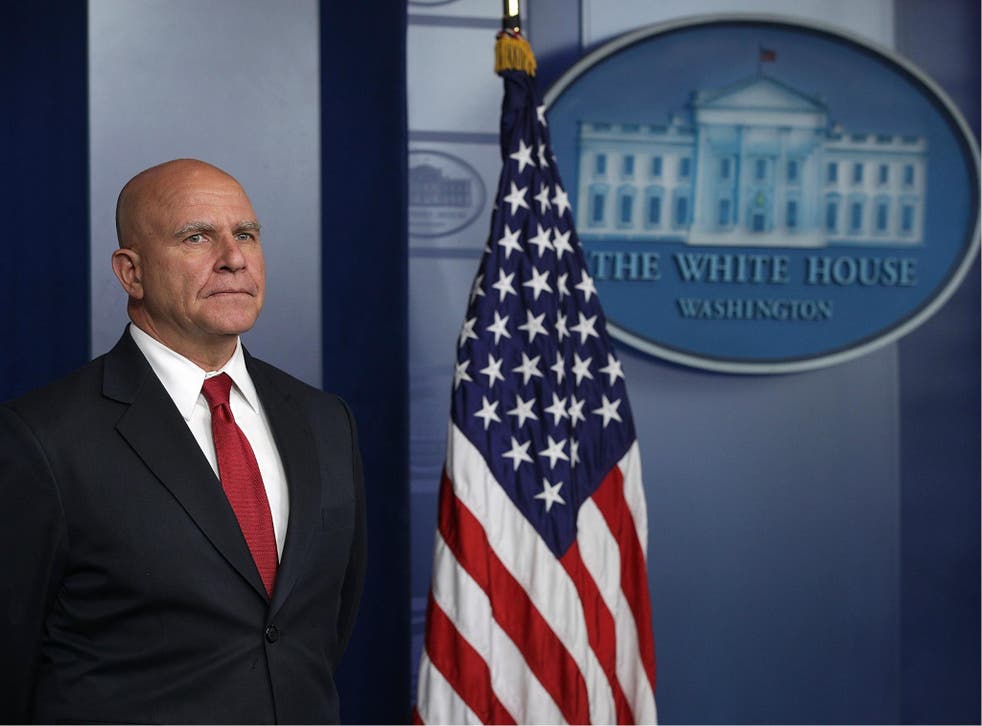 National Security Adviser HR McMaster reportedly called US President Donald Trump an "idiot" and "kindergartner" during a private dinner in July.
Buzzfeed News reported that several sources familiar with the conversation at an 18 July dinner between Mr McMaster and technology firm Oracle's CEO Safra Catz said the retired three-star general also called the President a "dope."
At least four sources told the news site they heard about the conversation regarding Mr Trump's intelligence directly from Ms Catz herself.
Both Mr McMaster, Ms Catz, and Oracle associates of Ms Katz have all denied the allegations.
According to the sources, the National Security Adviser also said Mr Trump was not capable of fully understanding matters of national security.
Michael Anton, the spokesman for the National Security Council, said that people who were actually at the dinner deny any of the offending comments were made by Mr McMaster and that "those false comments represent the diametric opposite of General McMaster's actual views."
H R McMaster calls North Korea a threat 'to the entire world'
Three of the sources also said Mr McMaster had disparaging remarks about Secretary of State Rex Tillerson, Defence Secretary James Mattis, former White House Chief Strategist Steve Bannon, and the President's son-in-law and advisor on the Middle East peace process Jared Kushner.
He allegedly said that Mr Kushner "had no business being in the White House and should not be involved in national security issues," Buzzfeed reported.
World news in pictures

Show all 50
Ms Catz actually served on Mr Trump's transition committee after he won the 2016 election and while other tech executives like Apple's Tim Cook and Tesla's Elon Musk have actively kept their distance from the President, Oracle continues to spend millions on DC lobbying efforts.
Mr McMaster is seen by many of Mr Trump's Washington supporters has too mainstream in his foreign policy stances and by others as a sort of moderate voice in White House.
Last month, reports surfaced that Mr Tillerson had allegedly called the president a "moron" during a Pentagon meeting also this past July.
The country's usually camera-shy top diplomat addressed the media on the matter, but refused to say that he did not refer to Mr Trump as a "moron" only that he was "not going to deal with petty stuff like that" simply meant to divide the Trump administration, in his estimation.
Register for free to continue reading
Registration is a free and easy way to support our truly independent journalism
By registering, you will also enjoy limited access to Premium articles, exclusive newsletters, commenting, and virtual events with our leading journalists
Already have an account? sign in
Join our new commenting forum
Join thought-provoking conversations, follow other Independent readers and see their replies