60ft whale found by walker on Cornish beach
Surfer and dog walker stumbled across what is believed to be a Fin Whale on Saturday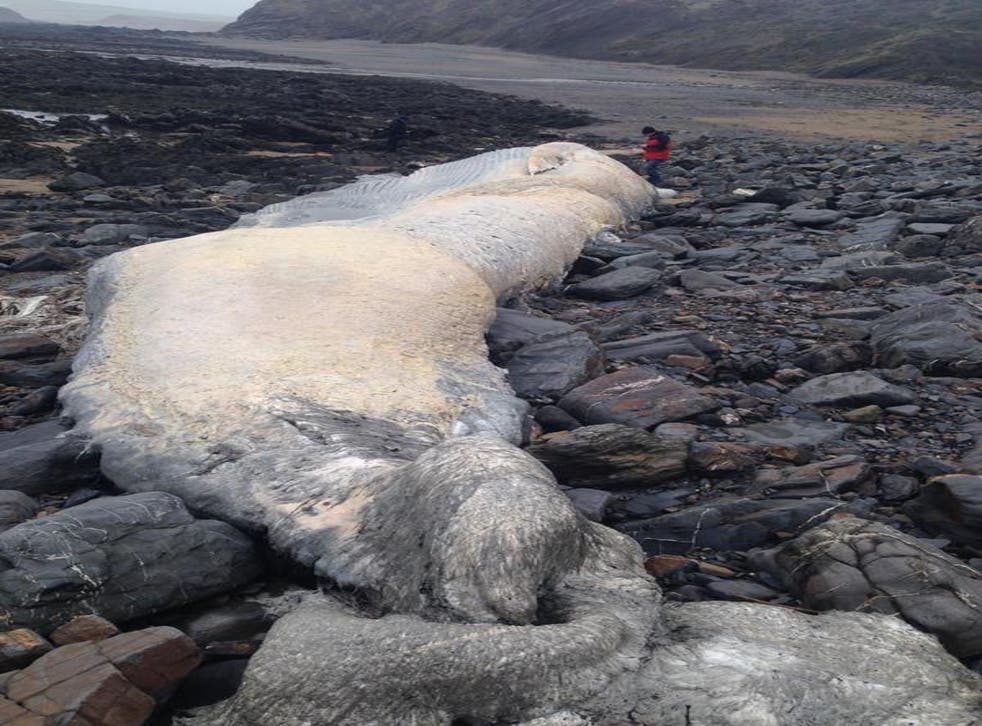 A local walker was left stunned after he discovered the carcass of a huge 60ft whale washed up on a beach in Cornwall.
Beach cleaner and surfer Ado Shorland stumbled across the massive mammal on Wanson Beach near Bude on Saturday.
Marine biologists are now examining the carcass, which is believed to be an endangered fin whale – although the state of decay means that this has not yet been confirmed.
"I found it yesterday morning. It measures around 20m and the lower jaw has been detached and alone it is about 5m. It is a very large whale," he told the Western Morning News.
"From a distance I thought it to be a large tarp or mesh netting. When I realised it was a whale I was excited and saddened at the same time.
"I felt humbled to be honest, the sheer size suggests it to be an adult, and alive it would have been such a majestic mammal."
Fin whales are the second largest whale species after the Blue Whale, and can grow to up to 90ft in length and weigh between 40 and 80 tonnes.
Solitary mammals, they travel the world's oceans, only avoiding the highest and lowest polar climates where there is a danger of ice.
Fin whales are still hunted in Greenland, and under limited controls in the seas surrounding Japan.
The rarest animals in the world

Show all 23
Greater threats to the whales are collisions with vessels, entanglement in fishing gear and reduced prey due to overfishing, habit degradation and disturbance from low-frequency noise. Of all the large whale species, they tend to collide with large vessels the most.
Join our new commenting forum
Join thought-provoking conversations, follow other Independent readers and see their replies