UK aims to train Ukrainian pilots 'as quickly as humanly possible'
The training is the 'first step' towards the potential supply of jets, Rishi Sunak said.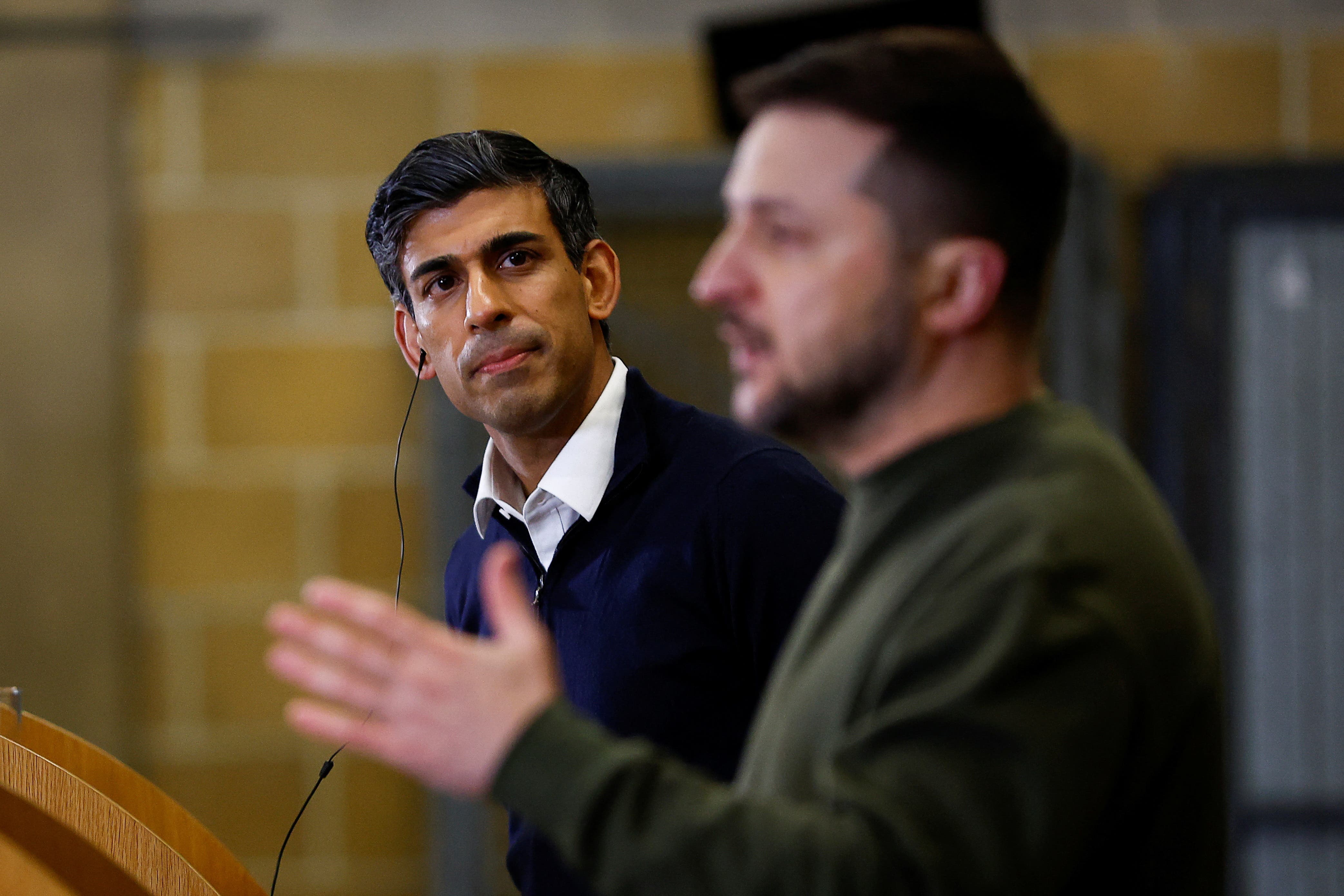 The UK will seek to train Ukrainian pilots "as quickly as humanly possible", Downing Street said, as Ukrainian president Volodymyr Zelensky continued his push for European support.
But Defence Secretary Ben Wallace appeared to suggest that the training would not be completed until "probably post-conflict".
Mr Zelensky addressed the European Parliament in Brussels on Thursday in the latest stop on a tour which began with his surprise visit to the UK.
Rishi Sunak, who promised further support for Ukraine during the British leg of Mr Zelensky's visit, said the offer of pilot training was the "first step" which could lead to the eventual supply of fighter planes.
"We're talking about further support, potentially with aircraft as well," the Prime Minister said.
"The important first step of that journey is to make sure that we provide the training for Ukrainian pilots to be able to use that very sophisticated equipment."
The UK is "exploring how quickly this can be done," No 10 said in a briefing.
The Prime Minister's spokesman told reporters that Britain will work with Ukraine's armed forces to understand their pilots' capabilities and try to "adapt our training and get pilots up to full flying standard as quickly as humanly possible".
The training could be speeded up as some Ukrainian pilots may have years of experience, "albeit in Soviet-era jets that are very different to our own", the official said.
The UK will be the first nation to start training Ukrainian pilots on Nato-standard aircraft, and Mr Wallace has been told to investigate which jets the UK could potentially give to Ukraine as it fights invading Russian forces.
Speaking at a joint UK-Italy ministerial press conference in Rome, the Defence Secretary said: "Britain hasn't said it is necessarily going to send fighter jets to Ukraine.
"What it has said is we're going to start training to improve the resilience of Ukraine, probably post-conflict, which is no different from what we were doing in 2015 where Britain, Sweden, Canada, America were training the Ukrainians to form their defence."
Mr Wallace earlier said there was no immediate prospect of British jets being sent to Ukraine.
"This is not a simple case of towing an aircraft to the border," he told the BBC.
"Britain knows what Ukraine needs and is very happy to help in many ways trying to achieve the effect.
"Those same effects can be done, but potentially through a different way and without taking months, which of course gifting fighter jets would take."
He also dismissed a suggestion from former prime minister Boris Johnson that the UK could hand over 100 Typhoon jets.
Mr Wallace told The Sun: "You're going from gifting a bicycle, if you think of the NLAWs, to a Formula One team, with a crew.
"Without a crew, you can't start the car, and it certainly can't do more than eight laps.
"If tomorrow morning we all gave all our fighter jets, there would be another ask.
"If I gave away all my typhoons as Boris Johnson said, who's going to look after Romania? Who is going to take on Isis in Syria?"
He said he also had to "protect Nato, and protect our people".
Speaking during a visit to Cornwall on Thursday morning, Mr Sunak said he had "very good conversations" with Mr Zelensky about providing long-range missiles which "are going to make a big difference in the struggle against Russian aggression".
The Russian Embassy in the UK warned against the supply of jets and said that Moscow "will know how to respond to any unfriendly actions by the British side".
Mr Sunak's spokesman said the Prime Minister was "aware of potential escalatory risks", noting that all decisions on Ukraine aid were taken "carefully" and "thoughtfully".
Asked whether the UK had enough spare jets to give any away, the spokesman declined to comment on hypotheticals while stressing that "we would never do anything that would put UK safety at risk".
Mr Zelensky's trip, which has seen stops in the UK, France and Belgium, is only his second overseas tour since the Russian invasion of his country almost a year ago.
He said Ukraine and the European Union are fighting together against Russia, "the most anti-European force" in the world.
He emphasised his country's desire to join the bloc: "A Ukraine that is winning is going to be member of the European Union."
Before his address, European Parliament president Roberta Metsola said allies should consider "quickly, as a next step, providing long-range systems" and fighter jets.