Black dot domestic violence campaign shut down after critics claim it might do more harm than good
The Black Dot campaign launched last week to help domestic abuse victims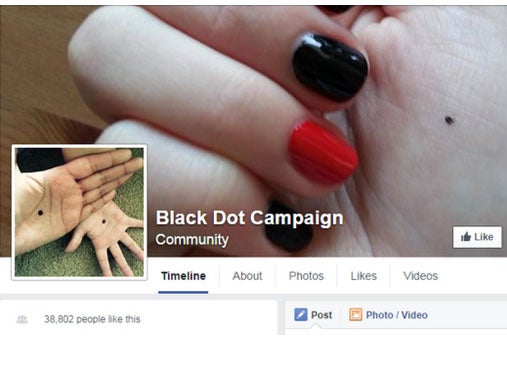 A viral campaign in which victims of domestic abuse draw a black dot on their hand to reach out for help has closed its main social media page following claims it could do more harm than good.
The Black Dot campaign had come to the attention of millions across the world after being set up through a Facebook page by a domestic abuse survivor in the UK last week.
It had reportedly helped 49 women to leave abusive relationships, but received criticism from some arguing that, if the symbol started to be recognised by perpetrators, it would risk making situations worse for victims.
The Facebook page, which had 40,000 likes, has now been closed.
The aim of the campaign was for family and friends to see the black dot on the hand of a victim and arrange for professional intervention.
The anonymous founder of the campaign told ITV News yesterday: "For five years I experienced emotional, physical and sexual abuse – it is the loneliest, scariest place to be.
"I had ample opportunities to seek help but I never did.
"I wish I could have put something on my body so they can start that conversation with me… That's where the Black Dot idea came from."
But Sandra Horley, chief executive of domestic violence charity Refuge, said she believed the campaign might be dangerous for some women to take part in.
"We are concerned that the Black Dot campaign has become very public and well-known, so therefore it may be dangerous for some women if they take part," Ms Horley said.
"Women who mark themselves with a black dot could unintentionally inform their abusive partner that they are trying to reach out and access support.
"This could have grave consequences – two women a week are killed in England and Wales by a current or former partner, 70 per cent of domestic homicides occur at the point at which a woman separates from a man.
"Refuge would encourage anyone planning to leave an abusive partner to contact a specialist organisation for support.
"If you are frightened of your partner, or concerned about a friend, please visit www.refuge.org.uk."
According to the Huffington Post, the founder responded to criticism of her campaign by writing: "This isn't the solution that will help everyone, if anything it should help people realise what abuse is, how it affects people and how to access help.
"Safety must always come first… Intervention and support should only be done by professionals."
Join our commenting forum
Join thought-provoking conversations, follow other Independent readers and see their replies