How the new furlough scheme will help UK businesses affected by Covid-19
Highland Liquor Company is just one of many firms using the UK Government's Coronavirus Job Retention Scheme, extended to March 2021. It's part of a new package of financial support that's now available
Thursday 19 November 2020 09:31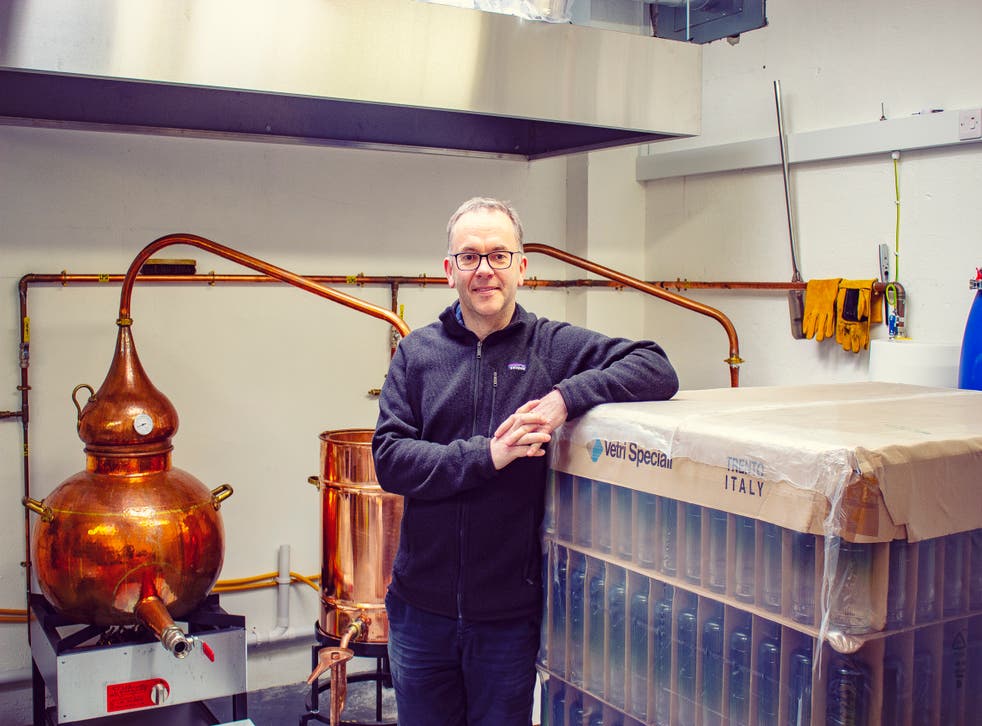 As the effects of pandemic-related restrictions continue to be felt during the current health emergency, businesses in the UK can once again ask the UK Government for support.
Billions of pounds in the form of cash and loans will be offered to companies around the country in a bid to protect millions of jobs and livelihoods.
Here we meet one of the many companies using the Coronavirus Job Retention Scheme…
Robert Hicks, Highland Liquor Company
Highland Liquor Company is based in the village of Ullapool on Scotland's West Highland coast and produces a range of premium Scottish gins. Timing is really key to their gin production this year more than any other.
"We are focusing on short sharp bursts of production to create stock over a short period of time," explains co-founder Robert Hicks, pictured above. "We will utilise the [Coronavirus] Job Retention Scheme once the production run is complete to support all our team over the next few months."
The extension of the scheme is very much welcomed by Highland Liquor Company as it will help them weather the temporary downturn in trade and ensure all staff have a guaranteed income.
They have also applied for a Bounce Back Loan during this period to allow for further investment into the business. "The claims process is pretty straightforward," says Hicks, "and payments are made very quickly, so we are glad that the scheme has been extended."
Prior to March 2020, Highland Liquor Company had focused a considerable amount of time on selling to hotels, restaurants and bars. Since March, online sales have increased and retail sales have been relatively buoyant, including their own shop in Ullapool.
In the build-up to Christmas this year, a large production run is planned to fulfil export orders. "These are the first international orders we've received and our gins will soon be appearing on shelves in Canada, Russia and six other Baltic countries," Hicks explains.
Cash flow is always the biggest challenge for Hicks and his team, but using the Coronavirus Job Retention Scheme, and other support from the Scottish Government, has given some peace of mind to the business – and a platform to potentially expand.
Hicks says: "The success of our retail shop means that we are looking to open a second store and also extend our ecommerce offering as well as developing our own glassware range."
Looking ahead, Hicks feels that Scottish gin producers have been upbeat with many diversifying into hand sanitiser production too. "We have to keep going. We all want to be there when our industry returns to full strength again."
While existing support continues in the form of cash grants, loans and tax relief, an even more substantial emergency package has now been announced, making it the country's most substantial emergency package since wartime.
Extension to the furlough scheme
Individuals who are unable to work full-time, or at all, are still covered by the Coronavirus Job Retention Scheme – furlough, as it's often referred to – which has now been extended until March 2021.
Regardless of whether they have previously been furloughed, those who were on the company payroll at the end of October 2020 are eligible.
This new extension to the scheme is designed to further reduce the burden on employers, who had previously had to pay 20 per cent of furloughed workers' wages. This time, the Government will cover hours not worked at a rate of 80 per cent, up to £2,500 a month, with employers only required to pay staff's National Insurance and pension contributions. Meanwhile, employees who were laid off on or after 23 September may be able to be rehired, and then returned to furlough.
This scheme is open to businesses to cover any amount of time or any kind of shift patterns, including zero hours and part-time contracts. But they must act quickly; claims for November periods must be made before 14 December and the Government plans to review terms in January 2021.
Continuing help for the self-employed
Assistance will also be extended to those who work for themselves. They will benefit from a further cash grant of up to 80 per cent of profits, above the 55 per cent of the previous grant. They'll receive this in a single instalment capped at £7,500. Self-employed people in the UK can put in a claim from 30 November – and will receive their payment well before Christmas.
This marks the third Government cash grant for self-employed. A fourth payment is planned to cover February to April 2021, and the Government will assess and set the level of these sums at a later date.
Keeping local businesses on their feet in England
Among the sectors particularly severely hit by the pandemic are hospitality and leisure. There will be more than £1 billion a month in cash grants available for these businesses. Around 90 per cent of shops, gyms, cafés and restaurants and bars in England that have been forced to close during the Covid-19-related restrictions will receive up to £3,000 a month, chiefly intended to cover rent. English local authorities will also receive a one-off £1.1 billion to help sustain their local economies.
Businesses in hospitality, leisure and accommodation that suffered from tighter local restrictions between August and November can claim backdated grants of up to £2,100 a month for that time.
Funding for Scotland, Wales and Northern Ireland
Funding for the UK's devolved administrations has received an extra £2 billion boost and now reaches at least £16 billion of guaranteed cash upfront in an unprecedented move to help businesses all around the UK cope with the coronavirus pandemic.
This comes on top of this year's spring budget funding from the UK Government, and means an extra £1 billion for Scotland, £600 million for Wales and £400 million for Northern Ireland.
To find out more about the latest packages of UK Government support for businesses, visit gov.uk/coronavirus/business-support
Register for free to continue reading
Registration is a free and easy way to support our truly independent journalism
By registering, you will also enjoy limited access to Premium articles, exclusive newsletters, commenting, and virtual events with our leading journalists
Already have an account? sign in