Adam Johnson verdict: England footballer told to say farewell to daughter as he faces jail
Footballer found guilty of sexual activity with girl could go to prison for up to 10 years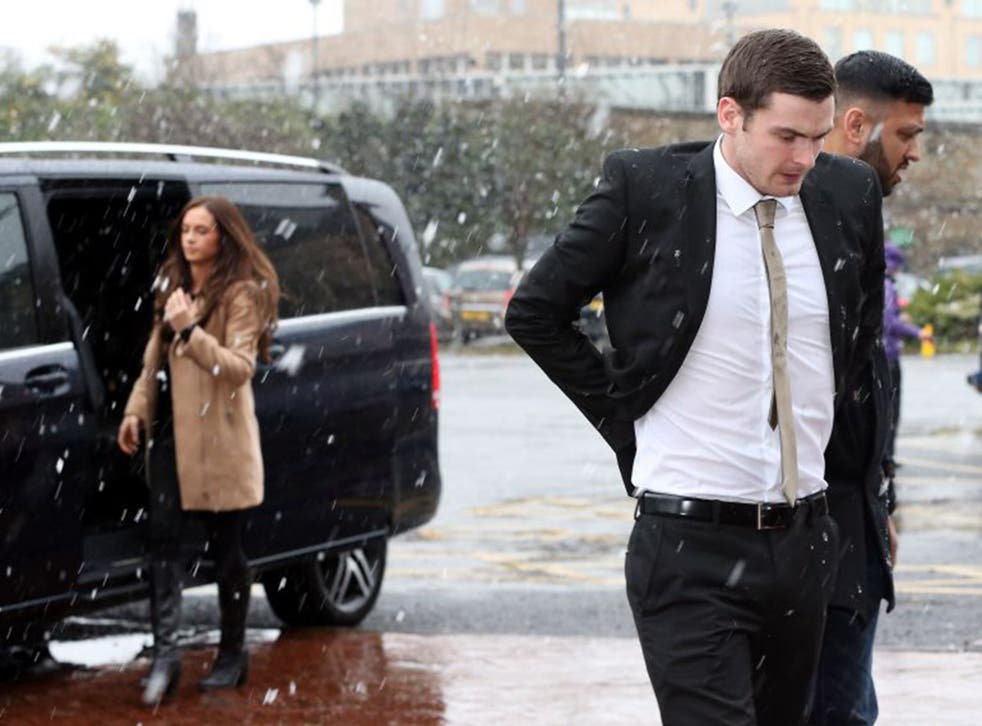 Former England footballer Adam Johnson is facing up to 10 years in prison after a jury found him guilty of sexually abusing a child, following a trial that exposed how the multi-millionaire exploited his fame to seek gratification with a teenage supporter.
The victim, who told Johnson she had just turned 15 when they first met, described how she was left feeling "so broken" following the sexual encounter with her "hero" in his Range Rover behind a takeaway in January last year.
The former Sunderland winger was granted bail but was told by the judge at Bradford Crown Court to "say goodbye to your daughter" because he was likely to spend several years in prison.
Johnson, whose own lawyer said the 28-year-old might appear "immature, arrogant, promiscuous", admitted in his first police interview in March last year that he had kissed the girl but only pleaded guilty to a charge to that effect on the first day of his trial.
This allowed the £60,000-a-week player, one of Sunderland's best attackers, to continue playing for nearly a year as the club battled relegation from the Premier League. Over that period, Johnson earned more than £2.8m.
Sunderland AFC sacked Johnson when he pleaded guilty to lesser charges at the start of the trial. On 2 March, the club said it would have terminated his contract earlier if it had known he was going to plead guilty to any charges. However a spokeswoman for the club refused to comment on Johnson's claim that he had told officials he had kissed the girl following his arrest in March last year.
In court, Judge Jonathan Rose told Johnson that a custodial sentence was "the almost inevitable outcome" of the jury's decision to find him guilty of digitally penetrating the girl. The jury cleared the footballer of another charge relating to her allegation that she had performed oral sex on him. He previously admitted grooming the girl and one charge of sexual activity, relating to kissing her.
Judge Rose said he was considering a sentence of between four and 10 years. "The defendant must understand there is a very high probability of a significant custodial sentence," he said.
Johnson's ex-girlfriend Stacey Flounders – the mother of his child – attended the trial and gave evidence in his defence, hearing details of his affairs with adult women. She told the court they were no longer a couple.
Summing up, the judge highlighted a telling remark by Johnson when he gave evidence about his encounter with the girl. "I considered going as far as she would let me. I was hoping I could feel her body, her private parts. It would be the normal progression," Johnson had said. But he said it never happened.
While the star apparently viewed sexual activity with a young fan as "normal", the police saw it differently.
Detective Inspector Aelfwynn Sampson, of Durham Constabulary, said: "Adam Johnson was a Premiership footballer, an England international. He was living most schoolboys' dreams of playing professional football for his hometown club.
Adam Johnson: Career in pictures

Show all 9
"In this football-obsessed region he was idolised by thousands. However, Johnson exploited his position as a local hero to take advantage of a young and impressionable girl. He no doubt thought that he would get away it, but today demonstrates that no one is above the law."
Mr Sampson thanked the girl for "her courage" in coming forward and also her family for supporting her through this "incredibly difficult time".
The girl, who cannot be named for legal reasons, issued a statement through the police saying she had "absolutely idolised Adam".
She said: "I've had to face so much abuse after he claimed his innocence. I was made out to be a liar. The gossip on social media and hearing all of the horrible names that people have been calling me has been devastating to me, my friends and my family."
The girl added: "I hope Adam realises the hurt and damage he has caused. I now want to put this awful experience behind me and begin to rebuild my life."
Register for free to continue reading
Registration is a free and easy way to support our truly independent journalism
By registering, you will also enjoy limited access to Premium articles, exclusive newsletters, commenting, and virtual events with our leading journalists
Already have an account? sign in