Adam Johnson verdict: Footballers live lives of unbridled funds and tolerated excess
Despite a gilded existence, these highly paid athletes are just one bad decision away from permament infamy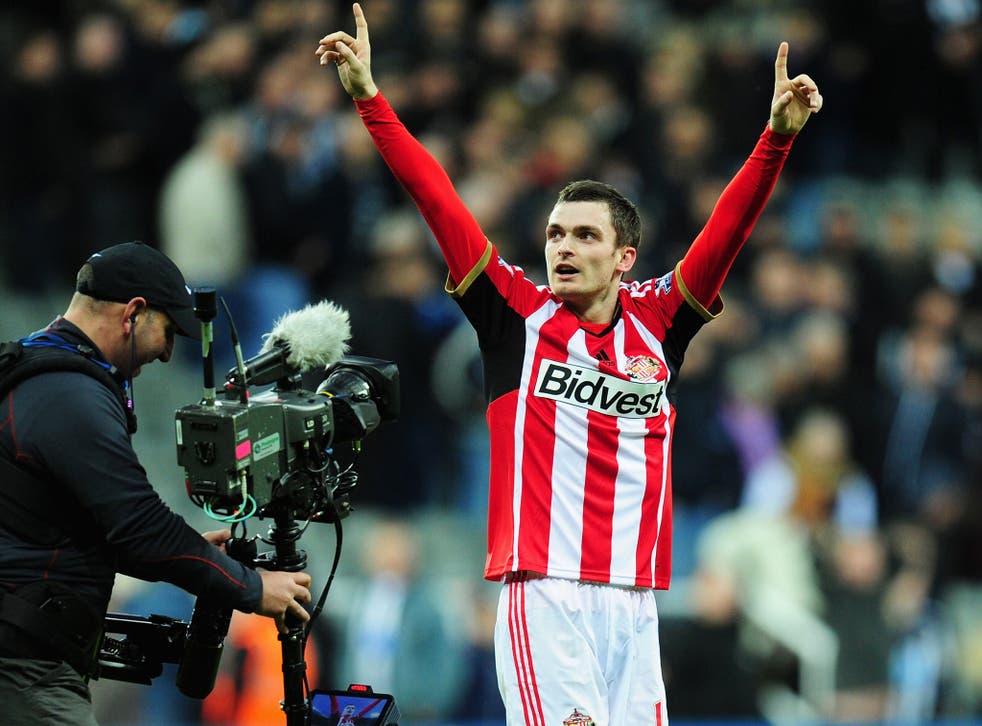 It was Adam Johnson's profession – as well as the 28-year-old – that was on trial at Bradford Crown Court.
In the case that led to Johnson's conviction on one count, the accusation against his former club, Sunderland, made by the player's defence counsel, Orlando Pownall QC, was that its chief executive, Margaret Byrne, knew the player had kissed the 15-year-old shortly after Johnson's arrest in March last year.
Mr Pownall claimed Ms Byrne was told Johnson admitted kissing and texting the girl, but Sunderland continued to select him. "Whether for commercial considerations or in the knowledge they were facing relegation… they allowed him to play."
The club issued a statement saying Johnson had not told management that he was intending to plead guilty to any offence. But when he was arrested, Sunderland were fourth from bottom in the Premier League, one point and one place above the relegation zone.
The cost of going down has been estimated as up to £60m – and Sunderland had just lost 4-0 at home. Johnson was one of their prime assets. He took part in eight of Sunderland's final nine matches, although he started only two. His contribution to their survival was minimal; the damage to Sunderland's reputation was potentially enormous.
Football's attitude to sexual misconduct by its employees has altered dramatically. In 1977 Manchester United sacked their manager, Tommy Docherty, for having an affair with Mary Brown, the wife of the club physiotherapist.
The fact that Docherty had just won the FA Cup, which was Manchester United's first trophy in nine years, swayed their judgement not at all. Tommy and Mary Docherty are still together.
Adam Johnson: Career in pictures

Show all 9
Yet the case is not the first time football has apparently worn blinkers when confronted by wider issues. When asked about the club allowing the unsigned convicted rapist Ched Evans to train there, the Sheffield United manager, Nigel Clough, seemed to imply his main object was to enable the striker to return to match fitness and have the opportunity to "resume his career" after 30 months out of the game, although he emphasised there was no decision to offer him a deal. The fact that 150,000 people had signed a petition objecting to Evans' return to Bramall Lane – and the city's Olympic gold medallist, Jessica Ennis-Hill, had then asked for her name to be removed from one of the stands if he were – initially appeared lesser considerations for the club.
The potential for controversies emerging is arguably exacerbated by the working pattern of the game's stars and the way their lifestyles fit around this. Once they finish training, usually around noon, and have had their lunch in the canteen, a professional footballer has an ocean of time to fill and access to reservoirs of money with which to do it.
Alcohol, gambling and sex were the three traditional pillars of misbehaviour. Tobacco was tolerated until relatively recently, when the Arsenal keeper, Wojciech Szczesny, was fined £20,000 for lighting up after a defeat by Southampton.
Sir Alex Ferguson, the architect of the modern Manchester United, was always more concerned with alcohol because it directly affected his players and their recovery times from injuries in a way cigarettes did not. The practice of his players drinking heavily at the Four Seasons Hotel near Manchester Airport and then donning bin bags to sweat it out on the training pitches of The Cliff, had contributed to United's consistent failure.
Then, Ferguson had informants dotted around Manchester to tell him where his players were passing the night. Now, all a modern Premier League manager would have to do is check the trends on Twitter. Footballers have been forced indoors; inside their gated mansions. If they want to gamble, it is best done over the phone. When the Sunderland full-back, Phil Bardsley, was pictured on his back in a casino surrounded by £50 notes, he was immediately dropped from a game against Tottenham.
When they check into their hotels before a game, the mini-bar will be locked. Sunderland's manager, Sam Allardyce, has objected to his players taking video games with them on the grounds they are addictive and will keep them up.
Sex is the last thrill on offer, a vice undetectable in a post-match urine sample and which has no impact on their performance. And it is not a one-way street.
Being a WAG – a wife or girlfriend of a footballer – is seen by a small minority of girls as a career option, some of whom may try to take advantage of the stars but sadly can also end up in situations where they are the ones who are being used.
There are even books on how to become a WAG. One Liverpool hotel, the Sir Thomas, offered WAG packages where guests were treated to champagne, afternoon tea and beauty treatments with staff supplied by the spa run by Nicky Carragher, wife of Jamie, the former Liverpool captain.
Then they would be packed off to the Newz Bar in Water Street, a favourite haunt of Liverpool footballers.
For a 15-year-old, a chance meeting with a footballer, and a couple of Johnson's signed shirts, must have seemed an invitation to an unimaginable kingdom. Only later would she find out how warped the laws of the kingdom had become.
Register for free to continue reading
Registration is a free and easy way to support our truly independent journalism
By registering, you will also enjoy limited access to Premium articles, exclusive newsletters, commenting, and virtual events with our leading journalists
Already have an account? sign in