Anjem Choudary's assets frozen days before prison release for supporting Isis
Islamist leader will have to apply for basic expenses including rent while under tight controls
Lizzie Dearden
Home Affairs Correspondent
Tuesday 16 October 2018 20:49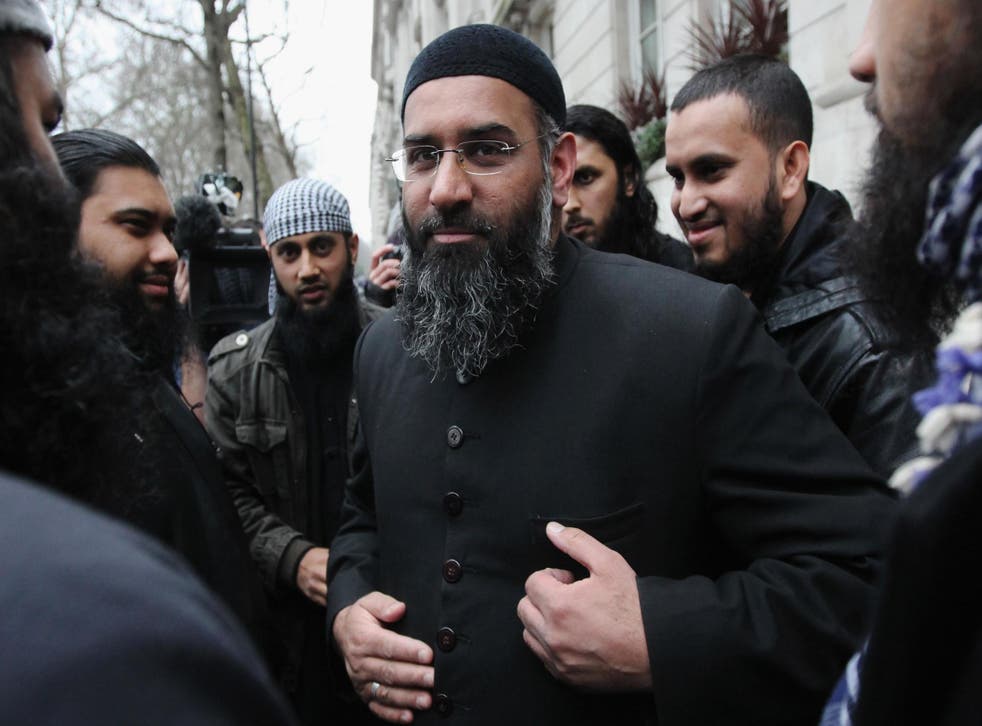 Anjem Choudary has had his assets frozen as part of UN sanctions days before he is expected to be released from prison.
Officials told The Independent that the Islamist leader, who was jailed for inviting support for Isis in 2016, will have to apply for permission even to pay his rent under the tight controls.
"Every single economic resource that he owns has been frozen," a government source said. "He can't use money basically."
Choudary will have to apply for exemptions to the asset freeze for living expenses, and will be required to give details on the purpose of payments and recipients.
His entry on to a UN list of sanctioned Isis and al-Qaeda terrorists was officially adopted by the Treasury on Tuesday.
Giving the 51-year-old's current address as HMP Frankland, where he has been held in a separation unit for extremists, the document notes his "tentative release" this month.
It says Choudary is being targeted because of activity "recruiting for and otherwise supporting acts or activities of" Isis.
"In July 2014, Anjem Choudary pledged an oath of allegiance to Isis," the UN said.
Anjem Choudary: Radical preacher found guilty of inviting support for Isis
"This pledge, which was published on the internet, also recruited followers for Isis … prior to his conviction, Choudary stated that, if imprisoned, he would continue his activities from prison.
"Since his conviction and imprisonment, he has not made any statements denouncing his allegiance to and support for Isis."
The UN says the measures, used for terrorists around the world, target "financial transactions involving any funds, economic resources or income-generating activities that benefit individuals, groups, undertakings and entities" on the Isis sanctions list.
Choudary was added at the request of the British government.
"The foreign secretary pushed for Choudary's designation under the UN sanctions regime because its asset freeze, travel ban and arms embargo have global reach," a spokesperson for the Foreign Office said.
"The designation means that all UN member states are required to freeze without delay Choudary's financial assets and economic resources, prevent the supply of weapons to him and prevent him entering or transiting their territory.
"Britain is determined to use the full range of legal measures to destroy and diminish the threat from Isis, including taking action against UK nationals and residents where necessary."
Choudary is due for automatic release after reaching the halfway point of a five-and-a-half-year sentence, when time spent on remand is taken into account.
A former acolyte told The Independent that the former solicitor would not "stay quiet" following his release and that his banned al-Muhajiroun extremist network could be reinvigorated.
UK news in pictures

Show all 50
Security services have been seeking to avoid that possibility by planning tight restrictions on his activity and associations.
The Independent understands that Choudary will be taken directly from prison to a probation hostel, where he will be intensively monitored.
After being released into the community he will be watched by agencies including MI5 and the police under a system known as multi-agency public protection arrangements.
Choudary will be sent back to prison if he breaks a host of strict licence conditions, which are expected to include electronic monitoring, heavily restricted internet access or communications, and bans on associating with fellow extremists, speaking publicly, holding meetings or entering exclusion zones.
He will only be able to attend pre-agreed mosques and live at an agreed address.
Choudary has also been made subject to an international travel ban meaning he cannot leave the UK, or enter any UN member states, and is on a Border Force watch index.
He was previously made a "specially designated global terrorist" by the US last year because of his leadership of al-Muhajiroun, links to terrorist networks and pledge of allegiance to Isis.
The oath of allegiance, made in an east London curry house in 2014, provided police with the evidence they needed to swoop after years of frustrated attempts to stop Choudary's radicalisation, street preaching and incendiary protests.
His followers have included numerous men who went to fight for Isis, including executioner Siddhartha Dhar, Lee Rigby's murderers and the London Bridge attack ringleader Khuram Butt.
Other terrorists linked to al-Muhajiroun include 7/7 bomber Mohammad Sidique Khan, Mike's Place attacker Omar Khan Sharif, Kashmir suicide bomber Bilal Mohammed and the men behind plots including the planned Ministry of Sound bombing, truck attack in Oxford Street and London Stock Exchange mail bombings.
The Faith Matters group raised fears that the release of Choudary and his co-defendant Mizanur Rahman, who was also a prominent member of al-Muhajiroun, would embolden both Islamists and far-right extremists.
Adam Deen, a former member of al-Muhajiroun who is now the executive director of the Quilliam counter-extremism thinktank, predicted "a rebirth of al-Muhajiroun, probably smarter and more cautious of the law".
"I'm not too sure how much support Anjem is going to have when he comes out but most definitely he's not going to stay quiet," he added, saying Choudary could emerge from prison "more fervent" in his beliefs.
While al-Muhajiroun's ranks have been severely diminished by security crackdowns and the deaths of members who went to fight for Isis, several of Choudary's former associates have been spotted preaching their creed at Speakers' Corner in Hyde Park and at "dawah" stalls giving out copies of the Quran.
Dr Michael Kenney, a University of Pittsburgh professor and author of The Islamic State in Britain, said the network has been left "very weak" by global outcry against Isis and a crackdown by security services.
He added: "The recruiting environment is very bad for them right now, particularly after Isis's atrocities and the attacks in Britain. People don't want to hear what they are preaching anymore."