Holocaust survivors have home ransacked as antisemitic incidents hit new record in UK
Labour Party antisemitism debate linked to spikes in reported incidents, monitor says  
Lizzie Dearden
Home Affairs Correspondent
Thursday 01 August 2019 06:16 BST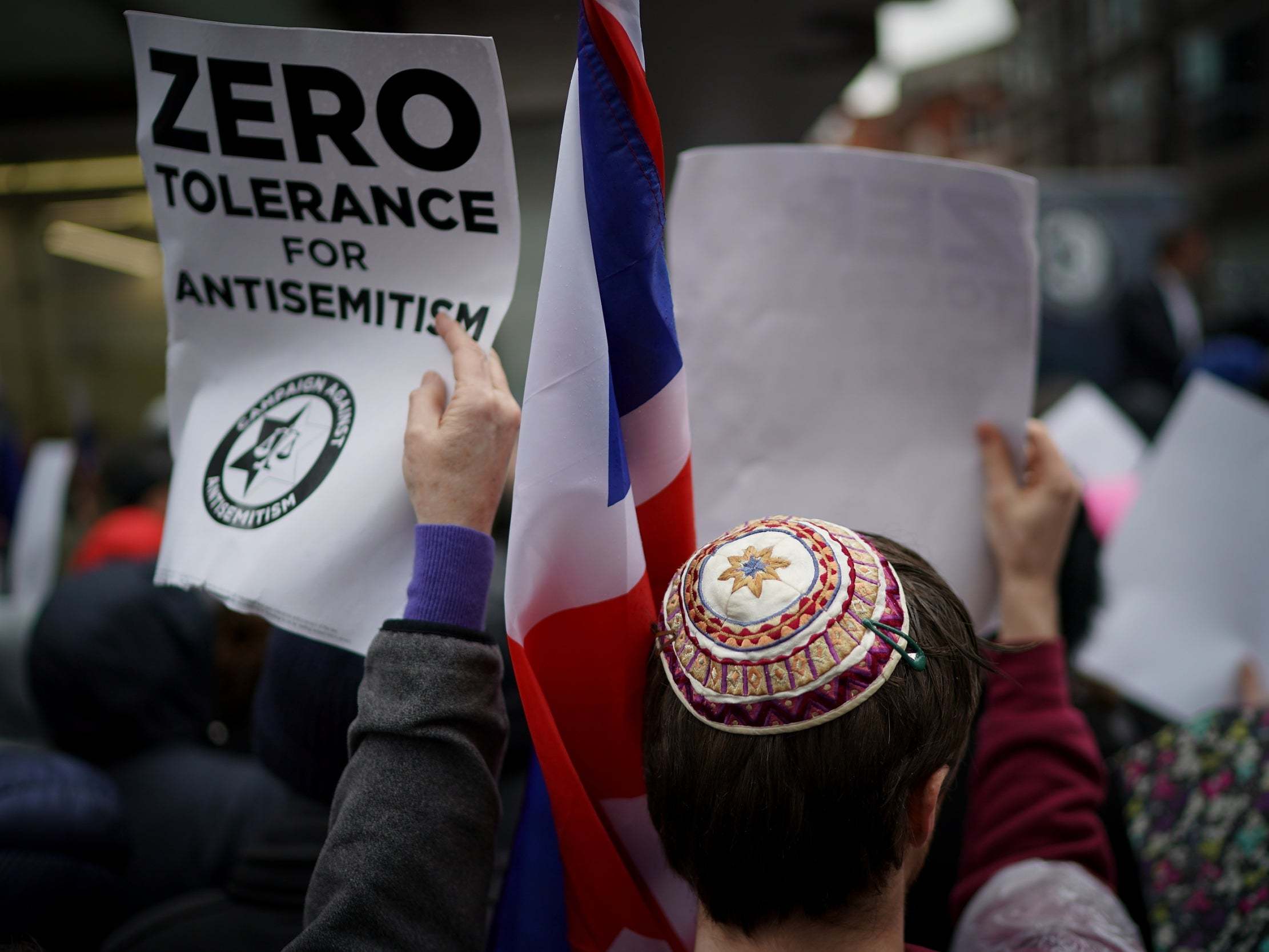 Holocaust survivors had their home ransacked and sprayed with graffiti in one of a record number of antisemitic incidents reported in the UK.
The Community Security Trust (CST) said the elderly couple returned from holiday in April to find the house "ransacked and desecrated" with "c*** Jews" scrawled in large letters across their living room wall.
Other incidents saw Jewish victims punched, kicked or pelted with stones, bottles and eggs, while swastikas and slogans including "gas the Jews" were sprayed on buildings.
The CST, which monitors antisemitism and provides security for Jewish communities, recorded a total of 892 incidents in the first six months of this year – a 10 per cent increase on last year and a new record.
It named discussions around antisemitism in the Labour Party as one cause of spikes in reports, as well as wider divisions in British society.
CST chief executive David Delew said: "This is the third year in a row that CST has seen an increase in reports of antisemitic incidents.
Protests against Labour antisemitism
Show all 14
"The problem is spreading across the country and online, it reflects deepening divisions in our society and it is causing increasing anxiety in the Jewish community.
"It will take people of all communities and backgrounds standing together to turn this tide of hate around."
The highest monthly totals were February and March, when antisemitism was prominent in news and politics because of the continuing controversy over antisemitism in the Labour Party.
The period saw MPs including Luciana Berger, Chris Leslie and Chukka Umunna, leave the party as some cited antisemitism as a reason for their decision.
The CST recorded 25 antisemitic incidents in February and 30 in March that were related to arguments over the Labour Party, while the debate is also believed to have increased online abuse against Jewish organisations and public figures who commented on the issue.
"Many of these antisemitic reactions were in the wider context of 'smear' accusations, spoke of conspiracy and attempted to delegitimise clear evidence of antisemitism," the report said.
"It is hard to precisely disaggregate the impact of the continuing Labour antisemitism controversy upon CST's statistics: but it clearly has an important bearing.
"The trend for monthly totals above the 100 figure began in April 2016 following controversial comments by Ken Livingstone and it has only fallen below 100 twice since then.
"In this context, the dynamics of antisemitism are similar to other forms of racism or political violence: expressions of hatred worsen when perpetrators feel motivated or emboldened to act."
The CST recorded 145 cases involving antisemitic conspiracy theories, 67 with a "far-right political motivation", nine linked to Islamist extremism and 12 to other religions, and five related to Brexit.
Emily Thornberry on Labour antisemitism: 'Nobody can pretend that there isn't an ongoing problem'
The charity does not consider criticism of Israel or Zionism "inherently antisemitic" but 203 antisemitic incidents alluded to the Middle East, including those equating the Israeli government with Nazis.
More than a third of recorded incidents involved social media, which the CST called an "essential and convenient vessel" for antisemites to harass, abuse and threaten Jews.
The CST said it does not trawl for online incidents and only records those reported by the public and involving an offender or victim in the UK.
The report found the most common kind of offline incident was the "random, spontaneous, verbal abuse of strangers who are believed for whatever reason to be Jewish, as they go about their lives in public spaces".
Antisemitic assaults rose by 37 per cent to 62 in the six-month period, while there were also 38 incidents of damage and desecration.
Jewish individuals in public, under half of whom were wearing religious symbols or clothing, were targeted in 225 incidents, many involving antisemitic abuse or threatening language.
Other incidents targetted Jewish organisations, communal events, commercial premises, synagogues and schools.
Almost two thirds were recorded in London and Manchester, the two largest Jewish communities in the UK, followed by Hertfordshire, Merseyside, Gateshead and Leeds.
Where a perpetrator's ethnic appearance was recorded, over two thirds were described as white, 12 per cent Asian, 11 per cent black and 8 per cent Arab or north African.
The National Police Chiefs' Council said it would analyse data to establish whether increases recorded by the CST "reflect a greater incidence of hate crime or further improvements in reporting levels".
Assistant chief constable Mark Hamilton, the lead for hate crime, said: "It can never be acceptable to abuse someone because of their ethnicity or religion, but we see that there are still far too many in our society who are prepared to act illegally, fuelled by global events, divisions in our own society or by bigoted ideologies.
"The police will continue to improve our services to victims and to help bring offenders to justice."
The European Jewish Congress said the trend of "spiralling antisemitism" was being mirrored in other countries around the world.
President Moshe Kantor said he was "deeply concerned" at the CST's report, adding: "We once again note the correlation between incidents on the ground and escalating antisemitism in the Labour Party, which shows that the failure of political leaders to address antisemitic discourse from within has emboldened perpetrators to commit hateful acts.
"We call on our political leaders, teachers and community leaders alike to take a stand in calling out antisemitism and all forms of hatred."
Andrew Gwynne MP, Labour's shadow local government and communities secretary said: "It is deeply distressing to see antisemitism rising in our society and many other countries. Earlier this year it was revealed that as many as one in 20 people in the UK do not believe the Holocaust took place. That is a staggering statistic.
"This report, detailing the rise in antisemitic abuse, including the desecration of Jewish property, demonstrates how much further we have to go to root this ancient prejudice out of our society. We thank the Community Security Trust for the vital work it does highlighting and confronting antisemitism and in providing support and security for Jewish communities.
"The Labour Party is committed to challenging and campaigning against antisemitism in all its forms. Our Party has taken swift and decisive action in response to antisemitism complaints, with a more than four-fold increase in the rate at which antisemitism cases are dealt with, and we recently launched an education programme to deepen understanding about antisemitic stereotypes and conspiracy theories."