Britain First investigated by counterterror police after leader arrested while returning from Russia
Officers seize phones and laptops after stopping Paul Golding and senior members at Heathrow airport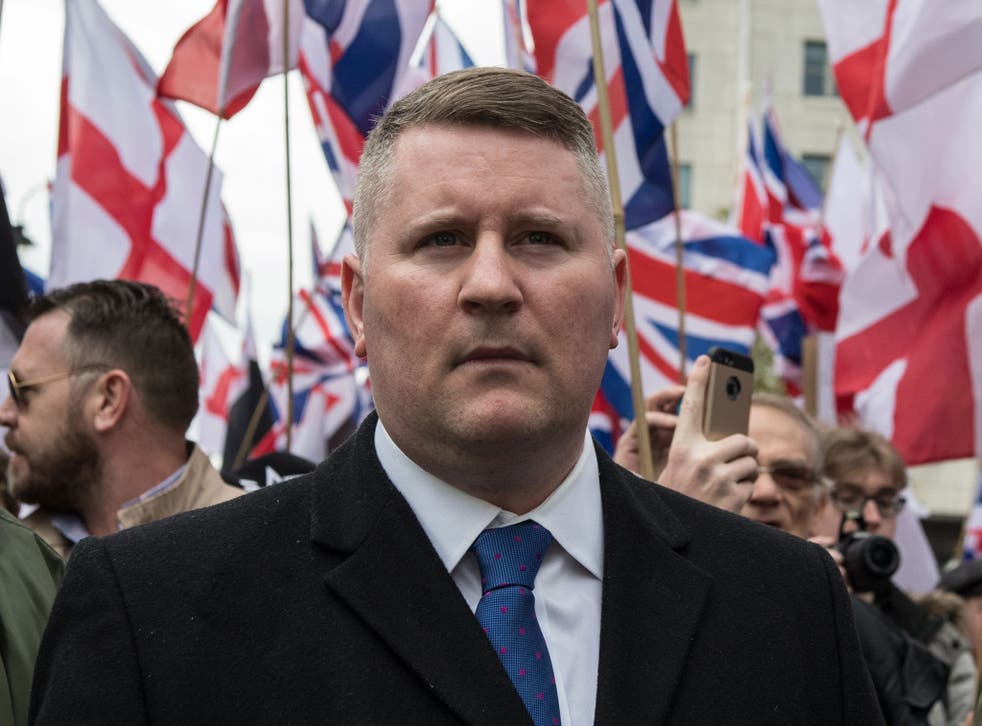 Far-right group Britain First is being investigated by counterterror police after its leader was stopped at Heathrow airport.
Paul Golding and two other senior members of the anti-Muslim organisation were questioned under terror laws as they returned from Russia on Wednesday.
Metropolitan Police officers seized phones, computers and hard-drives and arrested Golding after he refused to provide access passwords.
"We can confirm that on 23 October, two men and a woman were stopped by police under schedule 7 of the Terrorism Act (TACT) 2000, at Heathrow airport, having arrived on an inbound flight that evening," a spokesperson said.
"During the stop, officers sought to examine several digital devices. One of the men - a man in his 30s - refused to provide police the passcodes for the devices.
Britain First: the far-right group in pictures

Show all 15
"Consequently, the man was arrested for failing to comply with a duty imposed under schedule 7 TACT 2000, and was taken to a west London police station, where he was subsequently released under investigation.
"The other man and woman were not arrested. Enquiries continue."
Golding denies links to terrorism and characterises himself as a "dissident politician", despite the fact his group is not a political party, and claims to have been "persecuted" by the "establishment".
The 37-year-old was stopped alongside Britain First communications officer Tim Burton – a former member of the far-right Liberty GB party who was jailed for harassing a Muslim anti-hate crime campaigner in 2017.
They were with Britain First public relations officer Ashlea Simon, known online as Ashlea Robyn, who led pro-Brexit "yellow vest" protests in Manchester earlier this year.
The trio had been on a visit to Russia where they carried out media interviews and visited the parliament building in Moscow.
A Britain First press release called Russia a "patriotic, nationalist country that promotes all the traditionalist, Christian and Western values" said the trip aimed to further relations with members of the Russian parliament and extend its support base.
The extremists claimed they met with nationalist MPs from the Liberal Democratic Party of Russia and visited their Moscow headquarters.
Britain First members pelted with rocks after hassling migrants
Appearing on the state-owned Russia 24 channel, Golding backed the "great replacement" conspiracy theory that has inspired terror attacks in counties including New Zealand, the US and Norway.
He claimed the EU was trying to "eradicate" national cultures, adding: "It's going to end in bloodshed in western countries."
Golding and other Britain First members visited Belgium last month, as part of efforts to "forge a network of global patriots".
The group has recently been carrying out "migrant patrols" in Dover and launched publicity stunts in Sunderland, Burnley, Belfast and elsewhere.
Messages sent to Britain First subscribers online called for donations to replace the electronic equipment seized by police.
The group has struggled with fundraising since its Facebook page, which had more than two million followers, was deleted in March 2018.
Former deputy leader Jayda Fransen, whose anti-Muslim tweets had been shared by Donald Trump, later left the group and has since alleged that Golding physically abused her.
There have been calls for Britain First to be proscribed in the wake of attacks carried out by its supporters.
The Finsbury Park terrorist Darren Osborne had read Fransen and Golding's material before ploughing a van into Muslim worshippers leaving Ramadan prayers in June 2017.
In June that year, Marek Zakrocki drove his car into a restaurant after telling his wife he wanted to "kill a Muslim" and was "doing this for Britain".
The Polish man, who was also carrying a kitchen knife and Nazi coin, had donated money to Britain First and police found the group's flyers at his home.
Thomas Mair, who murdered Labour MP Jo Cox in 2016, was reported to have shouted "Britain first" by witnesses but investigators found no evidence that he was referencing the group and said he had been linked to neo-Nazi movements for decades.
Register for free to continue reading
Registration is a free and easy way to support our truly independent journalism
By registering, you will also enjoy limited access to Premium articles, exclusive newsletters, commenting, and virtual events with our leading journalists
Already have an account? sign in