Britain's stolen gum ends up as change in Romanian shops
Police warn supermarkets to security-tag boxes of chewing gum to combat bizarre crime wave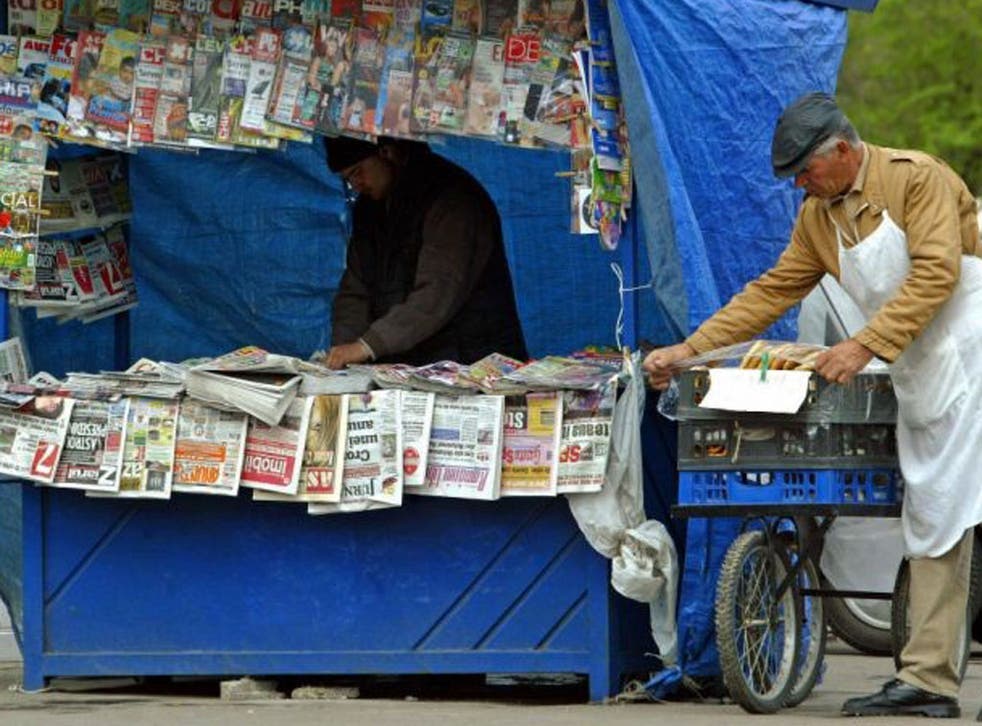 Chewing-gum theft has become big business for criminal gangs who smuggle the confectionery across Europe to be used as a substitute for cash on the streets of Romania.
Prosecutors warn that the bizarre crime wave is now a "major problem" in cities across the UK, with thousands of pounds' worth of gum stolen from shops. The Crown Prosecution Service warned yesterday that those caught will face the "full force of the law", including jail.
Police believe organised gangs have identified a "soft target" in stores, where large amounts of stock are routinely left on shelves. In many cases, thieves simply load boxes of gum into trolleys and walk out. A number of forces claim the gum is sent to Romania, where shops and kiosks give chewing gum to customers instead of change, though Romanian diplomatic sources have played down the idea.
Dean Lampard, a CPS prosecutor, said: "The theft of large quantities of chewing gum is becoming big business. The police have told us this specific crime has become a major problem up and down the M5 corridor, as well as in other parts of the country."
His warning came after two Romanian men were jailed last week for thefts worth more than £1,000. Ciprian Petw received a 24-week sentence for stealing £550 of gum in Norfolk and Taunton. He was picked up by police with a large foiled bag in Asda, Taunton, while out on bail for the Norfolk theft. He was found guilty at Taunton Magistrates' Court of going equipped for theft. He had previously shoplifted in Manchester, Elgin and Suffolk, as well as Norfolk, and had made enough money to fund a trip home to Romania for Christmas, the court heard. Meanwhile, Fane Raducanu pleaded guilty to stealing chewing gum worth £430 from the same Asda store. He was given a six-week custodial sentence.
Police say similar raids have been carried out in Hounslow, Northampton, Hull, Newcastle, Slough, Worcester and North Yorkshire. From April to July last year, there were seven thefts of large quantities of gum in the Shrewsbury area alone. "Since then, it's continued," PC David Walton from West Mercia Police told The Independent on Sunday.
"We are not talking about a couple of packs; we are talking about five, six, seven maybe eight hundred pounds' worth in one go. It became apparent it was just Romanian nationals. The chewing gum has a tangible value back home. If you are making a purchase in a shop on a street corner or a kiosk, if they don't have sufficient change, they will give you strips of gum. The bottom line is it's going back to Romania. People are loading up the trolley and brazenly walking out with it."
PC Walton says the problem also goes "all the way up the M1". The thieves avoid alcohol, meat and razor blades – where supermarket security is known to be tighter – and instead target the sweets aisles. Supermarkets have been encouraged to security-tag boxes of gum and reduce the amounts they keep on display.
Lincolnshire Police sounded the alarm about "an emerging trend in chewing-gum theft" after £1,000 worth was stolen from an Asda store in Grantham earlier this month. And last month, Constantin Barbu, 31, was jailed for a week after trying to steal gum worth £436.65 from Sainsbury in Worcester, while Bogdan-Constantin Panait, 23, was caught at Morrisons in Droitwich trying to steal gum worth £388.52. In December, Lucian Mitranus, 36, pleaded guilty at Cambridge Magistrates' Court to stealing £467.70 worth of gum from Tesco in Ely.
Sticky facts: Chewing it over – a pocket history of gum
* Ancient Greeks chewed gum from the resin in the bark of the mastic tree. Grecian women used it to clean their teeth.
* Modern gum emerged in the 1860s, using chicle from the milky juice of the sapodilla tree. Today man-made latex is used.
* Singapore banned chewing gum in 1992 in a litter crackdown. Gum smugglers face a year in jail.
* 304 people from Iowa, US, hold the world record for blowing a chewing gum bubble simultaneously.
* Gum manufacturer Wrigley says it needs 53 square miles of farmland to grow all its mint.
* In 2006, Tory MP Bernard Jenkin criticised Labour's Stephen Pound for "very visibly chewing gum" in the Commons. Pound argued he was "masticating medicinally" because he was trying to give up smoking.