'Car madness': Driver 'targets pedestrians' on seafront and bystanders threatened with planks
People forced to leap aside as vehicle weaves in and out of obstacles in overnight fracas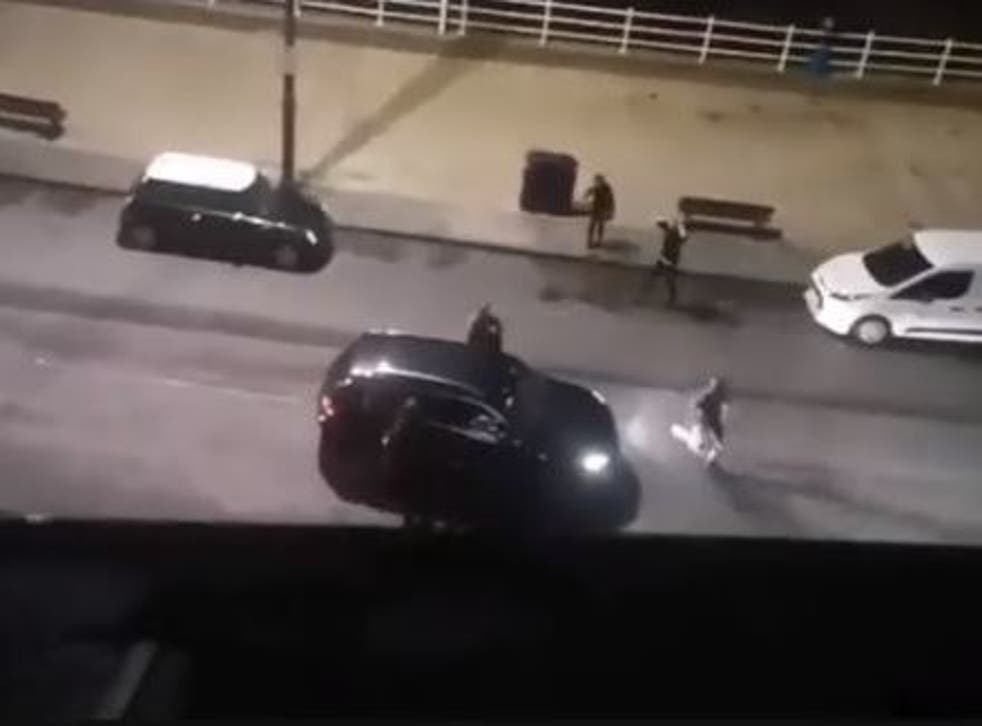 Pedestrians were forced to leap out of the way as a car was apparently driven at people on a promenade and men armed with planks of wood tried to attack others.
One man was injured during the overnight fracas, which began as the car weaved in and out of benches and parked vehicles in Aberystwyth.
Two accomplices appeared to use wood as weapons to threaten bystanders who tried to intervene to halt the driver, with one man being knocked to the ground by the moving vehicle.
The car was filmed just before 5am on Saturday, racing along the pavement at Marine Terrace, first appearing to chase two people as they sheltered behind a parked vehicle, then looping around it, only narrowly missing them.
The vehicle – described as either black or dark green – then returns along the terrace and squeezes between a parked car and a bench close to two more people.
UK news in pictures

Show all 51
A man carrying a flat object appears on the scene and chases after a bystander, while a second man also armed with a plank hovers at the car door before appearing to use it to hit a man trying to stop the vehicle.
The pair carrying planks bundle themselves into the back of the car, which reverses, knocking over a man who was trying to open the car door. The car finally makes off along Marine Terrace
WalesOnline reported that before the fracas, there had been a row in the area, which is close to bars and a nightclub.
Emergency services were called to the scene quickly, and one man was taken to hospital with non-life-threatening injuries but another refused medical attention.
Officers from Dyfed-Powys Police said three people were arrested and were in custody.
Police said: "Reports stated that a dark green car was driving erratically and dangerously in the area, and that it had possibly collided with some pedestrians and the pillar of a shelter on the prom."
Commenters on social media described the scene as frightening and "mad". One said those guilty should have their driving licences taken away for life.
A witness described the incident as "car madness".