Compulsory training on tackling stalkers came in two years ago - but over a quarter of CPS lawyers have yet to attend
Just 1 per cent of cases recorded by the police last year resulted in a charge and prosecution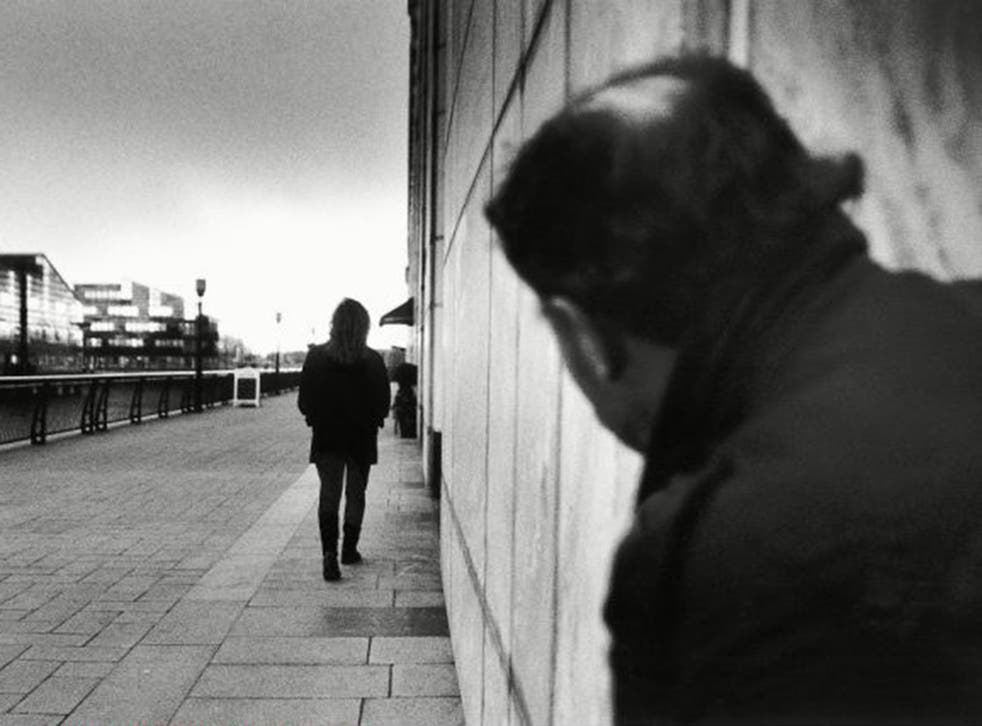 Alarmed by the fact that only 1 per cent of stalking cases end up in court, the Crown Prosecution Service (CPS) is ordering its lawyers to undergo training on the best way to prosecute alleged offenders.
Training courses designed to boost stalking prosecutions became compulsory for CPS lawyers almost two years ago, but hundreds of litigators have yet to attend. This amounts to at least one in four of lawyers at the CPS.
Campaigners warn that lack of awareness about stalking, which can end in rape or murder, is putting victims in greater danger.
There are more than 2,200 crown prosecutors – and in June 2013, the CPS made training on prosecuting stalking and harassment mandatory. But only around 1,600 CPS staff have completed the specialist training.
In a statement, a CPS spokesperson said: "We fully understand the distress and fear that stalking can have, which is why we are working to ensure our prosecutors are highly trained to tackle these sensitive cases robustly and appropriately. All CPS areas will be reminded of the importance of this training."
The spokesperson told The Independent on Sunday: "An email ...will be sent out within the next fortnight to prosecutors ... managers will speak to their staff to encourage [them] to complete the training."
Just 1 per cent of stalking cases recorded by the police last year resulted in a charge and prosecution. Out of more than 61,000 allegations made to police, just 743 cases of stalking were prosecuted by the CPS in 2013-14.
Stalking was made a specific criminal offence in 2012 and is punishable by up to five years in jail. But victims repeatedly complain they are not taken seriously by the police, or are not believed and are given no support.
"Stalking is insidious and terrifying, yet many still do not understand it or even know about the stalking laws," said Laura Richards, chief executive of Paladin National Stalking Advocacy Service. The failure to identify stalking "puts victims further at risk and can result in serious harm and murder".
Ms Richards warned: "More murders that were preventable will happen unless training is rolled out, along with sentencing guidelines, perpetrator programmes and a register for serial stalkers. The criminal justice system, in particular the CPS, magistrates and judges, must catch up with the new law and how to implement it."
Rachel Griffin, director of the Suzy Lamplugh Trust, the charity that runs the National Stalking Helpline, said: "All too often we get calls to the helpline from victims who say they have not been believed by the police, their reports have not been acted upon, and the information they have received has been incorrect."
Case study: Being stalked
Betsy de Thierry, 43, a married mother of four, has been stalked for four years. Her ordeal began in 2011, after she supported a woman suffering from domestic violence at the hands of a partner who turned his attention to Mrs de Thierry.
"I began to receive text messages threatening to destroy me and my family. At first I thought it would fizzle out, but he has spent the past four years campaigning against me. I feared for my family so much that we moved to a secret address and put the children into different schools."
Her stalker was arrested last summer, but last week, after spending eight months on police bail, he was told there would be no action taken against him.
"I was told by the police that, since there was no threat of physical violence, the CPS couldn't prosecute. But the new law, from 2012, says there doesn't have to be any indication of violence if there is psychological damage. There's no way the CPS who looked at my case have had the training in how to deal with stalking – they didn't know the law.
"My biggest problem is that his worst harassment was in 2011 and is seen as historic and can't be used, which is complete madness because it actually shows the course of conduct. Once he knew I'd gone to the police, everything became implicit and subtle. I am concerned what he will do next.
"If I had... scars all over my body, I imagine there may have been more understanding, but the silent, secret, sometimes subtle nature of the constant harassment and hate campaign leads to an isolation. The training of CPS prosecutors cannot come quickly enough. It is absolutely essential."
Jonathan Owen
Register for free to continue reading
Registration is a free and easy way to support our truly independent journalism
By registering, you will also enjoy limited access to Premium articles, exclusive newsletters, commenting, and virtual events with our leading journalists
Already have an account? sign in